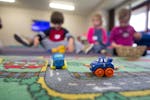 Lsp Four Points, Inc.
7710 N Fm 620 Rd, Bldg 11 Austin, TX
Daycare & Child Care, Preschools, Center
About Lsp Four Points, Inc.
The next step in your child's learning journey just might be Lsp Four Points, Inc.! Lsp Four Points, Inc. welcomes the families of Austin with a center-based setting where students can learn, laugh, play and grow alongside peers of similar ages and non-family adults that specialize in developing the learning skills critical for the years ahead. Center-based environments like at Lsp Four Points, Inc. are popular choices with families that value a school-like environment and the socialization opportunities that come with a strong peer set! With a full-time schedule, as well, Lsp Four Points, Inc. allows parents to work and assume other responsibilities while their children are playing and learning amongst their peers. Children have the opportunity to get used to the natural rhythms of a daily structured learning environment with a full-time schedule, which can help smooth the transition into kindergarten and future education. The full-time schedule allows plenty of opportunities for creativity and fun, too, as the day always feels too short when you're having fun! Lsp Four Points, Inc. also offers a Montessori curriculum to students and families. A Montessori curriculum emphasizes independence, discovery, self-discipline and self-motivation for students, with educational philosophy roots dating back over one hundred years. Montessori schools like Lsp Four Points, Inc. will often have specific Montessori learning standards and learning materials to ensure best practices and consistency with time-honored Montessori methods, as well as a Montessori-inspired environment that's clean, orderly and harmonious, crafted to allow students to move, interact and self-construct their learning space.