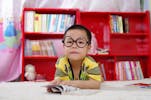 College View Elem.
2675 Decatur St Denver, CO
Preschools, Center
About College View Elem.
College View Elem. can be the right fit for the families and children of Denver! College View Elem. hosts early child care and education in a center-based program, giving families the benefits of a structured, stable, enriching learning environment alongside the community that comes with student peers and staff devoted to child care and early education. Centers like College View Elem. are a popular choice for families that are comfortable expanding a student's horizons beyond the family home or an in-home setting and getting the opportunities to explore. College View Elem. likewise affords Denver parents a full-time schedule for their children to enjoy. Full-time means children get the full benefits of a structured learning environment for them to explore, play, and laugh with their peers and get the most out of what the wide world of learning has to offer! Children will form close bonds with each other and parents benefit from having enrolled their children in a community while they spend time away. College View Elem. teaches a play-based curriculum that values self-directed, interactive, intuitive learning by and for children. Students at play-based schools get the opportunity to participate in theme-based, hands-on activities with staff that facilitate and direct the discovery process. Through these hands-on activities, students develop social, cognitive and emotional skills built through the cooperation process with their peers. A play-based approach also can spark a love of learning that will be foundational for students throughout their early years of formal school.