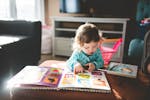 Kids 4 Real, Inc.
1525 E 30th Ave Denver, CO
Daycare & Child Care, Center
Ages served
5 yrs - 13 yrs
About Kids 4 Real, Inc.
Kids 4 Real, Inc. proffers early care and education programs in a center setting in Denver. As a center, Kids 4 Real, Inc. provides a structured, stable environment day in and day out that parents can count on. This school-like learning arena at Kids 4 Real, Inc. can help prepare students for formal school but also make the most of today, with all the resources and opportunities to explore the world around them and the peer set that provides abundant socialization opportunities.