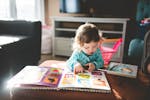 Ec Learning Academy, Inc.
1106 Greens Pkwy Houston, TX
Daycare & Child Care, Preschools, Center
About Ec Learning Academy, Inc.
Ec Learning Academy, Inc welcomes the students and families of Houston to its center-based early child care and education facility. As a center, Ec Learning Academy, Inc resembles the best of what students will get in the years ahead in structured schooling while maintaining the close community and relationships that're instrumental in early childhood development. Attending a center benefits students as students will spend their days in a structured, stable environment that hones spatial, vocabulary and other skills with enriching curriculums and activities. Part-time care is also here for you at Ec Learning Academy, Inc! The part-time schedule at Ec Learning Academy, Inc gives parents the time to do what needs to be done at work and at home, yet also be around for those moments that matter. Students get the best with part-time care too - students get to explore, play and learn with other children in social groups without missing out on time with their parents too. Part-time care can help students get used to what's ahead for them. Ec Learning Academy, Inc also offers an International curriculum that set students up to change the world around them. Students at Ec Learning Academy, Inc will receive a broad, worldly education that seeks to instruct in languages, culture and inculcate a deep appreciation for differences and diversity. Learning areas include creative arts, sciences, language arts, math and much, much more. Students will play and learn in a way that promotes critical thinking, self-awareness and preparation for a twenty-first century world.