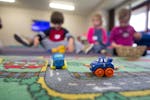 Little Longhorns Inc.
10330 Blackhawk Blvd Ste B Houston, TX
Daycare & Child Care, Preschools, Center
About Little Longhorns Inc.
Little Longhorns Inc is a provider of early education and care for the students and families of Houston. As a center-based facility, Little Longhorns Inc provides the best of a school-like environment, which can help smooth the transition for students to formal school one day in the future, and the best of a community of student peers and professional staff to help inspire and support the learning journey. Centers like Little Longhorns Inc can benefit students with their resources, opportunities, and activities for enrichment and learning. Little Longhorns Inc at the same time provides a full-time schedule that can be a life-saver for busy parents. Full-time gives you the ability to get everything on your to-do list done - whether that's at work or at home - and gives your child the structured, deep, in-depth learning environment that's critical for early education. Children at Little Longhorns Inc benefit from the time to make real, lasting friendships and a schedule that allows them to explore in so many ways! Little Longhorns Inc likewise takes a play-based approach to children's development and learning, facilitating education through interactive, hands-on activities that get children moving. Play-based environments structure their spaces to encourage students to move with independence, passion and explore at their own direction. Staff in these environments encourage and galvanize students to lean into their interests and build their own worlds in cooperation with their peers, and students gain cooperative, social and emotional skills as a result of this community.
Safety features & procedures