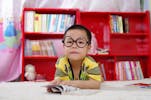 Lobo Gymnastics, Inc.
2500 Falcon Pass Houston, TX
Daycare & Child Care, Preschools, Center
About Lobo Gymnastics, Inc.
The first few years are a joy to behold and the learning and fun that happen within them is formative for success ahead! Lobo Gymnastics, Inc. is a center-based child care provider serving children, parents and families in Houston. Centers like Lobo Gymnastics, Inc. are popular choices with families that value getting the best of early educational enrichment, in the form of stimulating activities and a peer set of similarly-aged children, along with an environment that feels like formal school and can help smooth the transition ahead. With a full-time schedule, Lobo Gymnastics, Inc. further provides what parents want in care and education. Full-time care allows students to get the best of a real community outside of the home - chock full of learning, laughter, play and fun - with the strength of a structured program and structured day that'll benefit them down the road. Parents get the time they need to work while watching their children grow leaps and bounds in language and cognitive development. Lobo Gymnastics, Inc. also offers a curriculum designed to develop the whole child through learning, arts, activities and even Gymboree play. Students at Lobo Gymnastics, Inc. are encouraged to explore the world around them, seek out what motivates them to learn and express themselves through creativity and self-expression. Students will receive a complete educational experience with a large play component, as well, as physical exuberance, team and peer cooperation, appropriate risk-taking and overcoming challenges are keys to developing self-confidence and empathy.