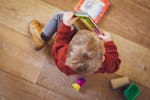 Love & Art Childcare Corp.
3505 S Dairy Ashford Rd Ste 100 Houston, TX
Daycare & Child Care, Preschools, Center
About Love & Art Childcare Corp.
For the parents, families and students of Houston, Love & Art Childcare Corp. offers center-based early care and education that'll both care for students and their needs now and prepare them for the years ahead! Love & Art Childcare Corp.'s center-based environment enables a strong and structured learning culture, with the enriching curriculum and activities for students that stimulate the brain and their curiosity. Students will benefit from the socialization opportunities that come from interacting with peers of similar ages and non-family adults that're professionals in the early education space. With a full-time schedule, Love & Art Childcare Corp. further provides what parents want in care and education. Full-time care allows students to get the best of a real community outside of the home - chock full of learning, laughter, play and fun - with the strength of a structured program and structured day that'll benefit them down the road. Parents get the time they need to work while watching their children grow leaps and bounds in language and cognitive development.