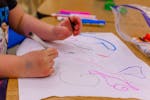 The Kipling School, Inc.
620 Shepherd Dr Houston, TX
Daycare & Child Care, Preschools, Center
About The Kipling School, Inc.
The Kipling School, Inc. is a center-based early care and education program for the students and families of Houston. Attending centers like The Kipling School, Inc. can benefit students who're ready for a school-like environment, rich in activities, resources and opportunities to learn and grow, but don't want to sacrifice on the close relationships with peers and staff that you'd expect from any child care provider. Students at The Kipling School, Inc. join a community of learners that will explore, play and grow together. The full-time schedule at The Kipling School, Inc. is also here for you and your child. A full-time schedule gives students the full opportunity for social, behavioral, language and cognitive development. Students will play, interact and laugh with other students their own ages on a daily basis and get the benefits of a dedicated, structured environment. Parents get a real community for their children and the time away to work and take care of other tasks! Students at The Kipling School, Inc. will also experience an arts-based curriculum that emphasizes how engagement with visual arts, dance, music and storytelling can develop the whole child. Children at an arts-based curriculum make with their hands, learn from staff and peers and take their creations from inception to finish. Through this engagement with the arts, students will develop a unique bend of social, emotional, motor and intellectual skills that will serve them well as they transition to more academic-based environments in the future.