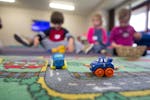 Casa Montessori, Inc.
17633 Lassen Street Northridge, CA
Daycare & Child Care, Preschools, Center
Ages served
2 yrs - 12 yrs
About Casa Montessori, Inc.
The first few years are a joy to behold and the learning and fun that happen within them is formative for success ahead! Casa Montessori, Inc is a center-based child care provider serving children, parents and families in Los Angeles. Centers like Casa Montessori, Inc are popular choices with families that value getting the best of early educational enrichment, in the form of stimulating activities and a peer set of similarly-aged children, along with an environment that feels like formal school and can help smooth the transition ahead. Casa Montessori, Inc additionally provides a full-time schedule that allows parents and students to get the best out of early care and education. Full-time education offers that structured learning environment for skills to grow, growth to happen and play to abound! Students get the opportunity to form lasting bonds with children their own age and a true community with staff, all the while parents have those long blocks of time to provide for their little ones. Students at Casa Montessori, Inc will also experience an arts-based curriculum that emphasizes how engagement with visual arts, dance, music and storytelling can develop the whole child. Children at an arts-based curriculum make with their hands, learn from staff and peers and take their creations from inception to finish. Through this engagement with the arts, students will develop a unique bend of social, emotional, motor and intellectual skills that will serve them well as they transition to more academic-based environments in the future.