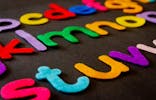 Creative Learning Academy, Inc.
1718,16&14 W.Martin L. King Bl Los Angeles, CA
Daycare & Child Care, Preschools, Center
About Creative Learning Academy, Inc.
For the parents, families and students of Los Angeles, Creative Learning Academy, Inc. offers center-based early care and education that'll both care for students and their needs now and prepare them for the years ahead! Creative Learning Academy, Inc.'s center-based environment enables a strong and structured learning culture, with the enriching curriculum and activities for students that stimulate the brain and their curiosity. Students will benefit from the socialization opportunities that come from interacting with peers of similar ages and non-family adults that're professionals in the early education space. The full-time schedule at Creative Learning Academy, Inc. is also here for you and your child. A full-time schedule gives students the full opportunity for social, behavioral, language and cognitive development. Students will play, interact and laugh with other students their own ages on a daily basis and get the benefits of a dedicated, structured environment. Parents get a real community for their children and the time away to work and take care of other tasks! Creative Learning Academy, Inc. offers an arts-based curriculum emphasizing the creation process to help develop creative, artistic, motor and cognitive skills for students. Arts-based schools like Creative Learning Academy, Inc. value the artistic process over the end product, giving students a wide variety of mediums and techniques to explore and later admire their creations. Staff focus on developing the whole child, facilitating the learning process from initial curiosity to the emotional satisfaction that comes with making and finishing art.