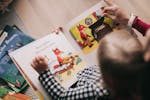 Shomrei Torah Synagogue E.C.E.
7353 Valley Circle Boulevard West Hills, CA
Daycare & Child Care, Center
Ages served
18 mos - 3 yrs
About Shomrei Torah Synagogue E.C.E.
Shomrei Torah Synagogue E.C.E. can be the next step in the learning journey for you and your little one! Shomrei Torah Synagogue E.C.E. is a center-based child care facility that provides the families of Los Angeles with a structured, stable learning environment for children to grow and blossom. Center-based early care and education like you'll find at Shomrei Torah Synagogue E.C.E. are attractive for parents that want their children to enjoy enriching activities, a strong peer set to bond with, and a community of staff that really value what early education can bring to the lives of children. Shomrei Torah Synagogue E.C.E. likewise affords Los Angeles parents a full-time schedule for their children to enjoy. Full-time means children get the full benefits of a structured learning environment for them to explore, play, and laugh with their peers and get the most out of what the wide world of learning has to offer! Children will form close bonds with each other and parents benefit from having enrolled their children in a community while they spend time away. Shomrei Torah Synagogue E.C.E. also offers a Montessori curriculum to students and families. A Montessori curriculum emphasizes independence, discovery, self-discipline and self-motivation for students, with educational philosophy roots dating back over one hundred years. Montessori schools like Shomrei Torah Synagogue E.C.E. will often have specific Montessori learning standards and learning materials to ensure best practices and consistency with time-honored Montessori methods, as well as a Montessori-inspired environment that's clean, orderly and harmonious, crafted to allow students to move, interact and self-construct their learning space.