Easier childcare billing
Use brightwheel's childcare payment software to simplify billing and get paid on time. 90% of preschools say more families pay on time with brightwheel.
Brightwheel's childcare billing and payments
The #1 early childhood financial management software with integrated billing. Send automated invoices to families, enable families to securely pay online, and track subsidy payments—all from brightwheel.
Make billing easy for families
Reduce paperwork

Offer paperless invoicing and payments, and send receipts via email

Automate billing

Send recurring or one-time invoices and offer auto-pay to eliminate late payments

Integrate systems

Invoice families with the same tool you use for enrollment, attendance, and communication

Offer flexibility

Accept credit card or bank transfer payments and offer auto-pay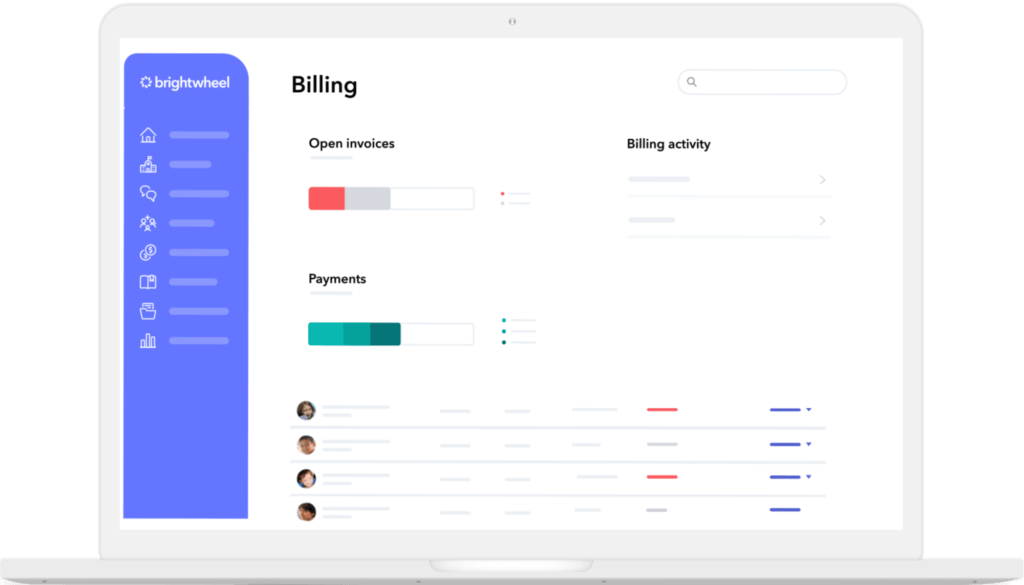 Manage your program's finances
Digitize your reporting

Easily run customizable billing and tax reports

Centralize your recordkeeping

Manage attendance, billing, and subsidies in one place

Improve security

Operate under the highest levels of security and compliance

Protect your business

Ensure all your data is fully encrypted and integrated safely with your bank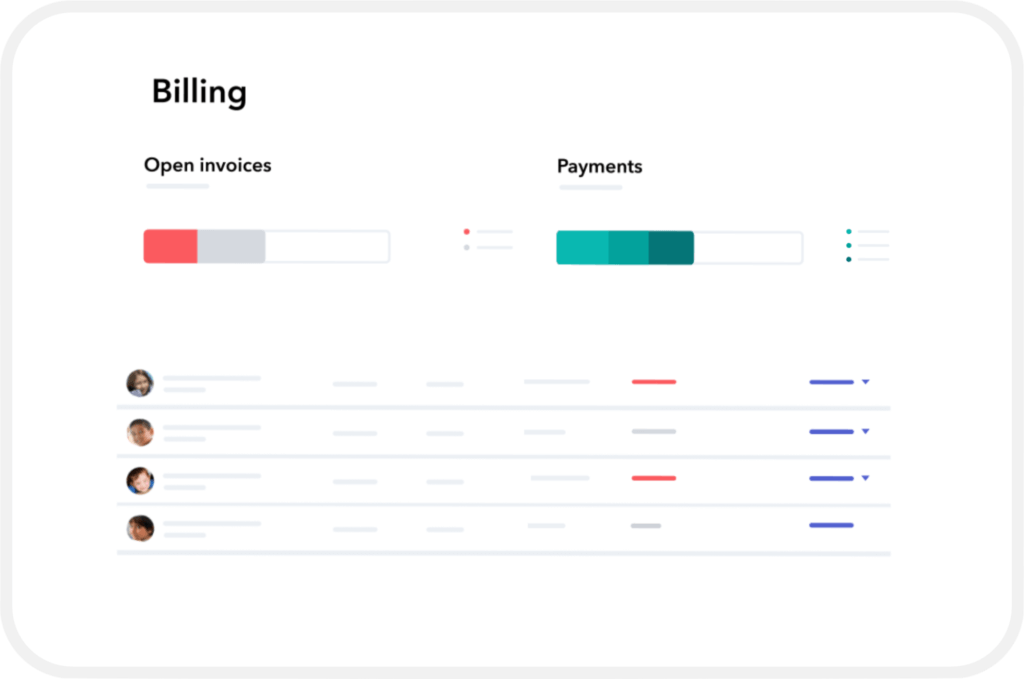 Simplify subsidy management
Save more time

Set up recurring bill plans, log agency payments, and waive balances in a click

Manage your finances from one place

Know who owes what with a centralized view of your finances across agency and family payers

Track with flexibility

Easily add, edit and backdate subsidy payments through the agency tracker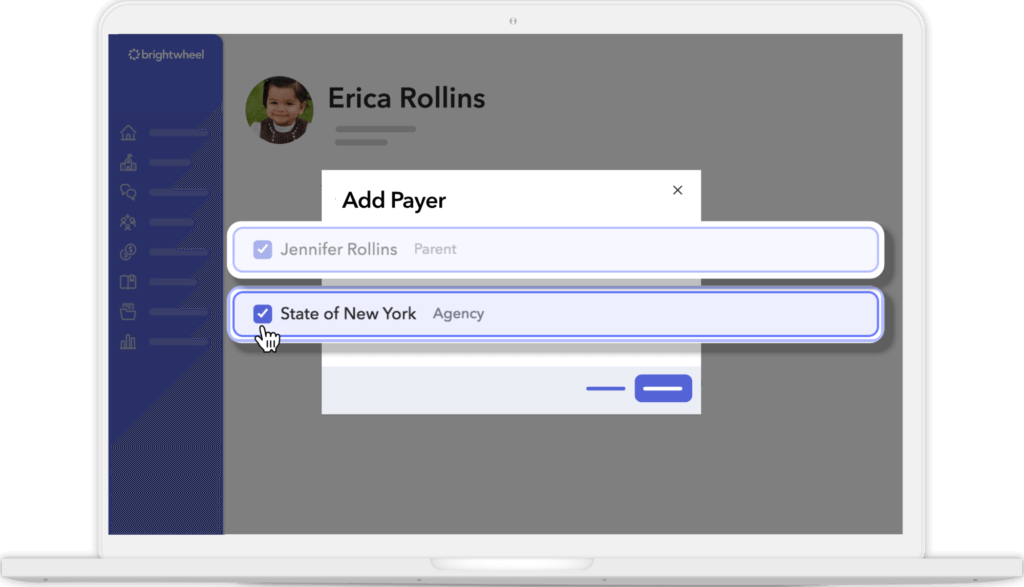 Brightwheel customers on simplifying billing
"Brightwheel billing is so easy to use. It's 10x better than the childcare software we were using before. I love being able to see monthly income, plus the breakdown of past due balances! I can't even put a number on the amount of time I've saved, it's been amazing."
Crystal H, Director at DaVinci Academy in Belvidere, IL
"100% of my payments are on time, because I use autopay. After being in this industry for 28 years, I know this has saved me so much stress because I don't need to charge late fees or send parents extra notifications about payments."
Monique R, Owner at World Elite Academy in San Diego, CA
"Billing on brightwheel and moving out of spreadsheets has been a lifesaver. There are some things brightwheel took off our plate that we weren't even aware of! My advice is to start using brightwheel billing before you think you need it. I know I wish we did."
Kalen & Kaitlyn S, Owners at Grow Together Learning in Hilliard, OH
Plus, many more valuable features including:
FAQs: Tips and insights about the billing feature
How do I make a childcare invoice?

Billing administrators can easily issue invoices for recurring charges in billing plans and for one-time charges, including attendance charges and late payment fees. Invoices generated through brightwheel will include the detailed information: Invoice number, program name, address, EIN, invoice date, dates of service, assigned payer name, due date, current amount due, charge type and description, and optional notes for payers. With brightwheel billing, administrators can easily set up and send automated recurring invoices in a weekly, biweekly, bimonthly, or monthly billing cycle.
What online payment methods does brightwheel support?

Families can connect and pay tuition online directly from their brightwheel app using bank account transfers (also known as ACH), credit cards, or debit cards. It is entirely up to your program to decide what payment methods to accept. Most programs on brightwheel today receive payments via bank transfers. If you accept cash or check payments, you can still use brightwheel to log payments. This makes it easy to track all payments in one place and at a glance know what's outstanding.
How long does it take for my funds to be deposited?

With brightwheel billing, you'll get your money by the next business day! We have the shortest turnaround time in the industry, and don't charge an additional fee for faster deposits. Online payments submitted by families by 7pm ET (4pm PT) will be deposited the next business day. Business days include Monday - Friday, but not weekends or holidays. Please note some financial institutions, often smaller credit unions, may have longer deposit times that we aren't able to influence.
Does brightwheel integrate or connect with other accounting or bookkeeping software, like QuickBooks?

Brightwheel's latest billing platform is compatible with Quickbooks Online. Using brightwheel reports, administrators can easily download billing transaction data from brightwheel manually and import them into Quickbooks Online — No need to manipulate the data first before importing. While this is not a complete, automated integration, the ability to transfer billing data to Quickbooks enables administrators to complete their accounting processes more efficiently. You can find our Quickbooks Compatibility Guide at https://help.mybrightwheel.com/en/articles/6321247-billing-v3-quickbooks-compatibility-guide.
Can I track subsidy payments and invoices from agencies in brightwheel Billing?

Yes! The Subsidy Dashboard is a subsection within the Billing section of brightwheel. After adding agencies, this will be the primary location to see a birds-eye view of each agency's and student's balances. These balances reflect the total amount still expected from a given agency for an individual student.
How does brightwheel help with filing my taxes?

For your program's tax filing, simply use the Billing Transactions report or visit this resource hub for questions on preparing for tax season. See our Help Center article: https://help.mybrightwheel.com/en/collections/2641580-tax-reporting-and-documentation
Join millions of childcare providers on brightwheel
Take a tour and see how brightwheel can help you, your staff, and your families.