Support child development in and out of the classroom
Add your own curriculum to brightwheel Learning or upgrade to get Experience Curriculum, a complete curriculum system with digital lessons, assessments, and hands-on learning materials mailed to you.
Early childhood curriculum
Brightwheel is the #1 childcare software that enables educators to create curriculum or upgrade to get Experience Curriculum directly in the app and in your classrooms. You can also log observations in accordance with all 50 state standards, and share progress with families—all from the same app you use for billing, communications, and classroom management.
Get Experience Curriculum in brightwheel!
Save educator's time

with a complete, easy-to-implement curriculum system including digital lessons and hands-on learning materials

Enhance program quality

with professional, research-based curriculum aligned to state standards

Support child development

in and out of the classroom, with integrated observations and family sharing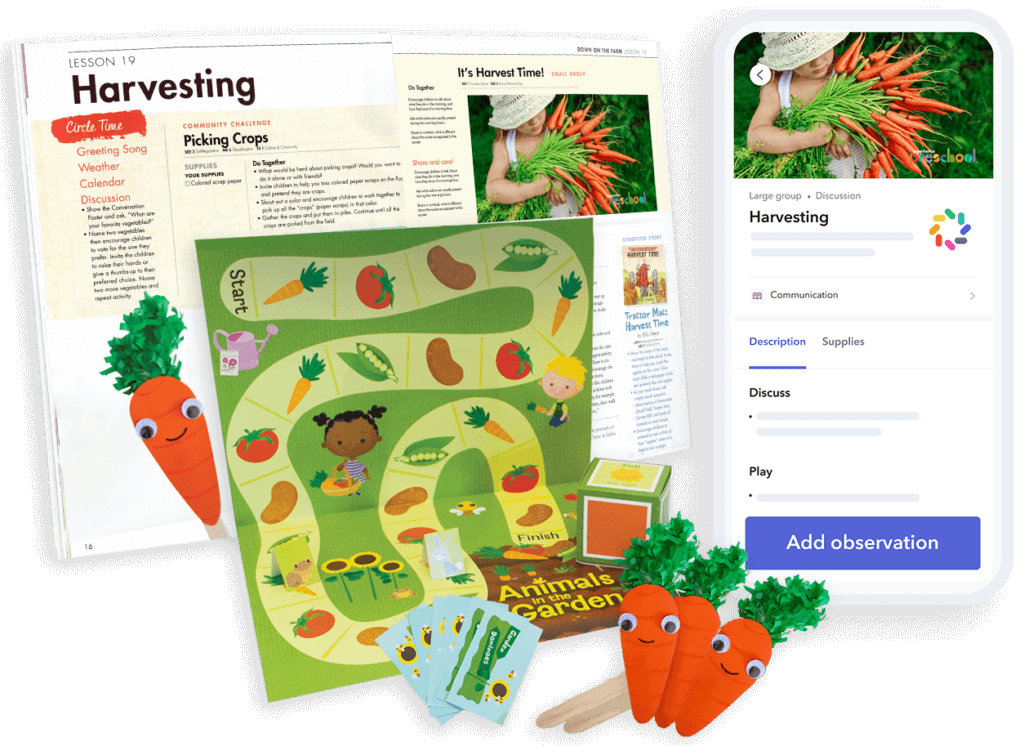 Standards & lessons
Pre-loaded standards

In addition to all 50 state's learning standards, learning frameworks for DRDP and Montessori progress indicators are available

Customized standards

Customize your learning standards to meet the needs of your program's development framework

Lesson planning

Use lesson plans to help your teachers plan for their students' success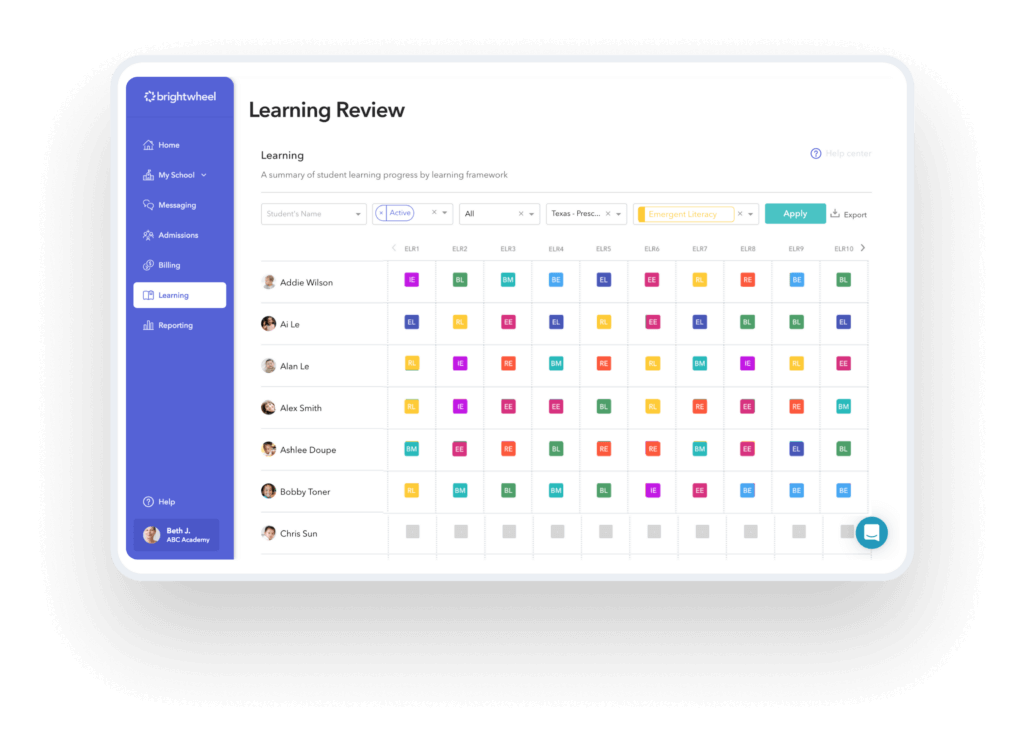 Observations & assessments
Media rich assessments

Observe learning progress live with photos, videos, and notes and align with learning framework

Student & class assessments

Create assessments by class or by student based on milestone or lesson progress

Sharing controls

Share learning and development with staff and parents on your own schedule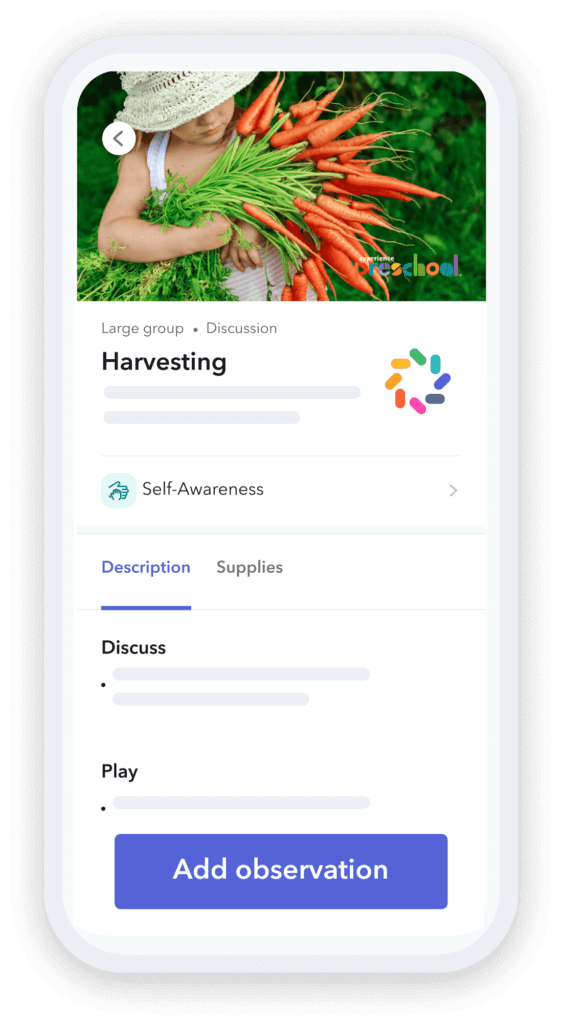 Progress Reports
Data rich reports

Track and analyze student or classroom progress with data-rich reports

Printable & sharable reports

Create printable and shareable student progress reports and include photos, videos, and more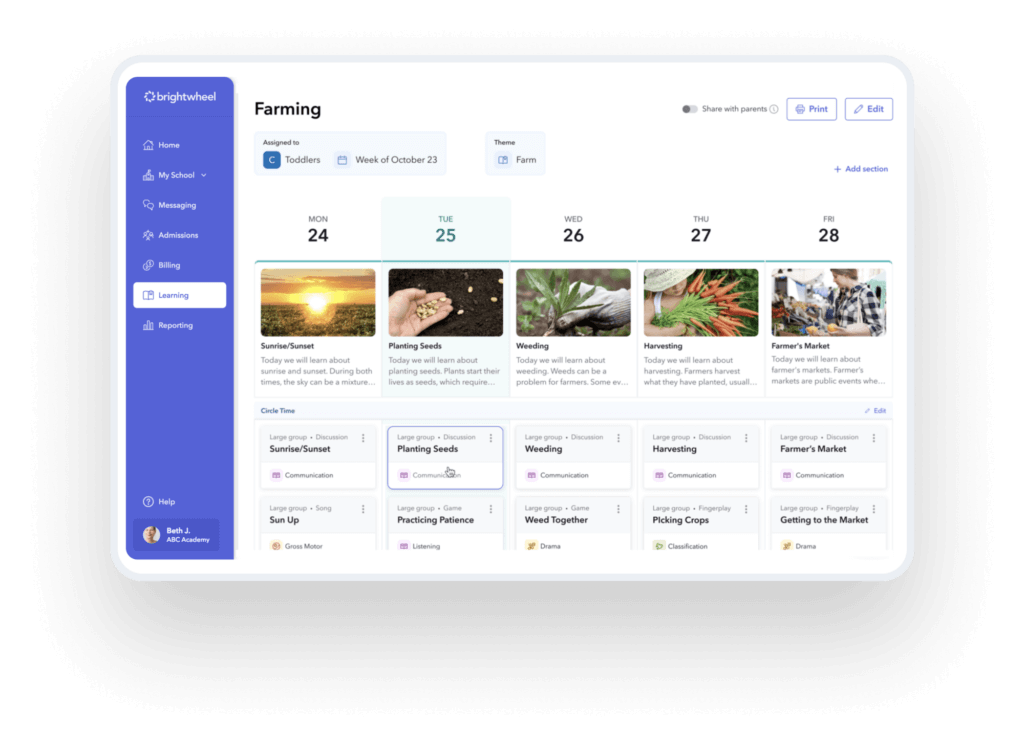 Plus, many more valuable features including:
FAQs: Tips and insights about lesson plans
What is Experience Curriculum?

Experience Curriculum has been supporting educators for over 30 years with a research-based curriculum system paired with high-quality, hands-on learning materials shipped monthly. It is aligned with NAEYC, Common Core, Head Start, and all 50 states' early learning standards. Go to https://mybrightwheel.com/experience-curriculum/ to learn more and sign-up for a personalized tour with our team.
Does brightwheel support early learning standards from each state?

Yes! Brightwheel supports early learning standards for all 50 states, and we are currently working to add all US territories. Brightwheel also has observation and learning frameworks for Desired Results Developmental Profiles (DRDP) and Montessori Early Learning/Development Indicators.
How long does it take to create a lesson plan in brightwheel?

Within minutes, you can create custom lessons and lesson plans in brightwheel. Brightwheel also makes it easy and quick to make edits, add specific milestones to lessons, re-use lessons, or even share with parents. See how it works: https://youtu.be/eDYXUtRIUU8
How does brightwheel help me track, record, and assess children's progress?

You can use the learning and observations feature in brightwheel to log student activities in accordance with state standards or learning frameworks. Observations can be used to track progress toward specific developmental milestones. They can also be shared with parents, keeping them connected to their child's development. You can also easily create, download, and print a learning report (by child or by classroom) to easily track learning progress and submit for licensing requirements.
Join millions of educators and families on brightwheel
Take a tour and see how brightwheel can help you, your staff, and your families.