Quality connections with families and staff
Brightwheel's childcare app enables families, staff, and administrators to easily communicate with each other, build deeper relationships and ensure important updates are seen.
Brightwheel's communication app
The #1 childcare software that enables you to centralize and send real-time messages, emergency alerts, and newsletters all from the same platform you use for billing, admissions, and classroom management. 95% of administrators and staff report brightwheel improves parent communication.
Simplify parent engagement
Real-time messaging

Keep an open line of communication between you, your staff, and your parents

Direct messaging

For sensitive or private subjects, message parents directly without any staff involved

Centralize communications

Reduce the number of apps for parents and message them directly from the brightwheel parent app, including prospective families, so they don't miss updates!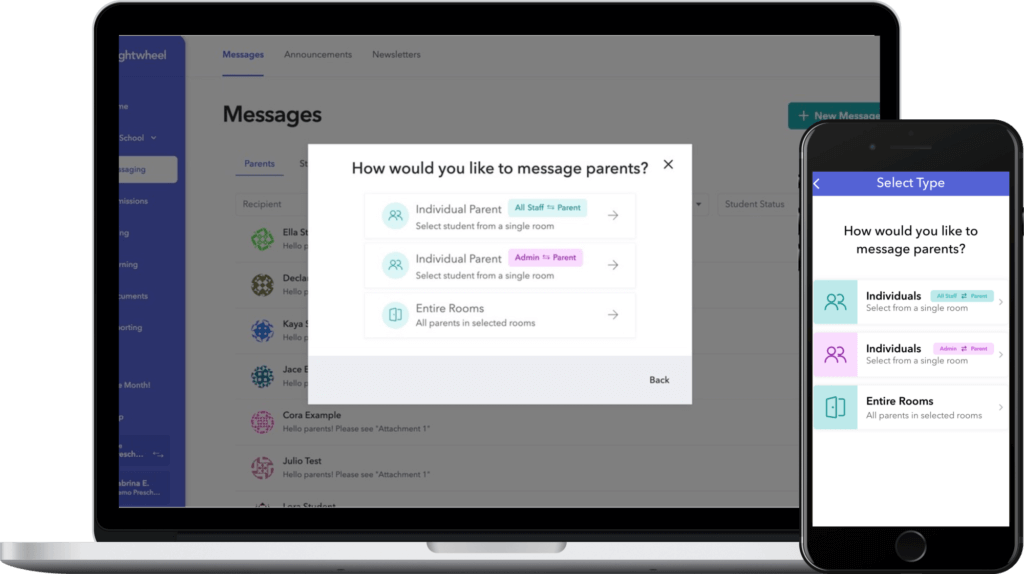 Easier staff communication
Quick and easy to use

Give staff an easy tool to message parents directly and share their children's progress

Ongoing appreciation

Help staff build stronger relationships with families using brightwheel's teacher parent communication app

Real-time support

Message staff individually or as a team, respond to questions instantly, and foster a sense of community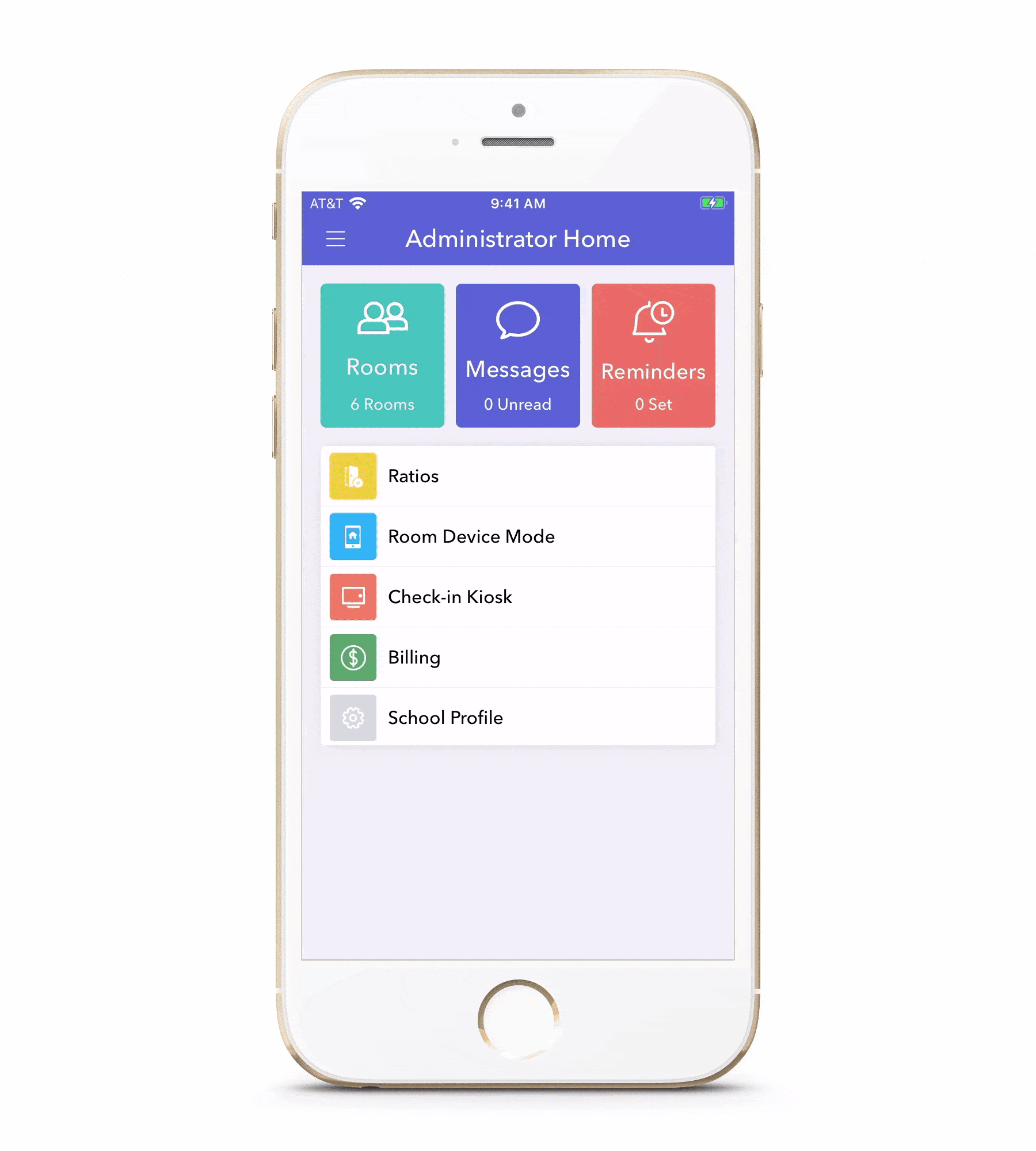 The complete communication platform
Based on your needs

Send messages with or without attachments, reminders, SMS alerts, announcements, or newsletters from brightwheel's childcare app

Available anywhere

Securely communicate with staff and maintain parent engagement from the brightwheel mobile app or web

Easy to scale

Easily communicate with an individual student's parent, a group of parents, a whole classroom, or the entire program.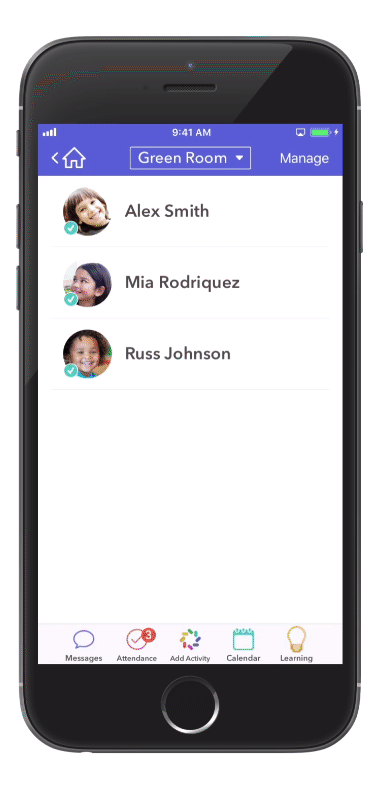 Brightwheel customers on building quality connections with families and staff
"Brightwheel gets an A+ for parent satisfaction. A huge piece families love is how brightwheel brings them into the room. We get so many compliments about it."
Marc H, Owner at A Strong Start Early Care & Education in Shelton, CT
"Brightwheel has been a tremendous blessing. I've received great feedback because with Messaging I'm able to step in and help answer questions a teacher might not be as comfortable answering."
Cally B, Assistant Director at MBCC Journey in Birmingham, AL
My teachers appreciate that I can respond to their messages in the moment, like when they want to take a break. Two-way communication helps promote staff satisfaction."
Pam M, Preschool Executive Director in Denver, CO
Plus, many more valuable features including:
FAQs: Tips and insights about the communication feature
Some of our parents do not respond to our communications. How can we get their attention with brightwheel?

Brightwheel centralizes communications in the same app families use to see updates on their child's learning and make tuition payments, making it easier for families to respond. Brightwheel also gives you the option to send an SMS Alert (outside the brightwheel app) to families that have an authenticated mobile number on file. This is a great option to get the attention of families regarding urgent matters. Please note that push notifications are turned on when an account is created. It is highly recommended that both Messages notification options remain enabled to ensure good communication between the provider and student contacts.
Some parents prefer receiving less frequent communications. How can we manage their expectations via brightwheel?

Brightwheel enables families to easily tailor their account settings, opting in/out to receive notifications for messages, photo/video updates, check-in/check-out, learning milestones, nap times, and more. It is highly recommended that message notifications remain enabled to ensure good communication between families, staff, and administrators.
How does brightwheel ensure secure communication with parents?

Brightwheel offers the highest levels of security across all accounts, and we are the first in the early education industry to add two-factor authentication as an extra layer of security to protect your, your staff, and your families account information. When there's a matter that should only be discussed between Admin/Manager and Parents without staff involved, there is an option to send a message to individual parents and have the thread be viewable by only Admins and Managers.
Does brightwheel app support Spanish language?

Yes. Brightwheel's translated mobile and web app experience helps native Spanish-speaking families stay connected to their child's education while empowering providers to efficiently manage their program with less language barriers and build a more inclusive environment for Spanish-speaking families.
Join millions of educators and families on brightwheel
Take a tour and see how brightwheel can help you, your staff, and your families.