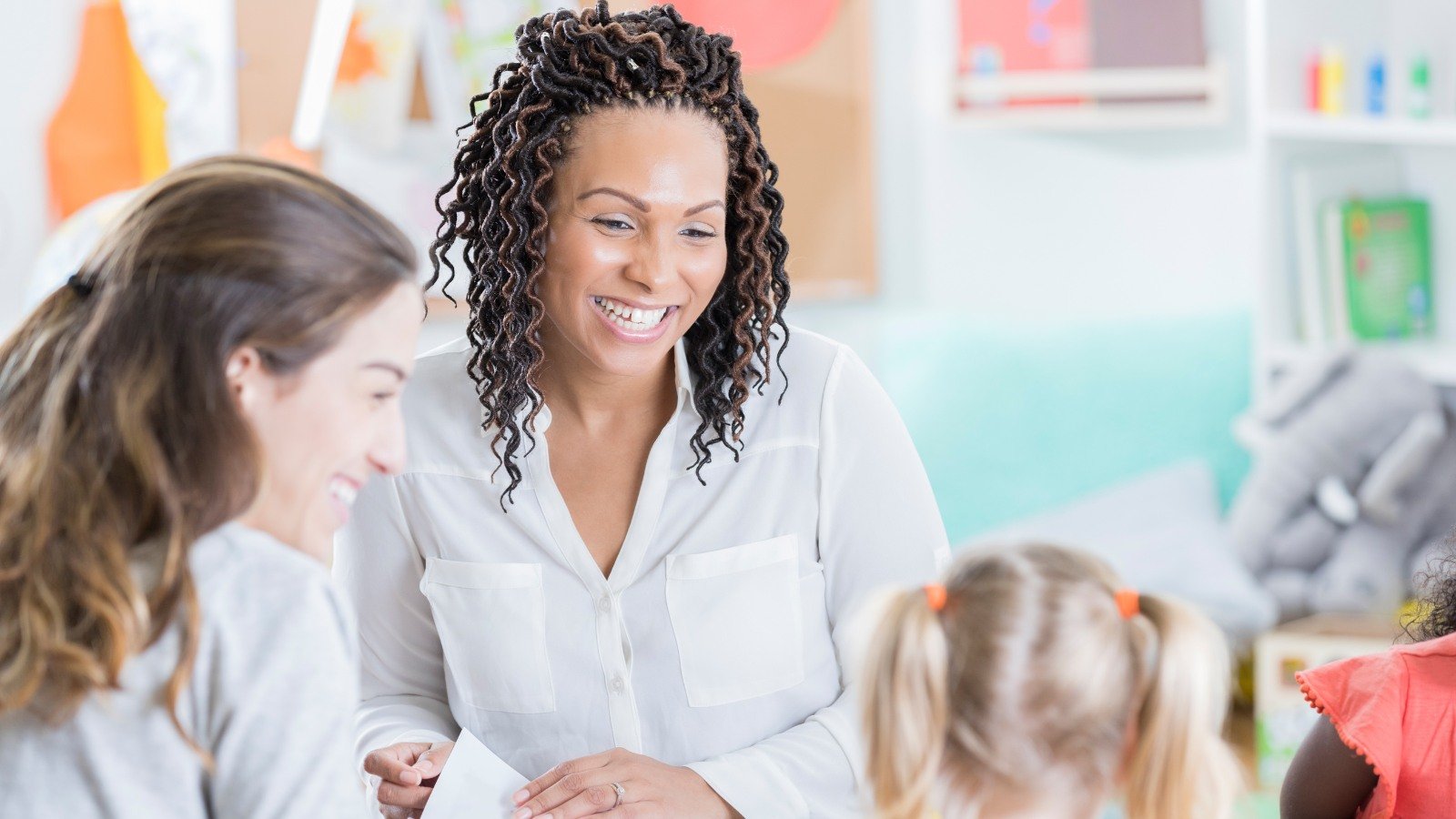 A strong family-teacher relationship is essential to each child's development and success. Communication is the key to building these strong relationships at your preschool or childcare center.
For some parents, this may be the first time they've trusted their child with someone other than themselves or friends and family. Understanding how to inform families about your program's goals, their child's progress, and daily activities can help build trust with your center's families.
There are some important things to consider when sharing information with families. In this post, you'll find parent-teacher communication strategies that keep families informed about their child's daily activities and progress and create positive outcomes for each child.
Why communicating with families is important
Effective communication is the foundation to building trust and partnership with the families at your center. A child's parent or guardian is their first teacher and expert on their child, so taking the time to build a positive partnership with parents ensures that you and your staff can effectively do your jobs of educating and nurturing their child's growth and development.
This partnership requires involvement from both teachers and parents alike, with both parties sharing knowledge and seeking to understand each other. Through effective communication, educators and families can work together to support each child's learning and provide the best resources needed to reach their full potential.
Collecting information from families with respect
Establishing a respectful parent-teacher relationship is essential to effective communication. As soon as families join your program, you should collect information from them, as this will enable you to better understand and respect each family's unique circumstance. This knowledge will help you in all your future interactions with the families at your center and build trust and comfortability with you and your staff.
To develop a respectful relationship with families, reach out with a warm welcome and gather important information such as:
Religious and cultural background, values, and beliefs
Family dynamics and home arrangements
Preferred languages
Disabilities or health issues or concerns
Learning styles


Not only will gathering this information help you learn more about children and their families, but it will also inform how you interact with them. The more you respect their values, beliefs, choices, preferences, and needs, the more likely you'll establish trust and a solid parent-teacher relationship.
Source
Understanding communication preferences
Take time to understand how and when to communicate with families. You may ask questions like:
What days and times are best to reach you?
Would you prefer to communicate over the phone, through email, or in-person?

You can even use a survey to gather information about your families' communication preferences and other details that would be helpful to know.
To accommodate for language differences, you may offer to communicate at times when a translator is available.
You'll want to be sure families understand your communication preferences too, so consider sharing the best times and ways for families to contact you.
For example, you may inform them that you're available to speak on the phone during naptime and after school ends, or you may tell them to reach you on a childcare app like brightwheel or email during working hours.
There are so many ways to communicate and understanding communication preferences will help keep families better engaged and informed.
Ways to communicate with families in the digital age
Digital communication has become an essential part of how teachers and families communicate. Teachers can use digital communication to distribute important information to multiple families, send daily updates to parents, and keep families engaged in what is happening at your center.
Leveraging technology such as mobile apps, social media, and digital newsletters to keep parents and families engaged has never been easier. Here are a few ways to engage with parents in the modern age:
Monthly newsletters
Monthly newsletters are a great way to cover general school-wide announcements, updates, or events. These can allow teachers and administrators to streamline communication with families, by providing important information in an easily accessible format that families can expect each month.
There are several tools to help you manage monthly newsletters. Check out this guide for step-by-step instructions on creating a newsletter using the brightwheel app. You can also upload your own personalized template PDF to the brightwheel doc hub.

Consult this list for the best email newsletter software and reference this guide for further tips on writing an engaging newsletter.
Blogging
If your center already has a website, you may consider adding a blog. A blog can keep your families up-to-date on current events in the early childhood education space and give in-depth descriptions of classroom events or activities, giving families a deeper understanding of what goes on at your preschool.
In addition, a blog that provides valuable information can position you as an expert in your field.
Apps
Many apps bring the early education business into the 21st century. For example, brightwheel is an easy-to-use mobile software app that will help you manage your school and stay in touch with families. Your staff can use brightwheel for recording and tracking daily events and activities in the classroom, and parents will get real-time updates delivered to their mobile devices throughout the day.
This powerful app offers secure, digital check-in/check-out and an automated paperless billing system. Additionally, parents can invite other family members to join their child's brightwheel community so everyone can stay updated.
Social media
An active Facebook page or Twitter feed can give parents a real glimpse into a school's daily activities. Families can also invite extended family members to follow the action. Be sure to have parents sign a release form and comply with them to protect your students' privacy.
Communication strategies for difficult parent-teacher discussions
Difficult discussions may arise at your childcare center. A parent may bring a sensitive issue to you or you may have to inform a family about a challenge with their child. Take the time to prepare for these conversations and use some of the strategies below:
Determine the most appropriate form of communication for the specific incident. Depending on the situation, a phone call or message might be the best way to contact the parent. If the topic is sensitive, an in-person meeting might be necessary.
Give yourself ample time to prepare any records, notes, or examples that would be helpful to reference during your conversation. It's also helpful to anticipate any questions parents might have and prepare some responses beforehand.
Start the conversation by sharing how much you value their child and highlight their strengths. Parents may need an extra reminder that you both want what's best for their child.
Keep your composure if things get tense. The best way to respond is to be direct, stick to the facts, and remain calm.
Take the time to understand the parent's perspective and listen with empathy. This will help prevent miscommunications.
Collaborate with parents on a solution. Work together to come up with a shared goal, plan of action, and any next steps.
Follow up after the conversation by sharing any notes from the meeting or resources that will support the family.
Effective communication and active listening
Taking time to build solid relationships with families through communication is vital to every child's success, and it begins with one critical skill - active listening. To practice active listening, you must pay attention to the speaker, understand what they are saying and reflect their main points back to them, so they know they are being heard.
Active listening is an essential skill you can use to understand your children and families better and create meaningful partnerships that will improve learning outcomes for each child.
For example, active listening with families can reveal more about the child's education at home, including insights into their learning style and how they are learning at home, and help you see the bigger picture about the best ways to support each child.
Conclusion
A solid parent-teacher relationship is critical to a child's success, and it begins when you initiate respectful communication with parents and family members. By practicing active listening and informing families about your center's goals and their child's progress, you establish trust and begin creating a successful partnership that will lead to the best solutions for each child.