Easier check-in and attendance
Use brightwheel for contactless check in and out, making it faster for families to drop-off and pick-up, easier for staff to record their attendance, and more efficient for you to ensure compliance.
Brightwheel's childcare check-in and attendance system
The #1 childcare software that enables families and staff to securely check in and check out with ease. The powerful software gives you access to childcare attendance sheets, runs attendance reports, and integrates the attendance records with your billing system.
Your complete childcare attendance and check-in software
Easily access attendance sheets
Digitize check-in

Replace paper sign in sheets with digital check in and check out for students and staff

Monitor attendance

Keep track of students during the day, moving them to different rooms, or mark them as absent

Correct attendance records

Easily check and update current and historical attendance sheets, to make sure they're accurate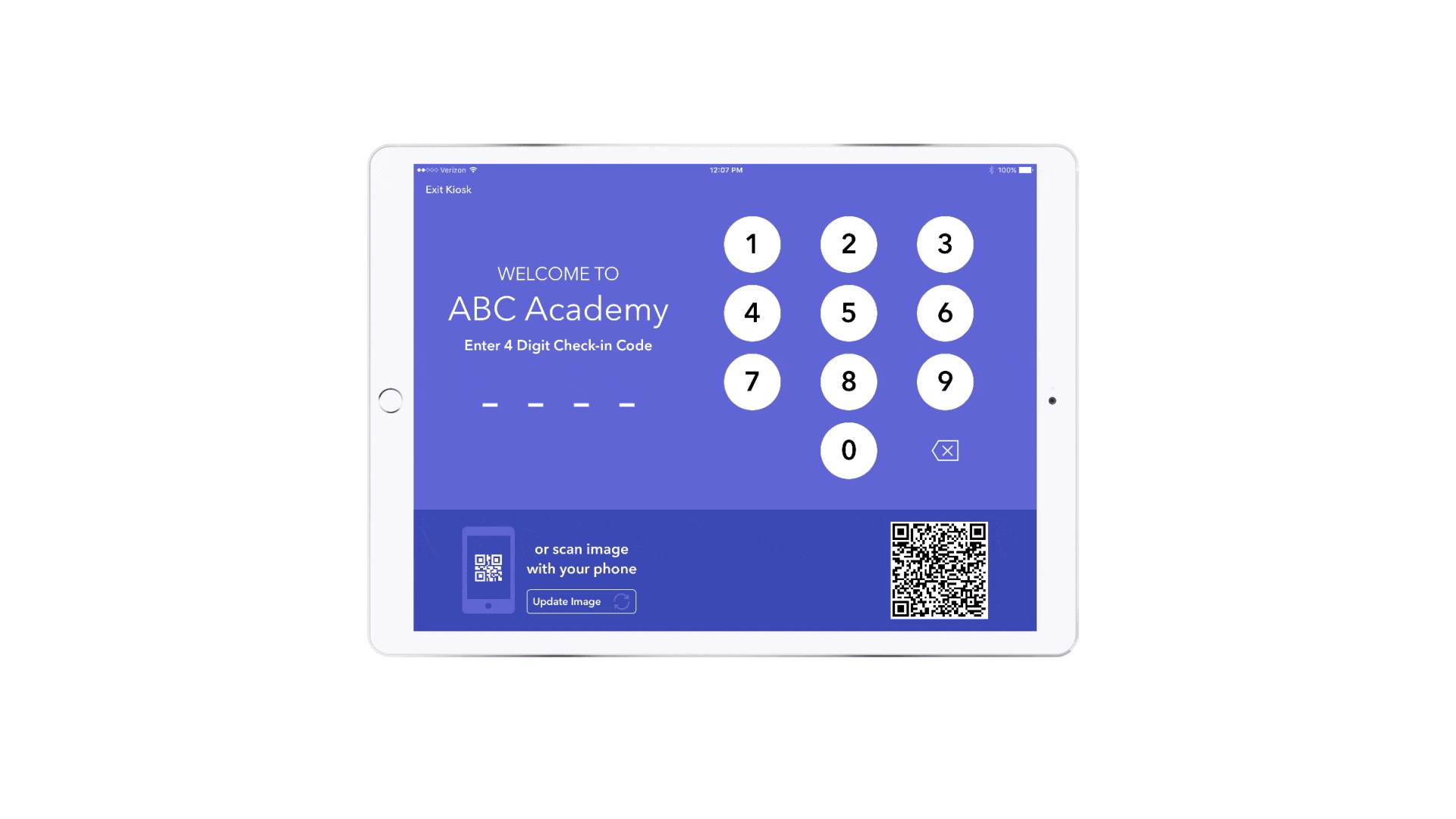 Run attendance reports
Get a daily summary

Enable staff to easily pull an attendance report based on classroom and a child's status

Pull reports quickly

Easily customize and access attendance reports that meet licensing requirements or your business needs

Keep records updated

Make sure attendance data is accurate, even if an attendance action is forgotten or missed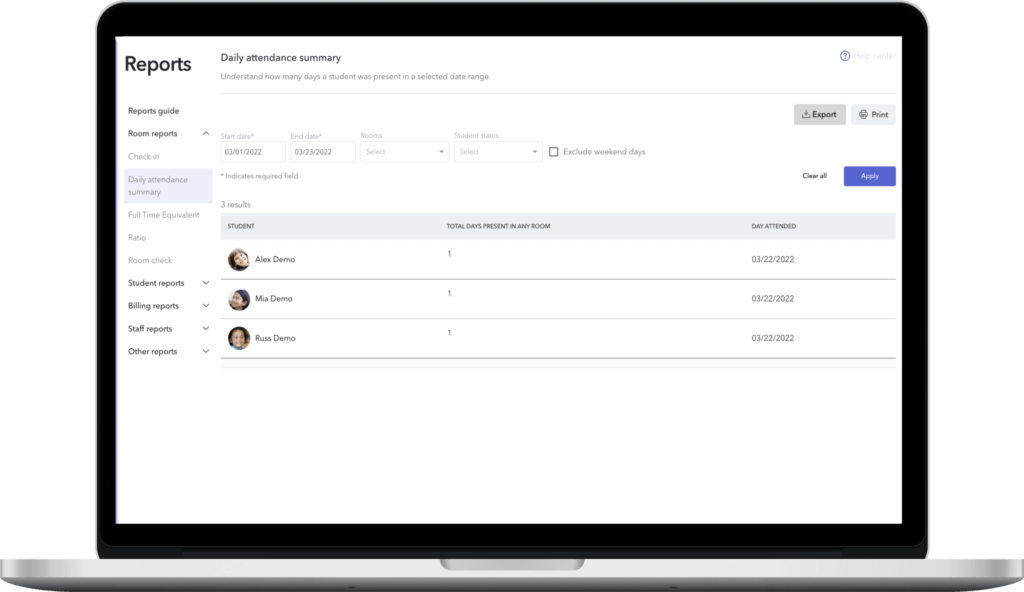 Integrate attendance with billing
All-in-one

With attendance tracking and billing integrated all-in-one software, you can manage your center more efficiently

Charge based on attendance records

Bill based on when a student checked in or out. Useful for early drop offs, late pick ups, before or after school care, and drop-ins

Pull staff payroll reports

Quickly run & export the total hours worked for staff, and use these reports with your third party payroll systems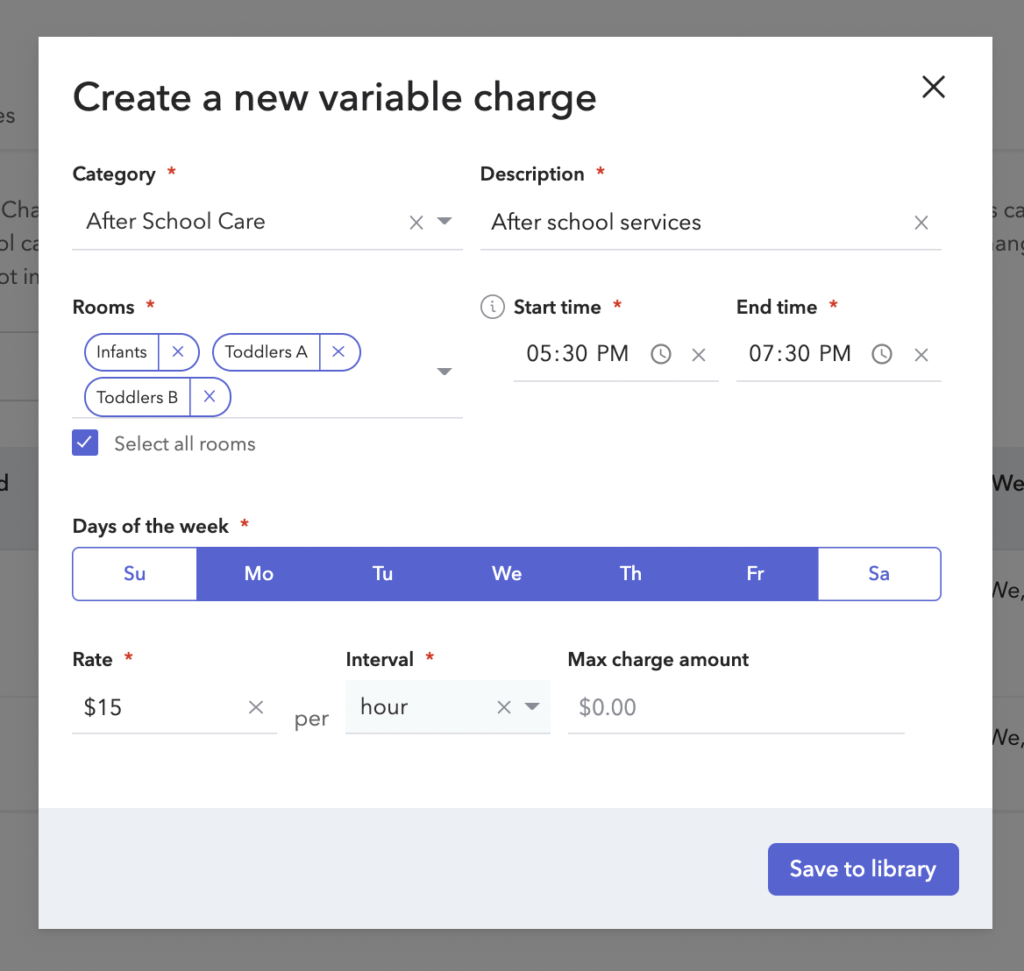 Plus, many more valuable features including:
FAQs: Tips and insights about the attendance tracking feature
Why is attendance tracking important to childcare providers?

First and foremost, childcare providers must record the accurate number of children in attendance to comply with licensing requirements of the state in which their facilities operate. Childcare attendance sheet, digital or otherwise, is a tool that helps providers keep attendance records for each day child care is provided. For detailed information or questions regarding the licensing requirements or regulations, please contact your local Child Care Resource and Referral Agency.
How does contactless check-in work?

Brightwheel's check-in experience is configurable to best fit the needs of your program. For contactless check-in, use brightwheel and allow parents to initiate a check-in by either entering the 4-digit code or scanning the QR code and entering the 4-digit code. You can also enable digital signatures (required by some states), health screens, and/or QR codes to make check-in faster, more secure, easier to stay compliant with licensing.
Can I turn this contactless check-in feature on/off?

Yes. Any administrator can update the Quick Scan setting to enable or disable contactless check-in at any time. Navigate to the School Profile from the Administrator Home screen on the app or under School Settings on the web.
What if a parent forgets or doesn't have a smartphone?

No problem! In scenarios where parents don't have a mobile device to check-in their child, staff can help check-in children. Brightwheel also lets administrators set up a kiosk device where parents can use the 4-digit code to check in their children without a smartphone.
Is it possible to send customized health screen questionnaires to parents before they check in their children at my center?

Yes! Administrators have the ability to allow parent-level contacts to submit a health screen questionnaire from home. Based on CDC and local jurisdiction requirements, the health screen feature in Brightwheel allows administrators to customize the statements to be confirmed by parents.
Join millions of educators and families on brightwheel
Take a tour and see how brightwheel can help you, your staff, and your families.