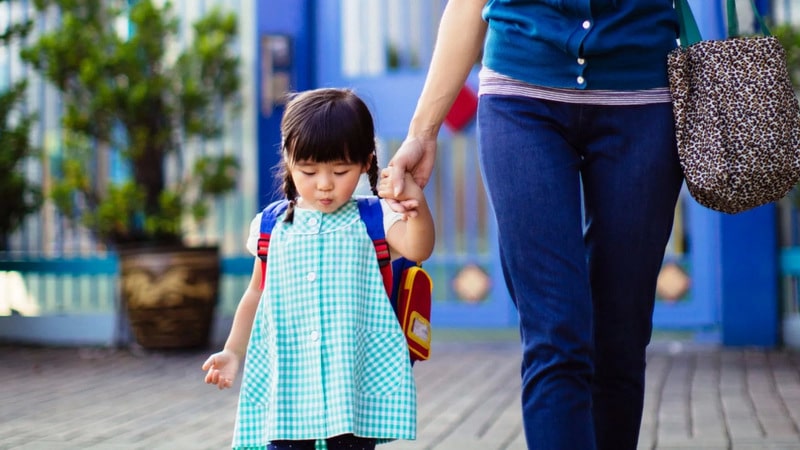 Thinking about using child check-in software for your center or program? If you're a preschool, childcare center, or after-school program, you must have a system in place to track attendance for many different reasons. These days technology is your friend and can streamline this task that historically has been relegated to pen and paper.
Child check-in software is a great way to employ technology to make your life easier and keep your modern families happy. If you're not sure how to get started, we've gathered a quick guide to follow, from choosing the software through implementation. Let's get started!
Consider your needs
Before choosing a child check-in software, take a step back and consider the features and capabilities you'll need the software to handle, in order to replace your current check-in method. Does your licensing agency require a physical signature? Is your drop-off time hectic, so ease of use is crucial? Do you use check-in records to calculate your tuition? Make a list of your current check-in pain points that you'll want a software platform to alleviate. Once you know exactly what you need, you're ready to begin your search.
Choose wisely
When making a purchasing decision, it's important to do your due diligence and compare your options. This is no different when considering new software. Before you download any software or sign-up for an account, use your list of must-have features to compare your options and rule out any software that doesn't satisfy your needs.
Once you've narrowed down your choices, there are two other very important factors to consider: reliability and ease of use. These are critical to the success of any software implementation and should be explored in depth before making a decision. Since your software will be in the hands of your staff and families each day, it has to be top-quality, and can even be seen as a reflection of the quality of your program. There are child check-in software platforms out there that are glitchy, often crash, or are complicated to use. Any of these should be a deal breaker. Do your research, and be sure to ask about uptime, the percentage of time that software is successfully operational.
Take it for a test drive
Before you commit to rolling out a new technology, the best thing you can do is test it out to see if it is right for your program. With a tool like brightwheel, you can sign up for a 30-day trial with no commitment to buy, giving you time to evaluate whether it's your best choice. Be wary of other options that force you to buy before you try, even if the price is attractive. You truly get what you pay for when it comes to tech.
Also, take time to demo the software platform internally with one classroom or a few staff members before rolling it out program-wide and to your families. Any new technology can take some time to master, but this will be the real test of how easy it is to use.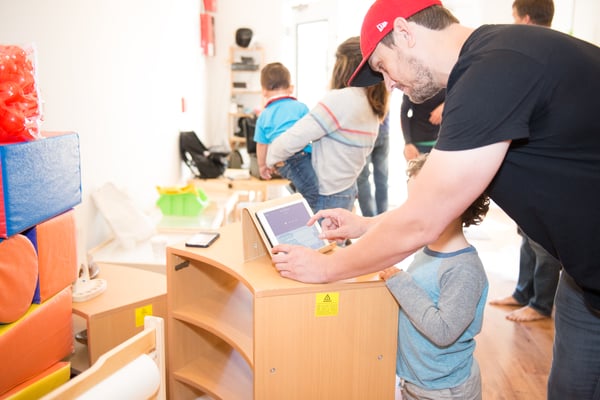 Set up your facility
If you have been using a pen-and-paper method of signing children in and out, you'll need to take a look at whether the same physical set-up will still work once you move to a software-based solution. Depending on your needs and constraints, it might make sense to have a dedicated check-in computer or device in a common area, replacing the old-fashioned clipboard method. This can live on a stand or be locked and wall-mounted, and will be unique to your individual situation. Is the wifi strong in your lobby? If not, consider a hot spot to ensure sustained connectivity.
Also, what kind of device(s) or hardware will you need to use your child check-in software? If you'll be providing devices, make sure they meet the technical specs of the platform you've chosen. Or will staff members use their own personal devices? Have this all set up and ready before you need to use it, to ensure you've considered all of the variables.
Prepare your families and staff
Before you're ready to formally implement your child check-in software, you'll have some work to do in order to set yourself up for success. The good news is that if you chose an easy-to-use system, this won't be hard or time-consuming. You'll want to provide both your staff and families with clear, easy-to-access instructions on how they will be using your child check-in software. Because everyone learns and digests information in different ways, consider offering very clear step-by-step instructions with illustrations, diagrams, or even a short video demonstration of how this new software works. For your staff, you may add in a formal training session to your next staff meeting.
We recommend preparing for the switch with plenty of time for folks to get accustomed to this change. We also recommend sharing this news a few times, in case it is missed the first time around. Send a few emails or reminders, post in your facility's check-in area, feature the change in your weekly newsletter. Give ample warning and time before implementing, so that no one is taken by surprise on your software launch date.
Provide support
When you're ready to launch, it's a good idea to assign a parent volunteer or staff member to oversee check in and check out on the first few days. Have someone on hand to answer questions or guide those who need assistance. With even the easiest-to-use technology, there is always a chance for hiccups or user error.
Since your goal was to streamline your check-in process, make sure everyone has the support they need to make this a reality. If you make the right software choice, the learning curve here should be short, or maybe non-existent.