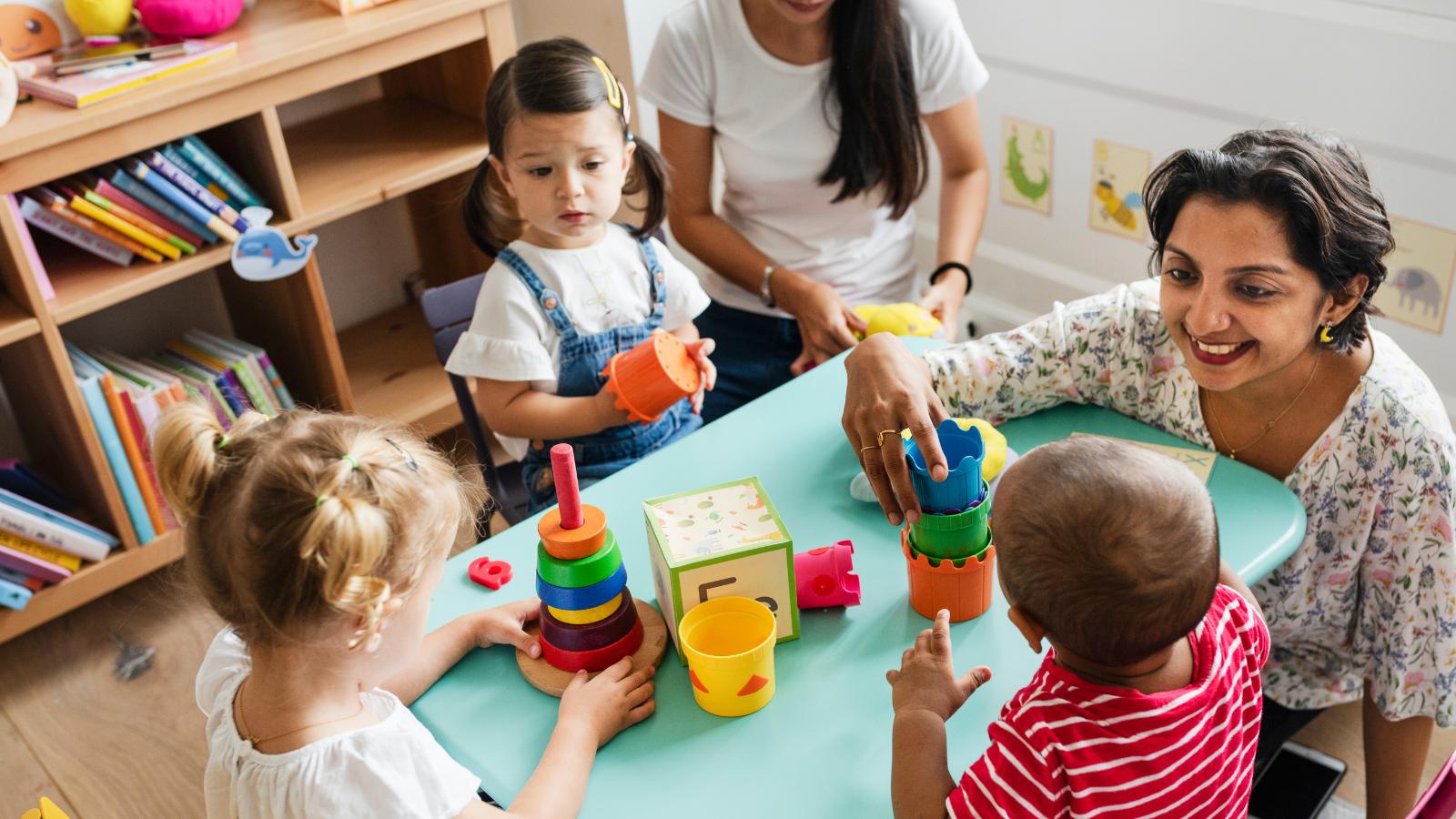 Starting a daycare business is a rewarding career that is necessary to support working families. In addition to having a passion for early childhood education, it is also necessary to obtain the appropriate licenses and certifications before you can open for business.
Every state requires some combination of licensing and certification to start a childcare program, whether it is center-based or home-based. This article outlines some of the general requirements to open a childcare center including resources to find specific licensing requirements in your state, as well as provider, facility, and capacity requirements.
Source
What are the requirements to open a daycare center?
Childcare licensing requirements
Most states require childcare businesses to obtain a license prior to operating. This process will typically involve attending an orientation or training session to learn more about your state's rules and regulations, submitting an application, paying a fee, and completing an onsite inspection or visit to ensure your center meets all the requirements.
The licensing requirements for home-based and center-based childcare programs also typically vary from state to state. Center-based childcare programs provide childcare services in a facility outside of the provider's home, while home-based programs provide child care in a provider's residence.
Starting a daycare business will look different based on your location, but there are some general guidelines to get you started:
Determine the type of program you want to start. This can be center-based or home-based.
Find your local Child Care Resource & Referral Agency (CCR&R). These agencies will provide you with the support and resources you need before, during, and after the licensing process.
Find your local childcare licensing office.
Do a self-assessment to determine if opening and operating a childcare business is right for you.
Learn about your community needs. This is an important first step when starting your business plan.
In some states, certain childcare arrangements do not require a childcare license. For instance, in California, if you are providing care for your children or those of a relative, and children from only one other family, then you are legally exempt from licensure requirements.
Provider requirements
When applying for a childcare license, most states will list provider requirements that childcare center directors must meet in order to obtain a license. Some states require childcare center directors to have a degree in child development, social work, education, or a related field. Other states may require a minimum of a high school diploma or general educational development (GED) certificate or the completion of relevant coursework from an accredited college.
Depending on the type of childcare program, states will typically also have provider age requirements (e.g. must be at least 18 years old) and require directors and teachers to have a minimum number of years of teaching experience to qualify for licensure. Even if your state doesn't require a degree in child development, many families prefer to send their children to childcare centers with highly trained and educated workers, so a relevant degree can be used to signal your qualifications to prospective families or help you advance in your career.
It's also imperative for all teachers and staff members to have the proper credentials, training, and degrees. Educational certifications can also help reassure prospective families that your daycare center staff will provide optimal childcare services.
As part of the licensing process, providers and all staff members will also need to pass a background check.
Capacity requirements
Low child-to-staff ratios and small group sizes ensure that children will receive adequate one-on-one attention to meet their specific needs. Responsive caregiving is critical to every child's social and emotional development, physical health, and overall learning.
This one-on-one attention makes children feel safe and secure while reducing overwhelming feelings in both children and staff members. It's easier to manage smaller groups, especially with enough trained staff present. Children will also be less likely to get injured or hurt because staff can better monitor and respond to a smaller group.
Most states require a certain number of teachers or adults in the classroom for a certain number of children. The child-to-staff ratio also varies depending on the age of the children.
The following are general recommendations for appropriate child-to-adult ratios:
Infants (under 12 months): One trained adult for every three to four infants
Young toddlers (1 to 2 years): One trained adult for every three to six young toddlers
Older toddlers (2 to 3 years): One trained adult for every four to six older toddlers
Preschoolers (3 to 5 years): One trained adult for every six to ten preschoolers
Review your state's specific requirements for child-to-staff ratios and group sizes.
Health and safety requirements
As a childcare provider, you're not just responsible for helping children reach developmental milestones, you also need to provide a safe and clean learning environment. Childcare centers must meet and adhere to state health and safety rules at all times.
As part of the licensing process, most states will require your center to have an emergency plan that outlines your policies and procedures in case of an emergency. Most states will also require staff members to have cardiopulmonary resuscitation (CPR) and first aid certifications. Many organizations including the American Red Cross, local hospitals, fire departments, community health centers, or community colleges often offer these trainings and certifications at low or no cost. Some states also require additional health and safety training that your staff must take on a regular basis to stay compliant with state regulations.
If your childcare center serves meals and snacks, you may be required to receive mandatory food safety training. Programs that receive funding from the Child and Adult Care Food Program (CACFP) must meet specific guidelines and follow nutritional standards.
Some states also require childcare providers to follow specific record keeping policies such as tracking staff training hours, child immunization records, and meals. A tool like brightwheel's center management feature simplifies administrative tasks and streamlines your record keeping and reporting, saving you time and allowing you to manage your program efficiently.
Facility requirements
Facility requirements such as required indoor space, gated outdoor areas, sufficient lighting and ventilation, and heating and air conditioning, are some of the things that states will require when opening a childcare center. Most states require that childcare centers have plenty of space for children to play and explore safely. Although exact square footage requirements may differ from state to state, most childcare centers are mandated to have a specific number of square feet per child.
For example, in Florida, each child must have at least 35 square feet of usable floor space. This includes the classroom, play area, work area, and nap area. In addition, each child must have a minimum of 45 square feet of usable outdoor space. Most states will also require that outdoor spaces are secured with a fence or gate and include age appropriate play equipment.
Source
What certifications do I need to open a home daycare?
Home-based childcare providers, or those programs that provide childcare services in the caregiver's own home, must also meet state specific requirements in order to operate a childcare center at home. Similar to center-based programs, home-based programs will often have to meet provider, facility, and capacity requirements in order to obtain a license from the state.
Licensing requirements
Each state has its own specific licensing requirements for home childcare facilities. It's also worth noting that different states have different terms for home daycare centers. They are often known as family childcare homes in many states. While many states require home-based daycare businesses to obtain licenses to provide daycare, in California, if you plan to care for a relative's children or children from one other family in addition to your own, a license is not required.
A family childcare home license is required to ensure that some aspects of childcare are held to certain standards. For example, these licenses may regulate the facility's security, the number of children you can admit, immunization requirements, health and safety standards, child supervision expectations, and staff training.
Although each state has its own licensing process, there are some general steps you can expect when applying for a childcare license:
Register for and attend your state's childcare provider orientation.
Learn your state's licensing laws and regulations.
Complete and submit an application.
Prepare for an onsite pre-licensing inspection.
Some states' licensing application process can be completed quickly through an online portal, however it may take several months to receive final approval. Your local Child Care Resource and Referral Agency (CCR&R) can provide resources before, during, and after this process.
Provider requirements
Each state has its own age, education, and training requirements that providers must meet before opening a home-based daycare business. In most states, home-based daycare owners must be at least 18 years old, have a high school diploma or GED, relevant childcare or teaching experience, and college credit in a field related to childcare or education.
For example, in Pennsylvania, home-based daycare providers must have a high school diploma or GED, and a combination of credit hours from an accredited college or university in an early childhood education field, secondary training, or years of experience working with children.
Facility and capacity requirements
The facility capacity requirements for home-based daycare centers vary from state to state. Many states categorize home-based daycare centers as either family or group childcare homes. Family childcare homes are usually licensed to care for fewer children than group childcare homes. A home-based daycare provider's own children are often excluded from a facility's staff-to-child ratio and group size requirements.
Zoning may also be critical depending on where you live. A potential home-based daycare owner sometimes needs special permission to run a business out of a private residence. For example, if you are a renter, you may need written permission from the property owner to run a daycare out of the home. In addition, some jurisdictions may require a daycare business owner to obtain special approval to run a business in a residential area. Individuals may contact the local zoning board to determine whether they need special support.
Like center-based programs, home-based programs must also follow facility requirements set by the state to ensure you are providing a safe and clean environment for children. These standards generally include guidelines around the physical indoor and outdoor space, and health and safety requirements such as emergency and sanitation procedures.
Insurance
Another requirement for obtaining your license may include obtaining insurance for your business. For example, to operate a daycare center in some states, you must obtain general liability insurance before getting licensed.
Daycare businesses can be protected by various insurance policies, including general liability insurance, homeowners insurance, errors and omissions insurance, commercial auto liability insurance, and abuse and molestation liability insurance. Not all homeowners insurance policies cover home daycare liabilities so it's important to do careful research and choose the policies that will meet your business needs and protect you, your business, and your employees.
Source
Learn more about daycare licensing regulations in your state
Daycare licensing requirements vary by state. Consult with your state's childcare licensing department or check out our guides below for more information:
Conclusion
Before applying for a daycare license, it's important to make sure that you, your staff, and your center meet the licensing requirements for your state. With careful research and preparation using the many resources available to potential childcare providers, you can navigate the licensing process and focus on the next stage of your business.
---
Brightwheel is the complete solution for early education providers, enabling you to streamline your center's operations and build a stand-out reputation. Brightwheel connects the most critical aspects of running your center—including sign in and out, parent communications, tuition billing, and licensing and compliance—in one easy-to-use tool, along with providing best-in-class customer support and coaching. Brightwheel is trusted by thousands of early education centers and millions of parents. Learn more at mybrightwheel.com.