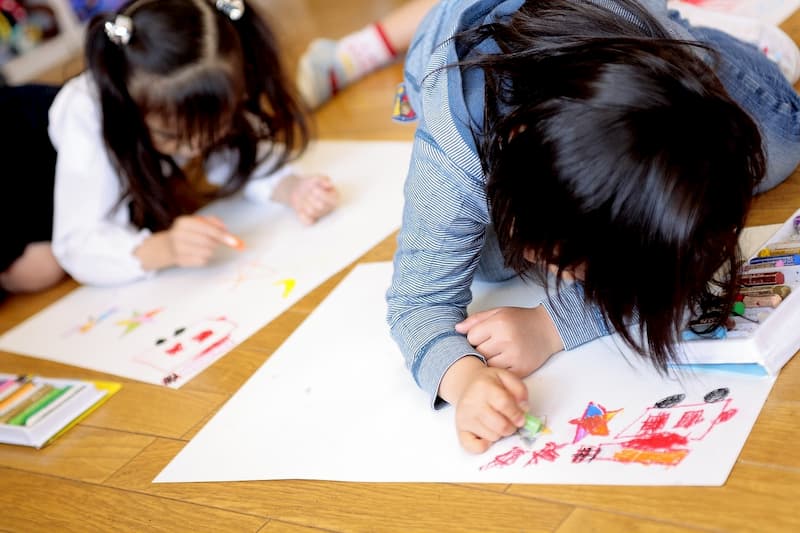 Operating a preschool at home can provide both a comforting and rich educational experience for children and their families. However, opening a preschool isn't easy, whether you're a teacher with a vision or a parent who sees a need. To run a successful preschool at home, you need expert advice, a clear business plan, and preschool management software to help you stay organized and streamline your operations.
With careful preparation, you can create a nurturing and stimulating environment for early education. This guide will explain how to start your preschool, from writing a business plan and choosing a location, to marketing, hiring, and managing your day-to-day operations.
13 tips on how to start a preschool at home
Before opening a preschool at home, you'll need to ensure your business is set up properly and that you have all the resources in place to create the best learning environment for the children in your care. Below, we explore practical tips to help you get started.
1. Learn about preschool licensing requirements
Your local government will have rules and regulations that you must abide by as a childcare provider and a small business owner. Start by familiarizing yourself with your state's licensing guidelines and the process to become a licensed childcare provider. For example, if you're in California, the California Department of Social Services has a guide on becoming a licensed preschool. Most states will have something similar.
2. Write a preschool business plan
Writing a preschool business plan is a big task, but due diligence and hard work at this stage will inform the rest of the process. Here you'll hash out your preschool's name, mission statement, marketing plan, organizational plan, staffing, operations, and budgets. You'll need to research how much it will cost to launch a preschool successfully. Are you using your own money to fund your business or seeking a small business loan? Have you looked into daycare grants? For additional help, the U.S. Small Business Association provides detailed instructions on writing a general business plan.
3. Find a location for your preschool
Are you planning to care for a small group of children in your current home or do you need to move to a larger residence? Are you a homeowner or do you rent? Each state and city will have different requirements depending on the size and location of your childcare center. Sometimes you'll need approval from a homeowner association to operate a preschool from your home, and if you rent, you'll usually need written landlord approval. Check your city's zoning laws and preschool licensing guidelines to be sure your location is compliant.
4. Get insurance for your preschool
Depending on the type and size of your preschool, you'll need the proper insurance policies. An insurance policy won't stop risks from happening, but it can protect you from a lengthy, expensive lawsuit. It's impossible to insure your preschool against all risks, so do your research on what is required. Common insurance policies include homeowners, liability, and errors and omissions insurance.
5. Prepare your supplies
If you're getting ready to open a preschool, it's important to create a list of all the furniture and supplies you'll need. In addition to learning materials and classroom items, you'll also need cleaning supplies and safety and emergency equipment such as fire extinguishers and first aid kits.
In order to create the best learning environment, consider the layout of your preschool and adjust the floor plan of your home to fit your preschoolers' needs. Although the appropriate arrangement depends on your educational philosophy, some areas are non-negotiable. They include:
Library or literacy area: This area provides a quiet space for children to read, look at books, or practice their writing skills.
Manipulative center: This is an area with objects like puzzles, blocks, and legos that help to build fine motor skills.

Outdoor space: Spending time outside is crucial for children's physical development and there are plenty of outdoor activities that can be meaningful educational opportunities.
6. Develop policies and procedures
Working off your business plan, write out policies and procedures for your program and communicate them to families in the form of a family handbook. You'll also need to develop an emergency plan and health, safety, privacy, and nutrition protocols, all under the guidance of your local preschool licensing requirements.
7. Hire staff to help you run your preschool
Research has shown that the quality of your preschool teachers is one of the top predictors of success. Verify your local preschool licensing requirements for staff ratios and teachers' educational backgrounds, and be sure to rigorously verify references and education levels. A preschool is only as good as its teachers, so make your preschool hiring decisions carefully.
Continue to invest in and build a qualified, engaged team by supporting your staff's professional development and growth with regular training and education opportunities.
8. Run a background check on staff members
Federal law requires states to run background checks on all employees that work at a licensed, license-exempt, regulated, and registered childcare provider. This is critical because employees have unsupervised access to children. Besides an initial background check, the law also requires that you continue to conduct background checks at least once every five years.
9. Prepare your preschool curriculum
Your preschool's mission statement will guide your preschool curriculum, whether you're following an existing program or you have your own vision. A carefully chosen preschool curriculum is crucial to the quality of your preschool program.
With brightwheel's Experience Curriculum, you can save time and enhance program quality with an all-in-one education platform with digital lessons in brightwheel and hands-on learning materials mailed to you. The developmentally appropriate curriculum is aligned with all 50 states' early learning standards.
10. Seek accreditation
According to the National Association for the Education of Young Children (NAEYC), only one in 10 preschools in the U.S. are accredited. This step is optional, but it will go a long way in your recruitment process, as it gives families peace of mind that your program is high-quality.
11. Invest in preschool software
One of the best ways to start a successful preschool at home is to take advantage of the amazing preschool technology at your disposal. Streamline your administrative tasks, and you'll have more time to focus on educating your children and providing families with a top-notch preschool experience.
Brightwheel makes easy-to-use preschool software to help you manage your preschool and stay in touch with families. Your staff can use brightwheel for recording and tracking daily events and activities in the classroom, and parents will get real-time updates delivered to their mobile devices throughout the day. This powerful app also offers secure digital check-in/check-out and an automated paperless billing system.
12. Market your preschool and seek applicants
At the very least, you'll need marketing materials and an online presence to advertise your business. List your preschool in local preschool directories and participate in preschool enrollment fairs in your area. Advertise through local businesses, parent groups, local events, and popular blogs.
Run a social media campaign focusing on your target population, or host a grand open house event to attract prospective families. Once you've managed to fill your inaugural student roster, continue with ongoing marketing efforts so that you'll always be building a customer base. A lot of preschools host community events and open houses throughout the year as a way to build a brand presence.
13. Stay updated on new preschool trends
As a preschool owner, it's crucial to integrate the current trends in early education into your business. Here are the three top preschool trends we've observed:
Technology use is on the rise. The use of technology in early education will continue to increase. The 2020 pandemic led to the introduction of online platforms and classes, and some families still prefer that their children continue learning through online platforms. As a preschool owner, you might consider having an online learning package. Check the Montessori School Online Packages to learn more about preschool online learning.
Health and safety regulations remain a priority. The health and safety of the children in your care is always a priority, but there has been even more focus on this in the last several years. Preschool owners and staff should stay updated on all recommended health and safety guidance and communicate all protocols to the families in their community.
Focus on flexibility. It's crucial that childcare providers remain flexible in the face of changing government guidelines, best practices, and education trends. Extending flexibility to the families at your center will also set your program apart, as everyone tries their best to maintain busy schedules.
The benefits of opening a preschool
Operating a childcare business can be challenging yet rewarding work. As an educator working with children daily, you will play an important role in supporting the development of young children and shaping their physical, language, cognitive, and social-emotional growth. For individuals that are passionate about working with children, starting a childcare center can be a meaningful way to have a positive impact in your community.
Another benefit of opening a childcare program is regular demand. Working families will always need child care, and having a home-based childcare business can be convenient for many local families. Operating out of your home also offers a great opportunity for financial freedom, especially because of the tax benefits that can save you money. As a small business owner, you can write off childcare-related or housing expenses such as utilities and supplies.
How much does it cost to start a preschool?
The average childcare center costs around $100,000 to open and operate but varies based on location and size. By running your preschool in your home, you're already saving on the largest expense of childcare centers—paying rent. While you may not have to pay rent for a facility, you'll have to pay licensing fees, insurance, and compensation for any employees you hire. You'll also need to purchase supplies, equipment, and food. Another expense to consider is advertising and marketing costs to help grow your business.
FAQs
How do I get a license to operate a preschool?
While childcare licensing regulations vary by state, in most states, you'll need a license to operate a childcare program in your home if you care for more than a few children that are unrelated to you. There are also requirements you must meet as the provider and requirements your home must meet as the location of your business. The application process varies by location but often requires you to attend specific training, pay fees, and complete a pre-licensing inspection. See your state's childcare resources to understand the licensing process in your local area.
How much can I charge families?
When setting your tuition rates, consider your operating expenses, such as salaries, utilities, supplies, and food, and how many children you can care for to ensure your prices allow you to be profitable. It's also helpful to research what your competitors in the area are charging, as many families will likely compare prices. If your tuition rates are a little higher, explain what sets your center apart and the added benefits you have to offer.
How do I communicate with families?
Frequent communication is one of the best ways to build relationships with the families at your center. Daily reports can keep families informed on their child's progress and build trust with your center. A tool like brightwheel's communication feature enables teachers to send real-time messages to families, allowing them to stay connected with their child's learning. Regular preschool newsletters can also simplify communication with your families. You can include announcements about upcoming events, important dates, administrative updates, and learning milestones in a format that families can easily reference.
Learn more about childcare licensing regulations in your state
Childcare licensing requirements vary by state. Consult with your state's childcare licensing department or check out our guides below for more information:
Start your preschool
Starting a preschool can be a challenging, but ultimately rewarding experience. With careful planning, a great team, and organized operations, your preschool will be a success from day one.
---
Brightwheel is the complete solution for early education providers, enabling you to streamline your center's operations and build a stand-out reputation. Brightwheel connects the most critical aspects of running your center—including sign in and out, parent communications, tuition billing, and licensing and compliance—in one easy-to-use tool, along with providing best-in-class customer support and coaching. Brightwheel is trusted by thousands of early education centers and millions of parents. Learn more at mybrightwheel.com.