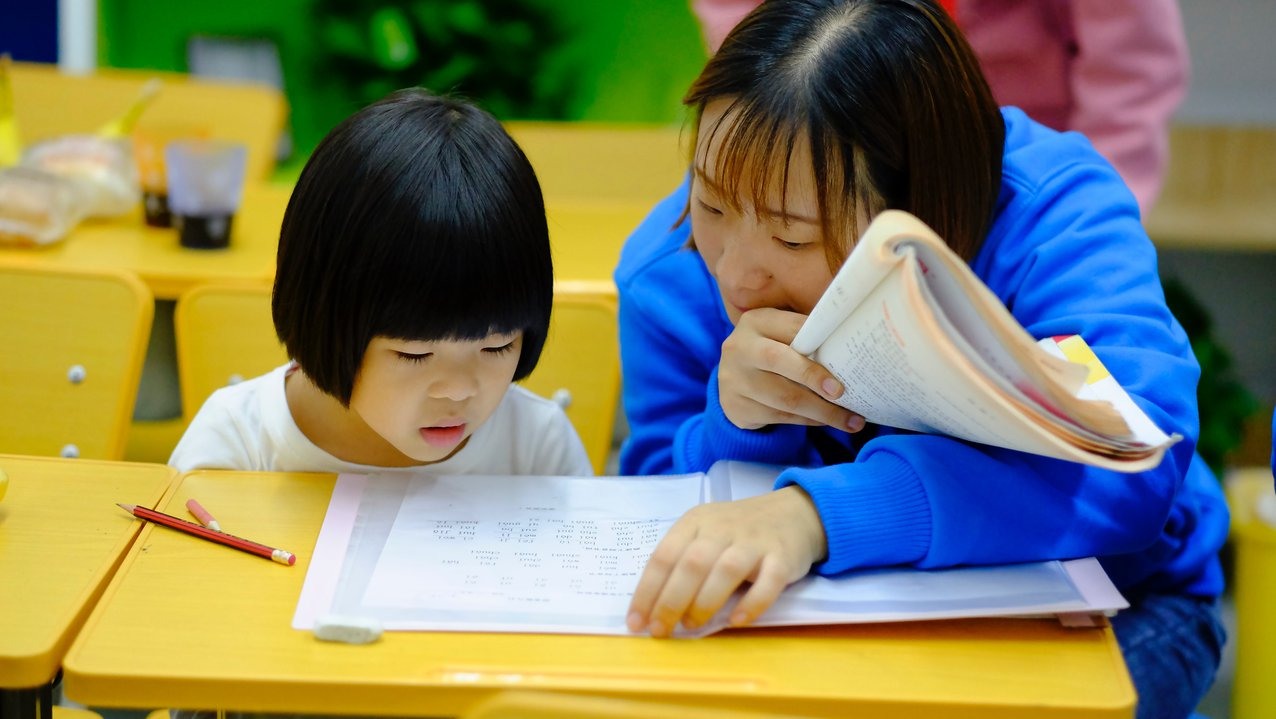 If you run a childcare or preschool business, you know better than anyone how important your teaching staff is for the success of your program. However, many directors have a hard time finding teachers who have many years of experience and credentials. So, what's the best way to ensure that your center has the best, most qualified staff?
If you know how to help less experienced teachers grow, you'll expand your hiring possibilities so you don't need to hold out for someone with the perfect qualifications. Teachers who are less experienced or just starting out in their careers can develop into true early education experts with the right amount of training and support!
Below are practical ways you can build a qualified, engaged team by supporting the career development and growth of the teachers at your childcare center or preschool.
What is professional development in child care?
Professional development in child care is any type of continuing education for childcare professionals. It's one of the best ways for early childhood teachers to improve their skills and boost children's learning outcomes.
Early childhood teachers can acquire professional skills from seminars, workshops, courses, conferences, and retreats. They can also learn independently through research and peer-to-peer initiatives. Below is a quick rundown of early childhood teachers' key areas of professional development.
Communication
Goal setting
Adaptability
Stress management
Receiving and giving feedback
Conflict resolution
Organization
Emotional intelligence
Listening
Collaboration
Leadership
Time management
Empathy
Why is professional development important for teachers?
When done right, professional development supports your teachers in their career development, allowing them to gain new skills and grow in areas that are of interest to them. It also provides other benefits such as:
Exposure to the latest education trends
When early education teachers are exposed to the latest education trends, they can incorporate new methods into their curriculum and make any necessary improvements to their teaching practices. Staying up to date with what's happening in the education world is the best way to bring the most relevant techniques to your classroom.
Identifying key trends, like the role of technology in the classroom or new curriculum frameworks, allows you to better support the children and families in your program.
Collaboration with peers
Professional development workshops and courses provide a platform for teachers to collaborate and learn from one another through peer-to-peer learning. Studies confirm that peer-to-peer learning is an excellent way teachers can learn from each other. Besides learning, teachers also have an opportunity to rejuvenate, refresh, and recharge from their busy schedules.
Acquisition of new skills
Highly-skilled teachers are more productive since they have the right tools for effectively teaching in an early childhood educational setting. Professional development courses and training provide the opportunity for teachers to acquire critical skills like communication, listening, collaboration, empathy, and patience. Educators working towards additional certifications, like a Child Development Associate (CDA) credential, will gain the proper skills and expertise that will prepare them to foster the social-emotional, physical, and cognitive growth of young children in their classrooms.
Increased engagement and retention
Investing in the professional growth of the teachers at your center will show that you value them and are committed to their careers. As you give teachers the opportunity to learn new skills, you create a workplace culture that values professional development, which in turn can boost employee engagement and retention. Ongoing learning can help teachers feel more connected to their work and understand how their success contributes to the overall goals of your program.
Ways to support early childhood professional development
As a childcare center director or owner, there are many meaningful ways to support your employees' professional growth. Simple things like offering plenty of training, taking time to understand your teachers' goals, and establishing a mentorship program at your center can all help your employees grow in their careers.
Provide professional development opportunities
There are many opportunities for early childhood professionals to acquire new skills or refine existing ones. Every state has different requirements for childcare staff training, such as a certain number of in-service training hours every year. While it's obviously important to meet these requirements, more training is never a bad idea, especially for teachers who are just starting out. These guidelines are the minimum, and there are many training resources that could benefit your staff that go beyond what's required.
For example, if you have teachers at your center who are working toward their Childhood Development Associate (CDA) credential or need additional Continuing Education Unit (CEU) hours, consider implementing CDA Gold Standard training at your program. These training sessions are certified by the CDA and will help your staff accumulate the hours they need for their credentials. You can find a list of CDA Gold Standard trainings here—note that many are also available online and nationwide.
One popular CDA Gold Standard training program that many childcare providers have had success with is the Childcare Education Institute (CCEI), which offers both staff and director training. The CCEI offers multiple subscription options, including an annual subscription for centers that allows up to 50 users.
Depending on what's financially feasible for your center, you may choose to cover the entire cost of training or pay for a percentage of training costs every year for your teachers. You can also plan a professional development day at your center as an ongoing learning initiative. Choose the option that makes the most sense for your center—your teachers will appreciate any help and support you're able to give!
There are also a number of free training resources available for childcare professionals. The National Association for the Education of Young Children (NAEYC) offers webinars on a breadth of topics, from coping with stress to education equity. Brightwheel is also proud to offer free weekly webinars that help early educators do their best work, covering topics like navigating COVID-19, building trust with families, and minimizing burnout. Although these trainings aren't specifically designed to fulfill state or credential requirements, they're great tools for expanding your staff's skill set and knowledge of early education best practices.
Understand your teachers' career goals and help them get there
If you want to develop the most competent and engaged staff, it's incredibly important to understand each of your teacher's career goals and find ways you can work together to achieve them. As a director, you have a lot of wisdom and experience that your staff could benefit from, and they'll value the opportunity to learn directly from you.
It's likely that the teachers in your program have a wide range of career aspirations. Some may want to build life-long careers in early education, while others may be interested in exploring other fields. Some of your teachers might even need help coming up with their career goals to begin with. Wherever they are in this process, find out what they care about the most in their work and help them articulate those ideas into specific, achievable goals.
Once you have a better sense of your teachers' career goals, find ways to help them accomplish their next steps. For example, if an assistant teacher wants to become a lead teacher, could you set up a few observation days where they shadow the current lead teachers in your program? Or, if you have a staff member who eventually wants to transition to another profession, could you help them sharpen some transferable skills, such as communication or organization, in the next few months? The more you're able to help your teachers in tangible ways, the more they'll feel confident in the growth opportunities available at your center.
You can also use your ongoing staff evaluations as opportunities to check in on your teachers' progress towards their growth goals. By using this time to discuss their professional development, and not just their work performance, you'll reinforce your commitment to helping them become the best early educator they can be.
Establish a teacher mentor program at your center
You don't need to be the only person at your center focused on helping your teachers grow in their careers. In fact, your staff can serve as amazing resources for each other! Establishing a culture where your staff mentor each other has many benefits. Not only do your teachers get to learn from each other's strengths, but they'll also have more opportunities to connect with one another and help each other improve, ultimately building a strong, collaborative team culture within your center.
To start a teacher mentoring program at your childcare center or preschool, have each staff member do a simple self-assessment using the following questions:
As a teacher, what are some of my greatest strengths? What do I enjoy doing the most in the classroom?
As a teacher, what are the areas I want to grow in the most? What do I find the most challenging about my job?
Once your teachers have a firm understanding of their own strengths and areas for improvement, you can pair them with someone else who is skilled at what they'd like to grow in. Encourage mentors to observe one another in the classroom, check in with each other often, and offer constructive feedback and encouragement whenever helpful. As your teachers learn from each other, switch up the pairs so they can continue to grow in different ways!
Bottom line
Early childhood professional development should be an ongoing exercise for all childcare professionals. The continued education effort is an excellent way to improve teachers' skills and equip them for classroom success.
A professional development plan for teachers is a big investment, but is critical to the success of your program since it promotes collaboration, learning, and engagement. The children at your center will benefit greatly and have better learning outcomes when taught by highly skilled and qualified teachers.
---
Brightwheel is the complete solution for early education providers, enabling you to streamline your center's operations and build a stand-out reputation. Brightwheel connects the most critical aspects of running your center—including sign in and out, parent communications, tuition billing, and licensing and compliance—in one easy-to-use tool, along with providing best-in-class customer support and coaching. Brightwheel is trusted by thousands of early education centers and millions of parents. Learn more at mybrightwheel.com.