Easier daily reports
Use brightwheel to share milestones, photos, and videos with families, giving them a window into their child's day.
Brightwheel's activity feed and daily report
The #1 childcare software that enables you and your staff to easily record activities, share real-time updates, send daily reports, and access the learning portfolio for every child, infant, toddler, or preschooler.
Childcare daily reporting made easy
Streamline your daily reports
Reduce paperwork

Digitize your daily sheets and replace paper reports

Simplify systems

Centralize day-to-day documentation in one place

Capture milestones

Record classroom events, student progress, and developmental milestones
Easy activity sharing
Go paperless

Reduce office supply expenses by switching to digital activity logs and daily reports

Maximize time

Give staff an easy tool to quickly document daily events, activities, and milestones for each infant or toddler in the program, so staff get more time with the children

Simplify daily reports

Automatically send customized daily reports for each toddler or infant via email, to families who opt-in delivered via email
Promote quality connections with families
Share moments

Record and share learning milestones, and post photos and videos

Stay in touch

Send automated daily reports via smartphone notifications and email

Provide peace of mind

Update parents in real time, offering a window into their child's day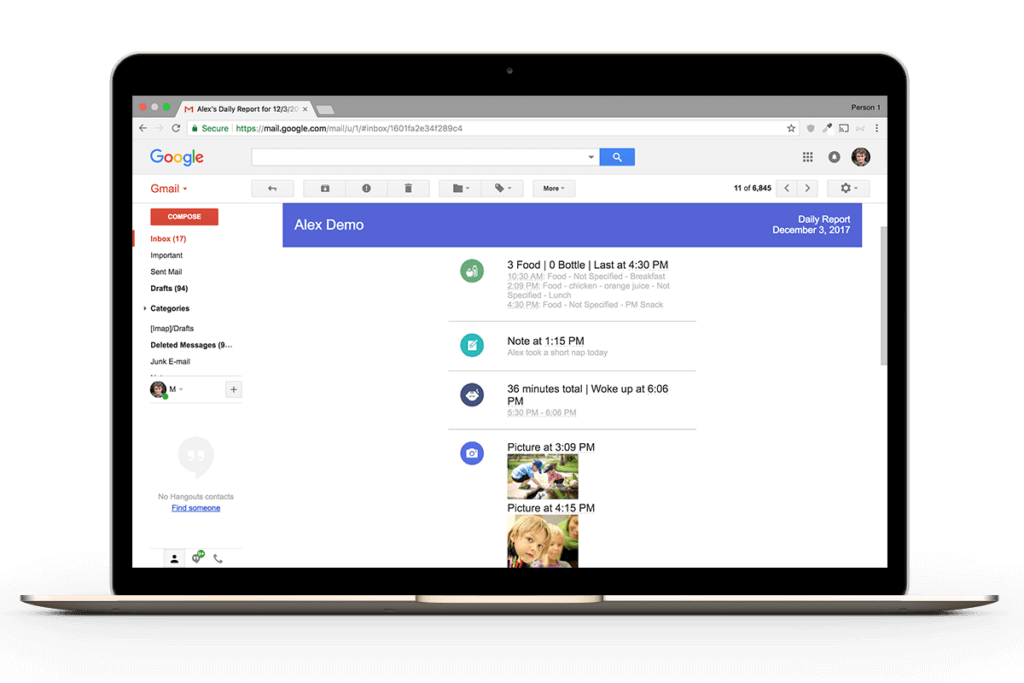 Plus, many more valuable features including:
FAQs: Tips and insights about the daily activity report
Why is a Daily Report important?

Daily reports are an integral part of the workings of a child care center for the owner, staff, and families, because daily reports contain a summary of day's activities and events for infants and toddlers. For preschoolers, the report may include additional details on their progress in social, academic, or psychological state. Through the daily reports, families gain insights about their child's health and development, as well as precious moments they missed when the child was in care. Childcare software, like brightwheel, helps providers send accurate and actionable daily reports in a consistent fashion, which improves communication with families, increases their engagement, and builds trust. It also automates administrative tasks and improves efficiency, both of which help staff spend more time working directly with children.
Can I record actions for multiple children at once?

Yes! When logging activities using brightwheel, you can select one, multiple, or all children in the classroom. This makes it faster for you and your staff to capture observations and share updates with families.
Who will see the recorded actions or photos?

For every activity logged or photo/video captured, brigthwheel requires children(s) to be tagged. Only administrators, staff, and family members connected to the children(s) profiles will see these updates in their activity feed. The family members who are interested in seeing logged activities must be connected to as Parent or Family contact types.
What are Staff Only posts?

Brightwheel allows programs to enable staff-only posts so that certain activities can be kept internal and/or others can be approved by a school administrator before being shared with families. This is great for assessments, observations, and private communication amongst staff members about student learning and behaviors. Additionally, it gives admins control over what families see.
Join millions of educators and families on brightwheel
Take a tour and see how brightwheel can help you, your staff, and your families.