Easier center management
The #1 childcare center management software to help you simplify administrative tasks and save up to 20 hours per month.
Brightwheel's center management
The complete preschool and childcare administrative software that streamlines your center's admissions process, record keeping, reporting, and so much more.
Streamline childcare enrollment
Make a good first impression

Enable families to sign and submit forms online, and stay in touch with those on your waitlist via direct messaging

Avoid the busywork

Customize your admissions process and enable families to create their child's profile when applying, so their profile is set up at the time of enrollment

Operate at capacity

With FTE reporting, see your true enrollment and make informed staffing and enrollment decisions to maximize your revenue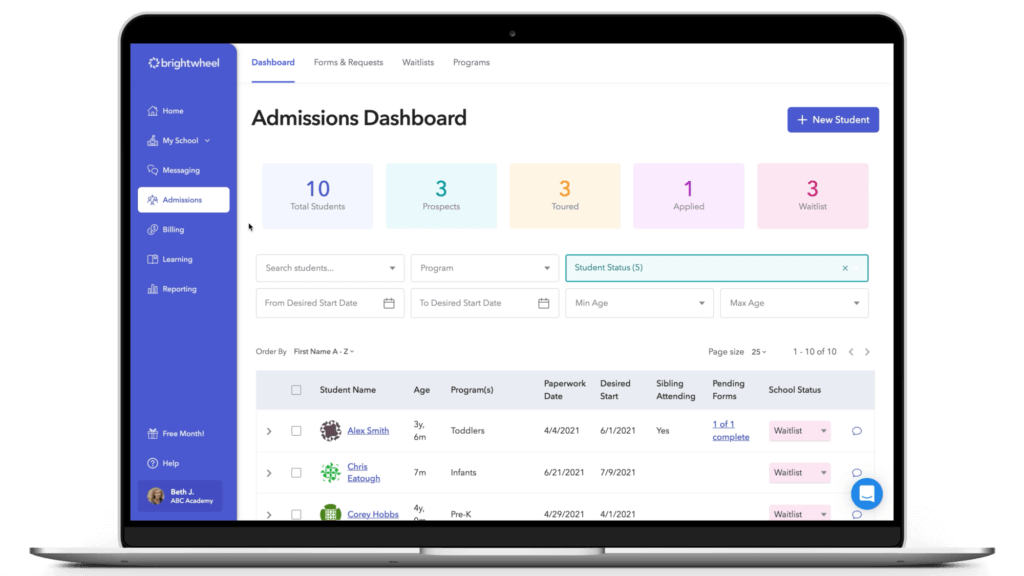 Easy access to child & staff records
Easy to create and access

Bulk upload your roster to create profiles, attach documents to keep on file, and securely access from anywhere using the app

Student profiles

Record student contact, meal type, billing, and health information, and use it to send parents reminders for upcoming shots per CDC requirements

Staff profiles

Record your staff's contact and health information, training hours and certifications, room assignments, and assigned permissions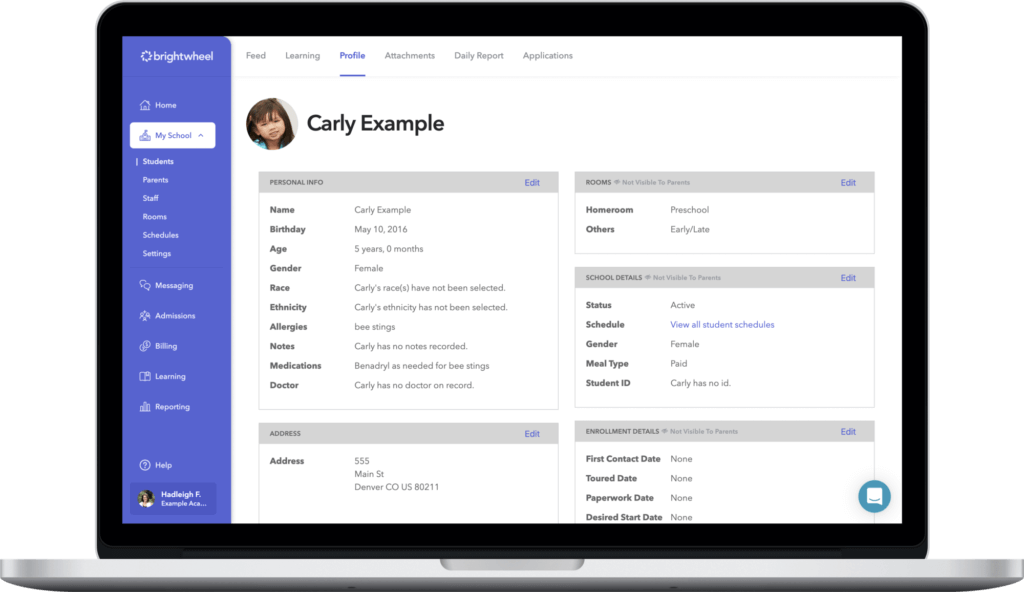 Scale your program with ease
Detailed reporting

Quickly run reports based on your student, staff, and program information for internal use or compliance

Document hub

Share documents with families and staff, such as handbooks, menus, or event flyers, with specific rooms or the whole program

Teacher/staff permissions

As you grow your team, take control and easily assign permissions to each staff based on the access they need for their role
The brightwheel impact is measurable
Brightwheel customers on center management
"Brightwheel is the best! I am 100% sure the app is helping grow my enrollment, and it helps me be more in control of my center."
Kaushana J, Owner of Smarty Pants Learning Center in San Antonio, TX
"We are obsessed with the brightwheel admissions waitlist feature. Before, everything was by hand. Now, we can move families off the waitlist more efficiently which then increases our revenue."
Alyssa D, Executive Director at McNeilly Center for Children in Nashville, TN
"Brightwheel has streamlined how we function. The digital check-in and check-out, the health screens at drop-off, and having all information in one place saves us so much time and money."
Beth H, Director at Weekday School in Orlando, FL
Plus, many more valuable features including:
FAQs: Tips and insights about the center management feature
My childcare center is small but growing. Is brightwheel able to support my business when we have twice as many students?

Brightwheel is built to grow with you! We partner with programs of all sizes, from in-home to center-based, single-site and multi-site. Brightwheel's multi-site solution is designed to help growing programs like yours expand, while keeping operations consolidated and centralized through one app. With brightwheel you will be able to toggle between locations, view attendance and meals, manage staff access, and more.
How does Brightwheel help me grow enrollment at my center?

Brightwheel helps you make a good first impression with prospective families. It's convenient and meets the needs of younger parents who are looking for simple, easy, and digital solutions. From day 0, you're showing families how you operate. Brightwheel also helps lower the barrier for prospective families, making it easier for families to quickly submit an online application in real-time, from anywhere and at any time. This means they can do it from their couch, and no longer need to print anything or drive to pick up/drop off any paperwork. This can be the difference between them applying for your school and another school. Brightwheel also helps you see who is where in the admissions process so you can more effectively manage your waitlist and directly message families who are in the process, without letting any families fall through the cracks.
Am I able to delegate administrative tasks to my staff?

Absolutely! Brightwheel offers different role options based on access you want to enable staff with, including the ability to edit student information and access to billing details. If you're operating multiple locations, you can also give staff access across locations and grant different permissions/roles at each location. All assigned staff roles can be quickly viewed from the Staff List from your brightwheel account on the web.
Join millions of educators and families on brightwheel
Take a tour and see how brightwheel can help you, your staff, and your families.