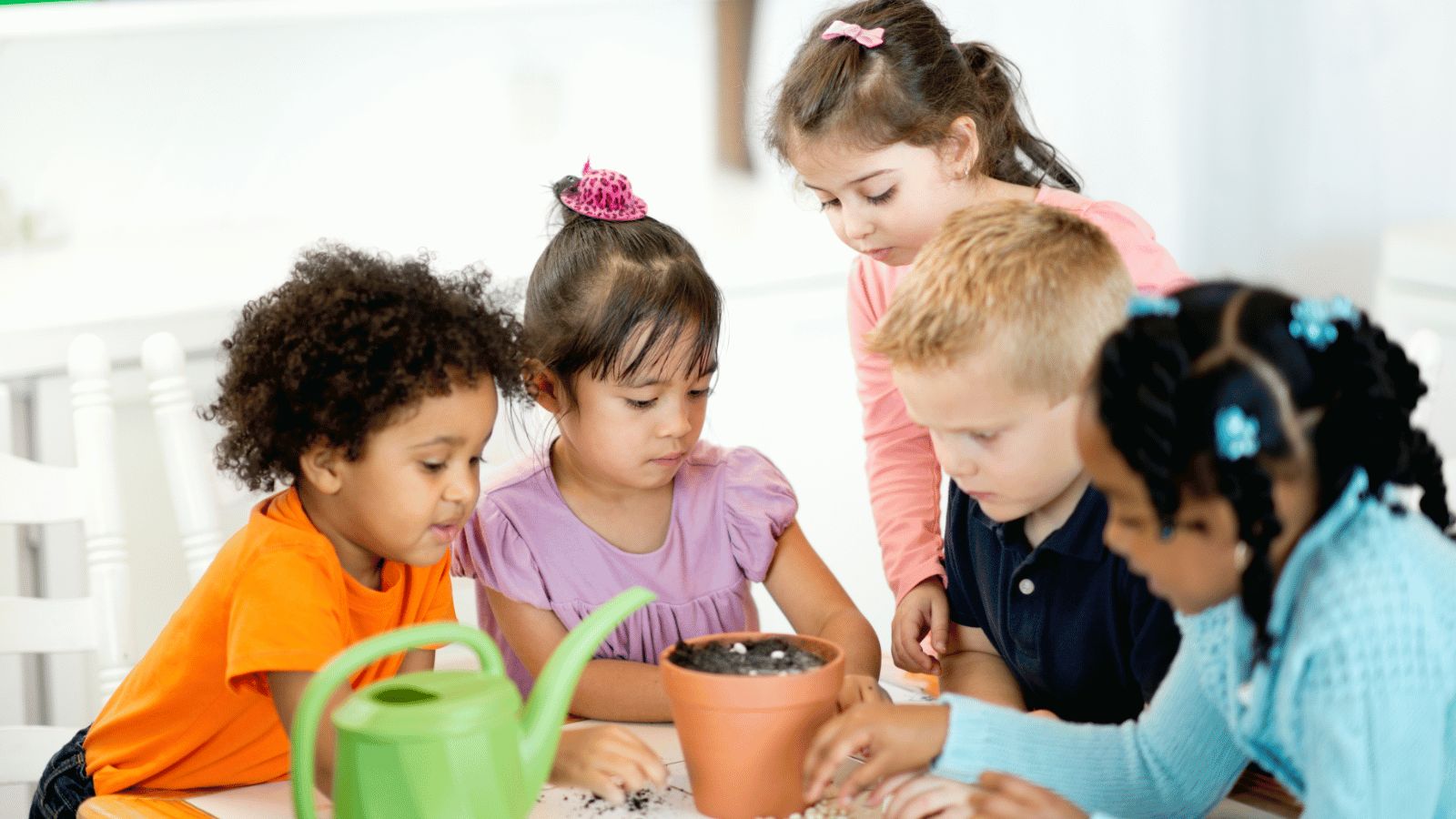 Experience in early childhood education or a passion for working with children are often prerequisites for starting a childcare business. However, before you can open your center, you'll need to determine if your program type needs a license.
This guide covers the childcare licensing requirements in South Dakota, the license application process, and how to stay compliant.
Do I need a childcare license in South Dakota?
In South Dakota, a childcare license is required if you're caring for 13 or more children. A childcare program may be located in a provider's home or in a separate facility and may be operated as an independent facility or as a nonprofit organization.
There are three types of regulated childcare programs in South Dakota:
Licensed childcare programs, which include Group Family Daycare and Daycare Centers, are defined as programs that provide group care and supervision on a regular basis, with or without compensation, for 13 or more children, including children under six years old living in the home and children from more than one unrelated family in any type of facility, including a family home.
Before and after school programs provide care and supervision for children on a regular basis before and after regular school hours. These types of programs serve school-age children only and may provide care for part of a day or full-time during school breaks.
Registered family daycare homes provide care to no more than 12 children from more than one unrelated family, in a family home, on a regular basis, including children under six years old living in the home. These types of programs are located in the provider's home and are required to be registered rather than licensed. Registration is a voluntary process where applicants declare an intent to operate a family day care home and comply with the Department of Social Services standards. A registration certificate is in effect for two years.
Child Care Services (CCS), under the South Dakota Department of Social Services (DSS), provides support, technical assistance, and oversight in promoting healthy, safe, and caring environments for children through registration, licensing, and quality improvement activities. Child Care Services is committed to improving the quality, availability, and affordability of childcare programs in South Dakota.
Childcare licensing requirements in South Dakota
Before starting a daycare center it's important to develop a business plan and ensure your program meets all state licensing requirements. The following are licensing requirements mandated by South Dakota state law:
Provider requirements
The following are the qualifications for childcare center directors and staff:
Directors/proprietors
Must be at least 18 years old
Pass a comprehensive background screening including a South Dakota Division of Criminal Investigation (DCI) fingerprint check, Central Registry and Sex Offender Registry check, and Federal Bureau of Investigation (FBI) fingerprint check
Must have the ability to provide care to children that meets their physical, emotional, cognitive, and social needs
Must meet one of the following educational requirements:

A bachelor's degree in the field of education or human development
A two year degree in early childhood education
A Child Development Associate (CDA) credential or comparable credential
Certification in a specific child learning philosophy and at least one year of experience in a childcare setting
Child development technician diploma or four years of experience in a center or school-age program
Childcare workers
Childcare workers are individuals working under the director, owner, or program planner's supervision, such as lead teachers and assistants. They must be at least 18 years of age.
Secondary childcare workers are under 18 years of age. They must work under the direct supervision of the director or program planner. They may be included in the staff-to-child ratios if they're under constant supervision of a staff member 18 years old or older. In a childcare program, staff in the staff-to-child ratio must be at least 14 years of age. In a before and after school program with older children enrolled, staff included in the staff-to-child ratio must be at least 16 years of age. No secondary childcare worker is to be left alone with children.
All childcare providers, employees age 14 and older, and household members age 18 and older must meet federal background check requirements. A background check is required at least once every five years.
Training requirements
Required orientation and training helps staff understand policies, practices, and procedures for child safety. While each licensed childcare program may have its own orientation, there are specific training requirements that must be completed within 90 days after hiring an individual. All staff and directors must undergo this training. It includes the following topics:
Prevention and control of infectious diseases
Administration of medication
Prevention of sudden infant death syndrome (SIDS) and use of safe sleep practices
Building and physical premises safety
Emergency preparedness and response planning
Prevention and response to emergencies due to food and allergic reactions
Prevention of shaken baby syndrome and abusive head trauma
Recognizing and reporting child abuse and neglect
Appropriate precautions in transporting children
CPR certification (must be completed before being left alone with children)
Handling and storage of hazardous materials and the disposal of biocontaminants
First aid (pediatric)
Child development
Ratio requirements
A center or school-age program must maintain the following ratios:

One staff member for five children up to three years of age (1:5)
One staff member for 10 children three years through four years of age (1:10)
One staff member for 15 children five years of age and over (1:15)

A center program that serves more than 20 children in a mixed age group must:

Maintain a ratio of one staff member for five children (1:5) if the group includes three or more children under the age of three
Maintain the staff-to-child ratio that is based on the age range of the majority of children in the group
A program that serves 20 or fewer children and operates a mixed age group must meet a ratio of one staff member for 10 children (1:10). Each provider may care for a maximum of four children under the age of two, with no more than two children under the age of one.
For family child care, the ratio is one teacher to 12 children (1:12). You can have only four children under two years old, and only two of the four can be under one year old. The staff-to-child ratio of mixed-age groups must meet the requirements of the age of children the group is mostly comprised of, except when there are children under three years old. If the mixed-age group has three or more children under three years old, the provider must maintain the staff-to-child ratio for children under three years of age (1:5). Staff members' children in care at the facility must be included when determining group size and staff-to-child ratio.
Environmental health standards
Daycare centers in South Dakota must meet certain environmental health standards which include the below:
Playground area
The playground must have at least 50 square feet of play area for each child. The playground must also be enclosed with a fence that is at least 4 feet high, and it must be free of litter or weeds. Playground equipment must be properly maintained. The provider must maintain the staff-to-child ratio requirement when children are on the playground.
Sleeping area
You must provide a minimum of three feet between each child in the sleeping area. You must change the crib sheets between use by different children. You may not use stackable cribs. Ensure that the mattresses and cribs are in excellent condition, and always place infants on their backs when sleeping.
Toilet facilities
Daycare programs must provide at least one toilet and one hand lavatory for every 15 children, with separate bathrooms for each gender. A portable or plumbed bathtub must be provided for infants and toddlers. All lavatories, showers, and tubs must have hot and cold water through a mixing faucet. All restrooms must have natural or mechanical ventilation.
Heating and cooling systems
The daycare must have a working heating and cooling system, which must undergo inspection at least once a year by a qualified official. A written verification of the inspection must include the date of inspection and the official's signature.
Childcare license application in South Dakota
Whether you are operating a center-based program or starting a preschool at home, you'll need to apply for the proper childcare license for your program. To start the licensing process, email a request for more information or call a licensing specialist in your county.
Below are the steps to take when applying for a license for a daycare center, group family daycare, or before and after school program:
Step 1: Floor plan review
The provider must submit a floor plan for review before submitting an application for licensure. The review is necessary to determine the program's maximum capacity and to verify that the building meets fire, life safety, and building codes. Therefore, you must submit your floor plans to CCS as early as possible for a timely review. Ensure that the plans contain all the required information indicated in the Floor Plan Review Process and Program Proposal Handbook.
Before renovating an approved facility, you'll need a floor plan review to ensure compliance with the requirements. For example, a program may only use space approved through a floor plan review. Once the floor plan review is completed, you'll receive a letter from the Fire Marshal's Office and a letter from the Department of Health indicating the plan review results. Any items listed on the review letters must be corrected before scheduling the onsite inspections.
Step 2: Application
After submitting the floor plans, you can complete the licensing application and submit it to the CCS licensing specialist. The provider must submit three references, complete a background check, and develop written operation policies, including an emergency preparedness plan.
Step 3: Pre-licensure inspection
The department will conduct one pre-licensure inspection to review the daycare center's programming and determine compliance with regulations. Areas of interest include:
Documented program practices regarding emergency preparedness, nutrition, transportation, confidentiality, and more
Daily activity schedules
Staff qualifications
Staff orientation and training
Staff-to-child ratios
Record keeping for staff and children
After the inspection, the licensing specialist will meet with the applicant regarding any non-compliance issues noted at the time of the visit. Keep in mind that subsequent annual inspections are unannounced.
A reliable childcare management system can help you create and quickly access records required during program inspections. For example, with a tool like brightwheel's center management feature you can easily store and reference children and staff records and track staff training hours and certifications. This tool is also great for streamlining your enrollment process and creating detailed reports, saving you time every month.
Step 4: Facility safety inspection
The facility safety inspection is an initial announced visit by an inspector from the Department of Public Safety (DPS). The inspection checks for the following:
The smoke detection system is operational
All exits are unblocked
Exit signs are present and operational
The water temperature doesn't exceed 120 degrees
The cooking equipment is safe and in excellent working condition
Food protection and preparation practices meet the standards
The DPS inspector will complete this inspection and send the completed inspection forms to the CCS licensing specialist, who will follow up with you on any non-compliance issues. Within 60 days of the inspection, the form will be posted online. If you notice any inaccuracies, contact the licensing specialist to correct them. You should also contact your licensing specialist if you have questions about the requirements or need assistance with meeting the requirements.
Step 5: License issuance
Within 60 days of submitting the application, you will receive a written notice of approval or denial of a license or registration certificate. If the CCS denies your application, the notice must include the reasons for the denial. You may reapply after taking corrective action related to the reasons for the denial.
You will receive a license only after the CCS receives all onsite inspections, non-compliance corrections, and documentation of CPR certification for the director. You can then begin marketing your daycare business to prospective families, choose a name, and start enrolling new children.
How to stay compliant with a daycare license in South Dakota
A license issued by the CCS is non-expiring, however, your program needs to maintain licensing standards at all times. The Division of Child Care Services' philosophy is to assist programs in maintaining compliance with licensing regulations. One way this is done is through annual unannounced visits.
The licensing specialist and inspector from the Department of Public Safety will visit unannounced for program and facility inspections twice a year. If some regulations aren't met after licensure, the licensing specialist will address them with the director/proprietor. If non-compliance issues are not putting children at risk of harm, you will receive a Letter of Notification outlining a plan of correction while your daycare continues to operate.
If your program has a series of non-compliance issues or if the issues put the children at a high risk of harm, there can be negative action taken against your license, including the following:
30-day revocation: The department may implement a 30-day revocation, requiring the correction of issues that are not a high risk of harm to children. If your program achieves compliance within the 30-day time frame, the license will remain in effect. However, if you don't reach and maintain compliance within that period, the license will be revoked immediately, and you will need to cease operation. You may re-apply for a license one year after revocation.
Suspension: If a child is seriously hurt while in your care, your license may be suspended until there's been an investigation to determine what happened. The suspension will depend on the circumstances of the incident.
Immediate revocation: The department will implement an immediate revocation if there's a high risk of harm to children. For example, if the inspector finds the facility damaged from a storm and unsafe for children, an immediate revocation will be issued, and the program will cease operation immediately.
Start a daycare in South Dakota
The first steps to starting a childcare business involve understanding the licensing requirements, ensuring your program meets all regulations, and taking the steps to apply for the proper childcare license. With careful planning and organization, you can operate a successful program that will benefit many children and families in your community.
---
Brightwheel is the complete solution for early education providers, enabling you to streamline your center's operations and build a stand-out reputation. Brightwheel connects the most critical aspects of running your center—including sign in and out, parent communications, tuition billing, and licensing and compliance—in one easy-to-use tool, along with providing best-in-class customer support and coaching. Brightwheel is trusted by thousands of early education centers and millions of parents. Learn more at mybrightwheel.com.