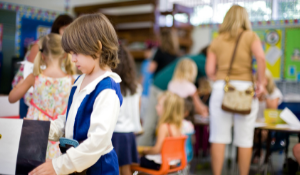 Open house events can be a great way to market your childcare center or preschool to prospective families. Not only do they allow you to meet potential new parents, but they also allow you to share about your program, educational philosophies, and lesson plans in a hands-on and personal way.
A great open house can also make a lasting impression on prospective parents, helping to increase awareness about your program and boost enrollment numbers at your center. If you're looking for preschool open house ideas, here are five tips for planning an event that prospective families will love.
1. Choose a strategic time and date for your preschool open house
The first step to hosting a successful preschool open house is to choose a convenient time and date for prospective parents. Think about what would be easiest for families with young children—typically, early weeknights work best.
Ensure your open house doesn't overlap with significant local events, such as festivals, major sports events, or school graduations. You'll also want to avoid holidays, as many families may be busy or out of town during those times.
To give prospective families ample time to learn about and assess your program, you should hold your open house about two months before your enrollment applications are due. You can also consider hosting multiple open house events to accommodate more families' schedules.
2. Spread the word about your open house through multiple platforms
Promoting your open house is key to generating interest and higher attendance at your event. Consider all the platforms and networks your center has access to and how you can use them to spread the word about your event.
For example, if your program uses social media, share about your open house on all your pages before the event date. You can also post a few reminders during the weeks leading up to the open house, so families don't forget to add it to their calendars!
You can also create a public event post on Facebook for your open house that includes the event's date, time, and location. Share the event post with your Facebook friends, parenting groups, and groups within your community to raise awareness of the open house.
Encourage families to RSVP to the event on Facebook and share the post on other social media platforms such as Instagram and Twitter to help spread the word.
If you have a flyer for the open house, you can post a picture of it on Instagram. Include details about your open house in the post's description and ask your followers to visit your website using a link in your Instagram profile.
Use hashtags strategically in your post so it appears when parents search for information about daycares, preschools, and childcare centers.
Source
You'll also want to announce your open house on your website, so families actively browsing your page will be sure to see it. Share the event in an eye-catching place, such as a banner image at the top of your home page.
You should also ensure that the event's time, location, and purpose are easy to see at a glance so that interested families don't need to search or click through for more details.
Word of mouth can also be an extremely effective way to market your open house. Ask your currently enrolled families and staff to help you spread the word and consider offering a referral bonus to anyone who refers a family that enrolls in your program. If you share information about the open house on social media, you can ask your current families and staff to share the post with their followers.
If any currently enrolled families or staff members are members of parenting or early education groups online, you can also ask them to share about your open house in those communities. Young parents are using the internet to research childcare options more than ever, so online recommendations can be highly effective for generating interest in your open house!
3. Invite your staff and family volunteers to attend
You'll want a small team onsite to help during the open house, so ask your staff and families to volunteer at least a month in advance, so they have plenty of notice.
Prospective families will appreciate the chance to connect with your teachers and hear directly from other parents about their experiences with your program.
During your open house, assign one or more greeters so families are properly welcomed when they arrive. If your center is large, it's best to have at least one volunteer stationed in each classroom and your outside play area, so visitors never have to look far if they have questions.
If you require guests to wear masks, remind the greeter to inform families of your COVID-19 safety requirements. It's also a good idea to have extra masks on hand so you don't need to turn any prospective families away.
4. Create a welcoming atmosphere
Organizing and decorating your classrooms, displaying lesson examples, and providing snacks and enriching activities will create a welcoming setting and help you make an excellent first impression.
Display students' work in the classrooms and hallways to give parents an idea of the material their children will learn and get children excited about the activities your program offers.
Provide healthy refreshments such as graham crackers, fruit, and water rather than candy and sugary juices. Offering healthy options at your open house will show parents that you value their children's nutrition.
Preschool open houses should be engaging for parents and their children, even though parents are the primary target. Consider setting up activities for children who attend your open house. Activities can include arts and crafts projects, scavenger hunts, or games that can help you get to know your prospective families.
5. Prepare helpful materials for families to take home
During your open house, families will be busy taking in a lot of new and exciting information. Help prospective families easily access essential details about your program by preparing handouts and packets for them to take home.
These materials can also help keep your center top of mind for families and encourage them to apply sooner, especially if they're simultaneously evaluating multiple childcare programs or preschools!
Here are some suggestions for helpful resources for prospective families:
Brochures for your program
Enrollment packets
Sample schedules
Calendars
COVID-19 FAQ pages
During your open house, organize your printed materials on an information table so they're easy to find and all in one place. You might also assign a staff member to monitor the table so they can remind families to take the printouts they need as they're leaving the event.
6. Consider offering an enrollment incentive to attendees
To encourage more parents to submit their enrollment applications, you can offer an exclusive incentive to attendees, such as a discounted or waived registration fee. For any guests who wish to submit an enrollment application during the open house, prepare a table with necessary tools—such as printed applications, pens, or tablets for submitting online applications—to make the process as convenient as possible.
You can extend your special offer for a week or so after your event if families need more time to decide.
7. Follow up with attendees
Collect the contact information of all potential new families that visit your open house. Be sure to find a moment of personal connection with them that you can bring up later when you contact them. It may be a childcare philosophy or strategy they found particularly interesting or an anecdotal story shared between you.
Within about 48 hours after the event, send families a follow-up message via phone or email. In your message, reference the connection you made at the event and why your center is the best choice for them. Thank them for coming, summarize some of the highlights of your program's offerings, and ask if they have any further questions. Following up with all attendees will ensure your center stays top of mind as families consider their options.
Show families what sets your program apart by using these tips at your next open house
By incorporating the above preschool open house ideas, your event will be set up for success. Remember to have fun and be yourself—your program has so much to offer, and your genuine excitement about your center will be contagious to prospective families!