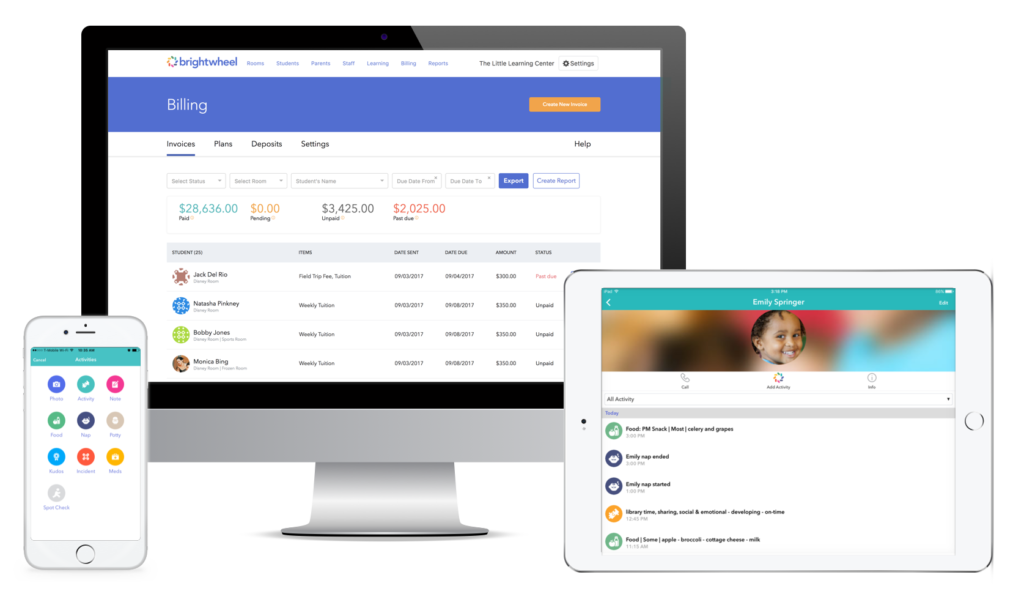 Across the country, devices are quickly replacing paper in schools and in the classroom. Not only is it an environmentally friendly transition, but devices also allow for access from anywhere and help save time by speeding up manual work and providing great tools like voice recognition. It is the way of the future, and we're here to help you make the best selection.
With so many choices out there, which are the best, affordable devices for use in a preschool, childcare, or camp setting? The most important feature criteria to consider include:
Price: What is in your budget?
Screen size: Do you prefer a larger screen or something more mobile (i.e. tablet vs. mobile phone).
Camera quality: It's important to have a good camera for photos and videos. We recommend a minimum of 5MP.
Durability: Lower price devices are great, but will you have to replace them every year?
Operating system: Check the Apple app store or Google Play store to see the versions we support.
Accessories: It's generally a good idea to purchase a low cost case for protection of devices that are going to be in the classroom, and you may want a standing case or tablet stand for use with our check-in kiosk mode.
We've done some research and internal testing here at brightwheel, and have a few recommendations for both tablets and mobile devices that are brightwheel compatible. Brightwheel runs on all iOS and most Android devices; however, we recommend using a device that supports the most recent operating systems of iOS 16 on Apple devices and Android 13 Tiramisu on Android devices.
Tablets
Tablets are a great choice, especially when used as a check-in kiosk. A few tablets we recommend:
Our top recommendation. This tablet has an 8MP rear and 5MP front camera, dual microphones, and 2 side speakers tuned with Dolby Atmos.
This tablet has long lasting battery life and charges very quickly.
The iPad is generally a safe bet with a high quality screen and camera.
Mobile devices
Although a lot of schools do lean towards tablets, we often recommend mobile devices for in-class use because you can easily use brightwheel and quickly put it away. In this case, you wouldn't actually need to use the phone functionality; you can just put it on wi-fi.
For more affordable options, these are our smartphone recommendations, balancing quality and cost:
Enjoy 4K video recording with this 6.3-inch smartphone. It has excellent battery life that lasts beyond 24 hours.
This smartphone comes with a beautiful 6.1-inch OLED display that makes your interaction with the brightwheel app more enjoyable.
An affordable iPhone model with a 4.7-inch screen and a 12MP camera. Storage options include 64GB, 128GB, and 256GB.