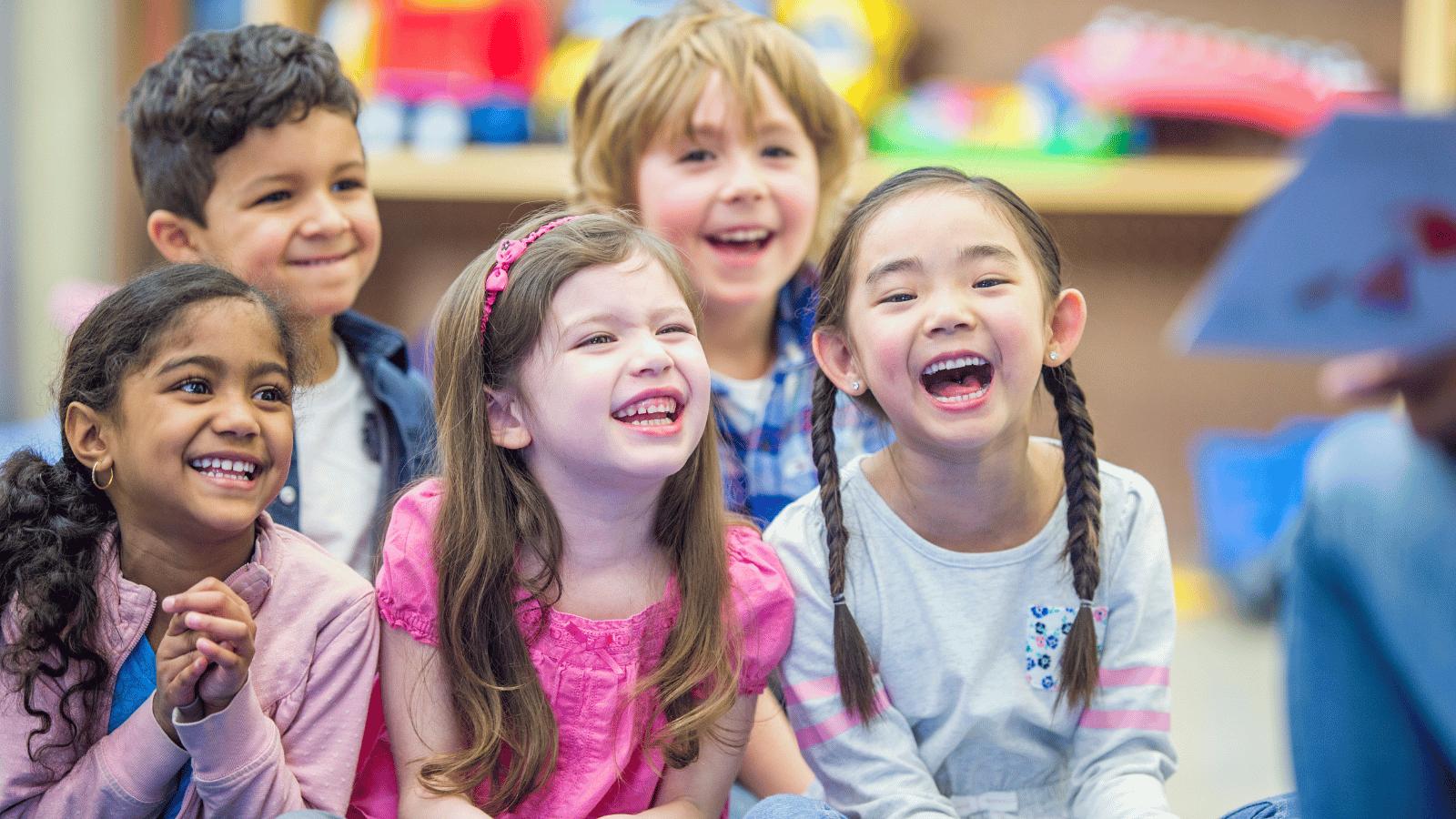 Whenever someone gives you a gift or compliment, it's second nature to thank and feel gratitude towards them. Did you know, though, that gratitude is a learned behavior?
Teaching gratitude can be tricky because gratitude is a high-level concept that requires several foundational emotions to fully understand. But, with handy tools, like a gratitude tree and a couple of fun activities, you can start to teach this fundamental concept to preschool-aged children.
Read on to learn more about how you can teach gratitude to your class.
Importance of gratitude
Gratitude is a fundamental skill that improves the emotional and social development of young children. It also sets a foundation for meaningful connection and thankfulness that children will carry with them for the rest of their lives. However, gratitude is a behavior that needs to be taught. Additionally, this concept relies on children having several other core emotions, like empathy and patience, which are also learned. Teaching children empathy is an important part of early childhood education, but doing that alongside instilling gratitude and other positive concepts can be a challenge.
The key to teaching gratitude and empathy is to make it fun and keep it consistent, so it becomes a welcomed and exciting part of their daily lives. One thing that can bring both of these requirements together is to create a gratitude tree for your class.
What is a gratitude tree?
A gratitude tree is a public and physical display of gratitude built by a group of people. Gratitude trees can be drawn or sculpted on a piece of paper or directly on a wall. It begins as a tree with bare branches so your class can steadily fill in the leaves with acts of gratitude. As the gratitude tree fills up, your children will ideally learn the importance of gratitude and start to lay the foundation for showing their appreciation. As an added bonus, because it's being created by your entire class, this will help them develop their social skills and emotional intelligence.
To participate in a gratitude tree, everyone simply needs to have an open heart and good intentions. Then, they grab a leaf and write down whatever they appreciate about the world around them, whether it was a kind act or something they liked that day. Then, once they've finished, they attach it to the tree alongside other leaves filled out by everyone else in their class, including you!
How to make a gratitude tree
Gratitude trees are incredibly easy to make because they can be made from common materials that you can find in your home or classroom. You can use things like construction paper, cloth, felt, and even recycled materials to create your gratitude tree.
Your first course of action is to decide where your tree will live. It's important that it's very visible and accessible to everyone in your classroom, so pick a place where it won't be obstructed or hard to get to. Next, collect your materials. If you're choosing to draw this on paper, be sure to get a large enough roll of paper to accommodate the tree and the leaves that will eventually grow on it. If you're going to use other materials, make sure that they're safe for children and can be manipulated a lot without breaking or falling. Lastly, make sure that the materials that you're going to use for your leaves can be written on and have enough room to be written on.
When you're ready to build your tree, simply attach it to its designated space and explain what your gratitude tree is, why it's important, and how everyone can participate. Then, encourage them to fill in the tree with leaves whenever they experience gratitude.
Gratitude activities
Gratitude trees aren't the only thing you can do to practice gratitude with your children. Below are a few additional activities you can incorporate into your lessons to help teach children the importance of being grateful. To ensure that your lessons meet the needs of your program and children, use a tool like brightwheel's lesson plan feature. This software is pre-loaded with all 50 state's learning standards, allowing you to create custom lessons in minutes, log observations, and share with families.
Create a kindness jar
Alongside your gratitude tree, you can also have a kindness jar to keep more private or exceptional acts of generosity. Simply set a sealable jar and small pieces of paper on your desk or a table and encourage your children to draw or write things they'd like to share. Then, at the end of the week or month, open the jar and read out their entries.
Read stories that have gratitude as their main message
During storytime, find books with a central message of gratitude and appreciation. Some examples include Gratitude is My Superpower by Alicia Ortega, Otis Gives Thanks by Loren Long, and Outside In by Deborah Underwood.
Gratitude hopscotch
You can play gratitude hopscotch with your preschoolers to encourage them to reflect on what they're grateful for. Draw a hopscotch board on the ground outside of your center or use foam puzzle tiles to create a hopscotch board in your classroom. Assign a category to each square of the board (e.g., family members, friends, places, objects, and activities.)
Have your preschoolers toss a small toy onto the squares and hop to the square the toy lands on. Once they have hopped to the square, tell them the square's category and have them name something from the category that they're thankful for. Then, have them hop back to the beginning of the board. Repeat until every child has named something they're grateful for.
Find beauty all around you
Gratitude doesn't just have to extend to people—it can be used to be thankful for everything from the air we breathe to the ground beneath our feet. So, whenever you take your class outside, be sure to point out things you're thankful for about nature and encourage your class to do the same. Additionally, take nature walks, show your children new sights, sounds, plants, and animals, and teach them about their role in their lives.
Build gratitude art journals
Lastly, encourage your children to keep gratitude art journals to document more private acts of gratitude. These journals can include drawings of one-on-one interactions, experiences they have had while at home, or even things they love and appreciate about themselves.
Cultivate gratitude in your classroom
Gratitude can be a challenging concept to teach in early childhood, but with simple activities like creating a gratitude tree, you can help children develop a sense of appreciation and empathy, leading to an increase in positive emotions, better mental health, and improved social skills. By teaching children to count their blessings and appreciate the good things in their lives, you are helping to build a solid foundation for a lifetime of happiness and fulfillment.
---
Brightwheel is the complete solution for early education providers, enabling you to streamline your center's operations and build a stand-out reputation. Brightwheel connects the most critical aspects of running your center—including sign in and out, parent communications, tuition billing, and licensing and compliance—in one easy-to-use tool, along with providing best-in-class customer support and coaching. Brightwheel is trusted by thousands of early education centers and millions of parents. Learn more at mybrightwheel.com.