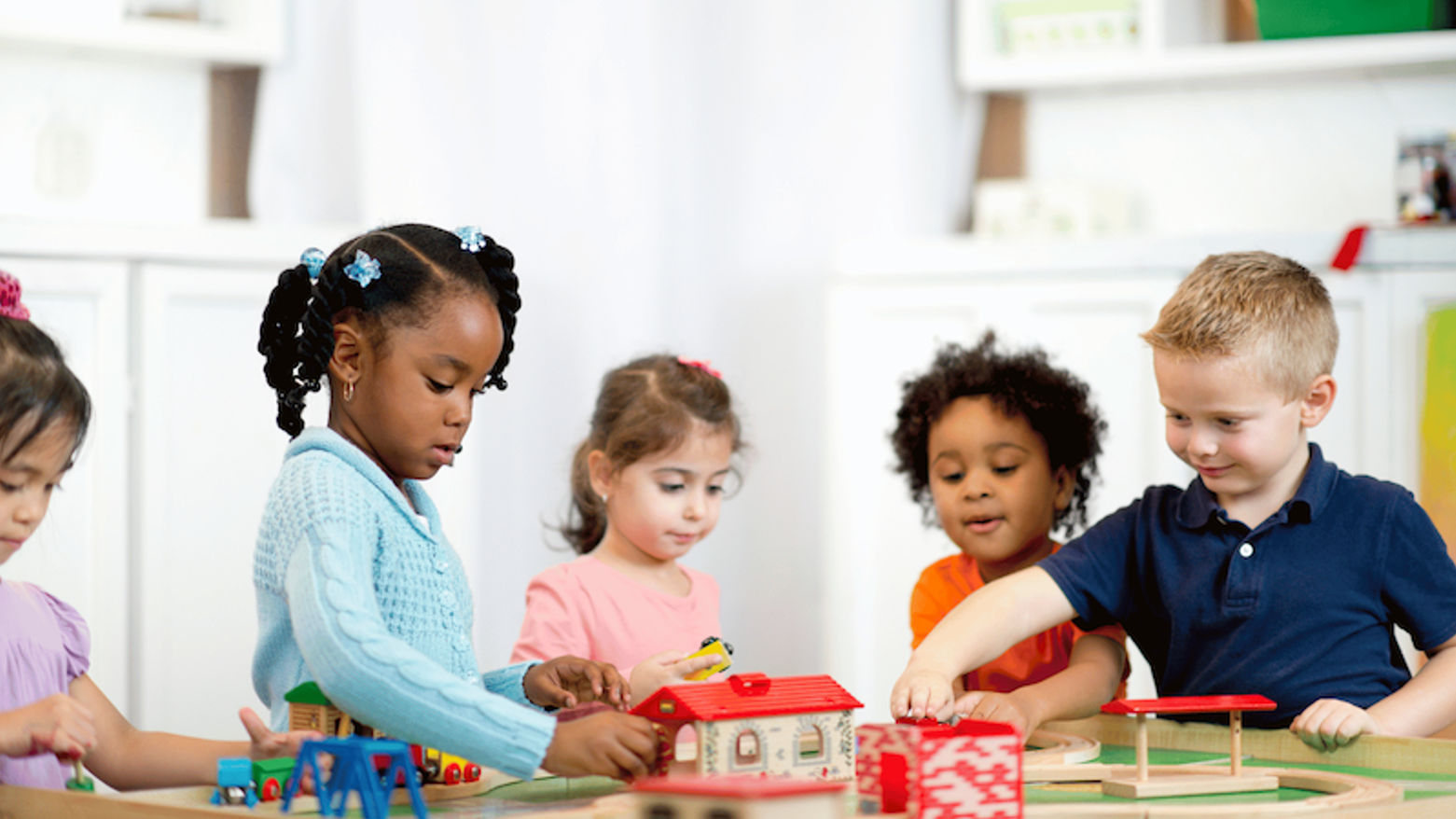 When you manage your early learning program with brightwheel, staff and families enjoy an all-in-one experience. They can build relationships, stay informed, and foster child development, all from a single app.
Now, just in time for winter festivals and classroom celebrations, brightwheel Premium subscribers can:
Read on to learn how you can incorporate these new updates into your program's festivities!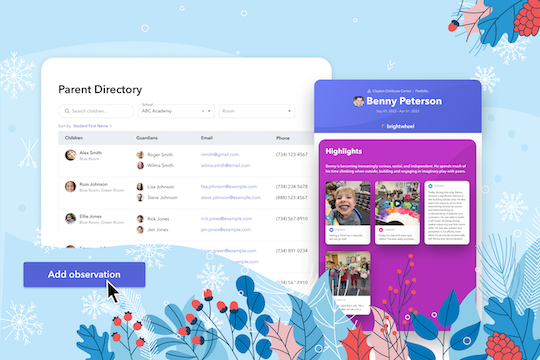 Add activities right from the web
All staff members can now easily add student activities from the brightwheel web app. This means you no longer need to switch from a computer to your phone or tablet when you want to add a photo, nap, or other activity for students.
Here are examples of how web activities can save you and your staff time during the holidays:
When teachers are busy hosting classroom activities and parties, you can lend a helping hand by posting a video or logging a meal right from your desk.
If you witnessed some fantastic winter craft-making when you were walking the school, you can give students Kudos on your computer when you've returned to your office.
✨ New ✨ You and your teachers can now add observations from the web. This means teachers can seamlessly switch from lesson planning to logging an observation on their computers.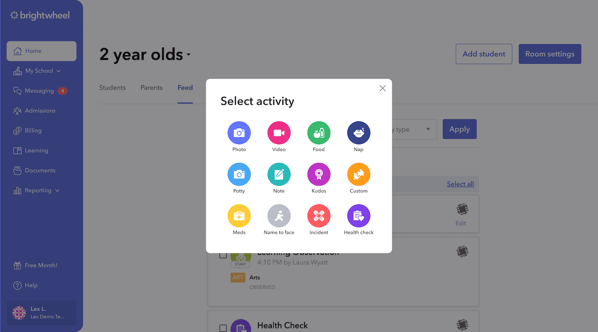 Use an all-new calendar to keep everyone informed
A completely revamped Calendar is now on brightwheel, just in time for a season filled with events and the reminders that come with them. Once you've added your calendar event, families and teachers can refer back to these dates anytime. You can also add descriptive notes on the event. All this can be done on both the brightwheel web and mobile apps.
Here are ways the new Calendar can give you peace of mind during this busy season:
Have your teachers add any classroom events or major activities they're planning to the Calendar (such as cookie decorating or a Polar Express party) so both you and your families stay in the loop.
Regularly remind families to check the Calendar in brightwheel for important dates (such as Friendsgiving or holiday closures) so you spend less time reactively answering questions about dates throughout the season.
When you do get questions about upcoming events at busy times such as drop-off or pick-up, simply let families know that they can find all the information they need on the brightwheel Calendar.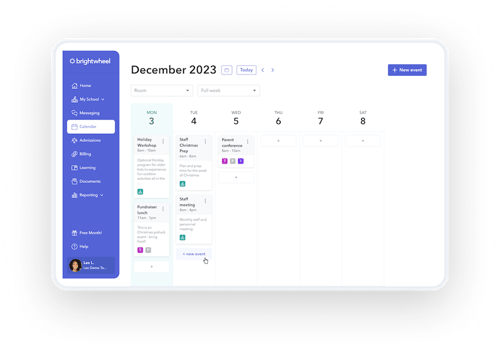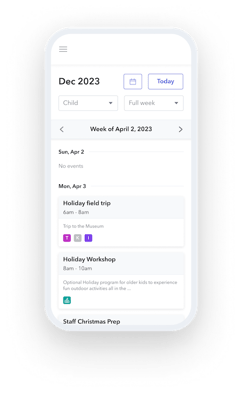 Build beautiful portfolios for each child
With brightwheel's brand new Portfolios feature, you and your teachers can quickly pull together each child's learning story with photos, videos, and observations taken throughout the year. This means that the adorable Halloween photos and videos you took are not just for fun; they can be referred back to during family meetings as you show how a child has progressed and in which areas they really shine.
Here is how brightwheel Portfolios can enhance the quality of your early learning program:
Create a

Portfolio Template

for your teachers so the section titles and dates are pre-populated. This saves them from additional work and also keeps portfolios consistent across your program.

Here are Portfolio Template ideas

to get you started!
Remind teachers that any photos, videos, or notes they take can be used for a child's end-of-year portfolio. This may encourage your staff to more frequently associate parent updates with a child's developmental progress.
Before your family-teacher conferences, publish a student's Portfolio so parents receive a copy via email. They can review the Portfolio beforehand so you can spend more time on the most important topics and questions during the meeting.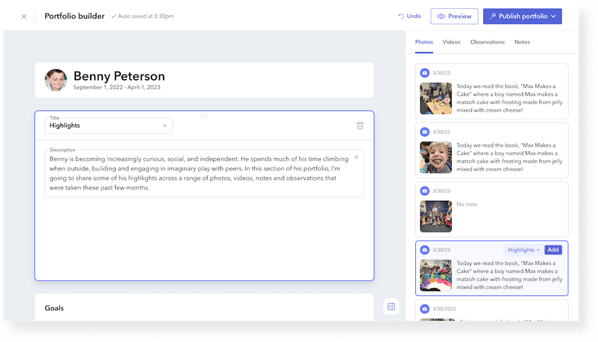 Attach documents and photos with ease in messages
Now, when a photo is shared via brightwheel Messaging, a preview of the photo is displayed in the message which means it is even easier for staff and families to quickly delight in photos that are exchanged.
All staff and parents can also now attach files to messages in brightwheel on both the mobile and web apps.
Here are examples of how these new messaging features can deepen your staff's relationship with families:
If a parent shares a fun family photo over winter break, their teacher can quickly see a preview of that photo in the message thread so they don't need to spend extra time clicking on the file. This can make the teacher smile while also saving them time as they're catching up on messages at the start of the year.
Has a family misplaced a flyer you previously sent out? Now, their teacher can easily attach the flyer to a message from a phone, tablet, or computer. Because teachers and admins alike can attach documents to messages, admins no longer always need to be the ones to share files with families.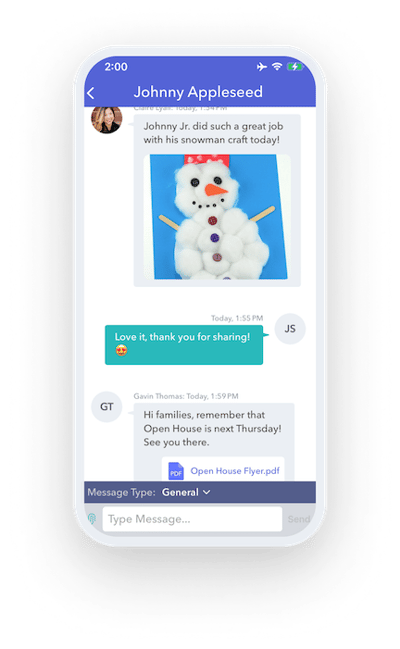 Share out a ready-made parent directory
Now, you can share a ready-made parent directory with families via brightwheel by turning this feature on under School Settings. If you have families who would prefer not to share their information, they can simply opt out under their profile on the brightwheel web app.
Here is how the Parent Directory can strengthen family engagement at your program:
If parents connected with each other at a school event, they can simply reference the Parent Directory in brightwheel to get in touch with each other afterward. They no longer need to come to you or track down the other parent at drop-off to exchange contact information.
Have a student that is frequently picked up late? Their parents can use the Directory on brightwheel to find another family their child could carpool with or get suggestions for after-care.
Gone are the days of outdated emails and phone numbers on paper contact lists. When a parent updates their contact information in brightwheel, the Parent Directory will update in real-time. This means families can connect with each other more easily and you can spend less time updating multiple spreadsheets. (And more time celebrating the magic of the season with your staff and families!)

Your parents can learn more about this feature here.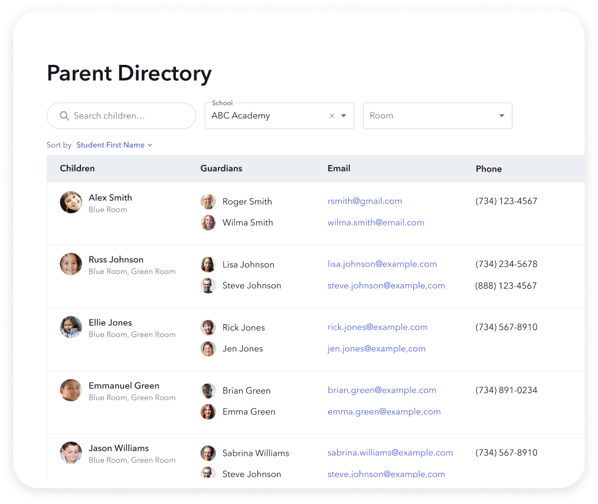 All of these are great ways to incorporate the best of brightwheel into your program's daily operations this winter. These brand new improvements were created thanks to feedback from our customers and with the intention to support stronger connections between staff and families, high quality learning, and an efficiently-run business.
For more information about brightwheel's newest features and best practices, take a look at our monthly newsletters. Have an idea for how brightwheel can continue to evolve and support early learning leaders like yourself? Submit your suggestions here.
Happy, merry holidays! Thank you for being a part of the brightwheel community.
---
Brightwheel is the complete solution for early education providers, enabling you to streamline your center's operations and build a stand-out reputation. Brightwheel connects the most critical aspects of running your center—including sign in and out, parent communications, tuition billing, and licensing and compliance—in one easy-to-use tool, along with providing best-in-class customer support and coaching. Brightwheel is trusted by thousands of early education centers and millions of parents. Learn more at mybrightwheel.com.