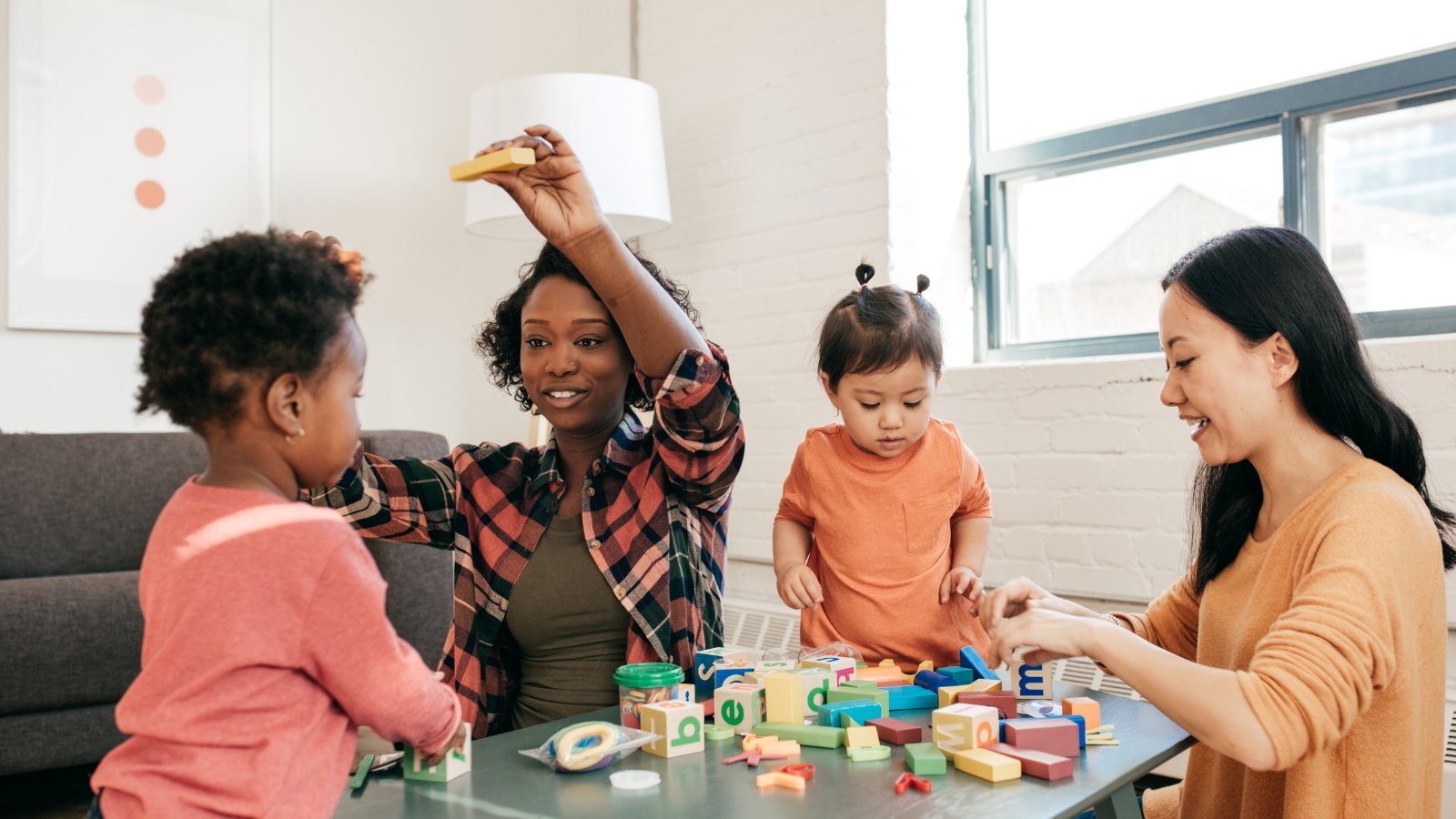 Active family participation is an important part of any successful early education program. Family participation helps to build trust and strong communication with families, which can help you increase family satisfaction, improve your retention and referrals to your center, and identify opportunities for improvement.
Ways to boost family participation
Education is often looked at as a two-way street between educators and children. Some fail to realize that child care creates an extra path where three elements—children, teachers, and families—meet in the middle.
Traditionally, family participation has been measured in attending back-to-school nights and chaperoning field trips. This system often does not work for everyone and doesn't accommodate working families. In fact, families can easily become frustrated when their only option for engaging with their child's program is to forego work. Research supports that being welcoming, responsive, and listening is the best way to engage families.
To increase family participation, childcare programs need to focus on building relationships and trust. This means taking the time to get to know every family and keeping communication open to provide updates on their child's progress.
Families want to know that their childcare provider is compassionate and receptive to their situation. For example, learn more about the cultures and customs of each family that you serve and encourage families to share their traditions with the rest of the class. When scheduling classroom events, be mindful of your families' work and childcare obligations and offer events such as back to school nights or new family orientations at various days and times to encourage participation.
Lastly, families want to be heard. Everyone can appreciate when their opinion is valued. Offer opportunities for parents to voice their concerns and make suggestions. They might ask for tips on keeping their child's education growing outside the classroom. Parents might even offer suggestions for events that they would like to participate in. Listen to and try to implement their suggestions if possible. It's important for families to understand the vital role they play in their child's development, which can further drive family engagement in your program.
Family engagement activities
1. Educate parents on early childhood development
Some parents want to be involved in their child's education, but don't know much about child development or developmentally appropriate practices. Others may lack the confidence to ask you or your staff questions they may have.
You can help educate parents by setting expectations at the beginning of the school year by outlining your learning goals through back-to-school night, new family orientation, a family handbook, or an introductory newsletter.
Explaining what learning looks like (and doesn't look like) is another way to ensure parents are aligned with your center's approach to child development. It can sometimes feel like parents are overly focused on 'academic' content rather than developmental skills, and whether or not they realize it, they have expectations for what that will look like. For example, if worksheets are not part of your curriculum, it's important to share that with parents and to explain why. Most adults just aren't familiar with the foundational skills required for future activities like reading and writing.
Sending helpful resources and pointing parents toward trusted resources, such as info from the CDC and NAEYC, will also ensure that you're on the same page when it comes to their child's development.
Inviting local early childhood experts to come and speak to your parents can also help educate parents on how they can help with their children's early childhood development. Some examples of early childhood experts include:
Kindergarten teacher to talk about school readiness
Librarian to talk about effective read-aloud strategies
Speech therapists
If any of the parents at your center are experts, ask them to share their knowledge!


Don't worry about over-communicating with parents or sounding condescending. You are the early education expert, and parents will want to hear what you have to say. You both have their child's best interests at heart!
2. Use parent-teacher conferences to set learning goals together
Parent-teacher conferences are great ways to effectively collaborate with parents to come up with learning development goals for their children. It's also important to continue the conversations discussed in your conferences throughout the year to align with parents on their child's development.
Some directors and teachers might find it helpful to collect parents' questions and concerns ahead of the conference so teachers are prepared to provide information and solutions to them.
To help facilitate a productive parent-teacher conference, here is a sample agenda:
Start and end by sharing positive comments about the child
Discuss family concerns or questions
Work together to create learning goals for the child that you can revisit throughout the year
Share take-home resources, such as tips on how to continue learning at home
3. Host fun and educational learning sessions for children and their families
Another way to boost family participation is to host learning sessions for children and their families. During these sessions, focus on specific developmental skills or academic topics. Focusing on specific topics or skills can help build trust, as you can demonstrate the educational value of your curriculum in a hands-on and exciting way.
Some session ideas include:
Paint pinecones using washable tempera paint and droppers/pipettes (promotes fine motor skills)
Host a nature scavenger hunt (strengthens problem-solving and social skills)
Sing children's favorite songs and have parents draw what's happening in the lyrics (exercises language skills, creativity, and storytelling)


These sessions don't have to be long events—around thirty minutes is a great amount of time to show parents what their children are learning at your center. You may also consider scheduling these sessions to start right after pick-up time so it's convenient for families to attend.
For COVID safety, you can also host these events outdoors or over Zoom. If using Zoom or another online program, make sure you send a list of required items to parents ahead of time, or send the children home with the items they'll need for the activity.
4. Regularly invite feedback from parents
Using feedback from parents and families is a great way to increase family participation. By implementing their feedback, they'll feel that their needs are being met and their concerns are being addressed. Ideally, you should ask for feedback at least once or twice throughout each school year. Regular feedback will allow you to check in and see how things are going on the parent-side of your center, and will give you the chance to make improvements or changes if needed.
There are many free tools available to help you gather feedback, such as SurveyMonkey or Google Forms. Some example questions to include are:
What are your favorite things about our program?
Are there specific areas where our program could improve?
How satisfied are you with the communication between our center and home? Please explain.
How satisfied are you with our program's activities and curriculum? Please explain.
Is there anything else we should know?

After you receive their feedback, follow up with families and communicate any steps you're taking or changes you've made so they know their voices are being heard. Even if you can't implement their feedback right away, parents will appreciate that you have acknowledged their concerns.


5. Regularly showcase children's work
It's important to share children's learning on a daily basis through photos and videos—not just during parent meetings! When sending photos and videos to parents, make sure to spell out what skills their child is learning during activities—the more specific you are with explaining skills, the easier it will be for parents to help their child develop these skills at home.
Families will love to see what their child is doing in the classroom on a regular basis—whether they are exploring science activities or celebrating the 100th day of school! Including details about these daily activities in your communications to families will help them stay connected to their child's learning.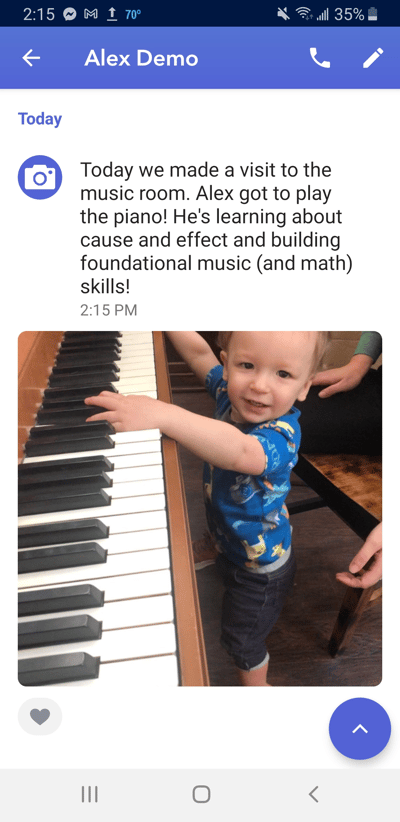 With brightwheel, you can easily send messages and photos to families so they can get insight into their child's day and skill development.
6. Leverage parents' talents for volunteer opportunities
Volunteering is a great way to help parents feel more invested in your program, because they're contributing to the success of it! Parents are more likely to agree to volunteer opportunities if you ask them for something they're good at, so surveying parents about their talents and how they can contribute is a great way to increase family participation.
Make sure to get creative with your volunteer requests to make parents feel included—everyone has a skill they can contribute!
Some ideas for volunteers include:
Preparing craft materials
Calling new families to welcome them
Organizing teacher appreciation activities
Donating products or services for fundraisers
Recording videos of themselves reading to use during storytime
7. Send regular newsletters
Newsletters are a great way to keep parents informed with everything from changing policies to important reminders. You'll also want to add a human touch to make them enticing to read—photos of activities, special outings, or the children are always a fun addition!
Engaging topics to cover:
Recent classroom activities and how they contributed to learning objectives
Child kudos
At-home learning tips
Teacher spotlights
Family Hall of Fame—highlight families who have helped out!
New family/child alerts and how to welcome them to your center
Recipes from the classroom
What not to do in newsletters:
Make them too long—you want families to quickly get the important information they need
Use text only
Send them too infrequently—find the right cadence for you and your families


Brightwheel's newsletter feature makes sending newsletters a breeze. Administrators can build beautiful newsletters and send them to families with just a few clicks!

8. Host social events for families
Giving families a chance to meet each other and build relationships can help increase parent engagement by creating a fun, supportive atmosphere. We've heard from many centers that they have a lot of success with parent events at the beginning of the school year, especially if they have a lot of new families joining.
Here are some ideas for family events:
Joint birthday celebrations (can be quarterly or twice a year)
Back-to-school picnics
New family meet-and-greets
Holiday events

When hosting events, monitor which families are regularly able to attend and those who cannot. Consider sending out surveys to see which days and times work best. Leverage this information to adapt your schedule to accommodate as many families as possible.


9. Help families build community with each other
A strong sense of community within your center makes for happier families, which leads to higher retention and more referrals. Community building doesn't always come naturally to people, so they'll probably need a little nudge.
Some ways to help families build community include:
Providing family directories at the beginning of the school year to encourage them to reach out and connect with each other
Encouraging families to set up playdates with each other, which can also help children continue developing important social and emotional skills outside of the classroom
Starting a private Facebook group for families so they can share parenting resources, local family-friendly activities, and questions
10. Use a tool like brightwheel to strengthen communication and engagement
The more you communicate with families about their child's education, the more they'll feel connected to your center and excited to continue their child's development at home. Using a software like brightwheel's communication feature encourages more communication and engagement between families and your center. By centralizing messaging, reminders, and alerts, brightwheel helps ensure that families never miss important updates. You can also send photo and video updates to give parents a peek into their child's day and insight into what skills their child is developing.
Early childhood education is a group effort
Effective early childhood education requires the collaborative effort of teachers and families to create a healthy, educational setting for children. While some would put the baton solely in the hands of educators, family participation and engagement are closely tied to the success of any program. By making families feel welcomed, valued, and heard, you can increase parent involvement and promote early childhood development inside and outside the classroom.