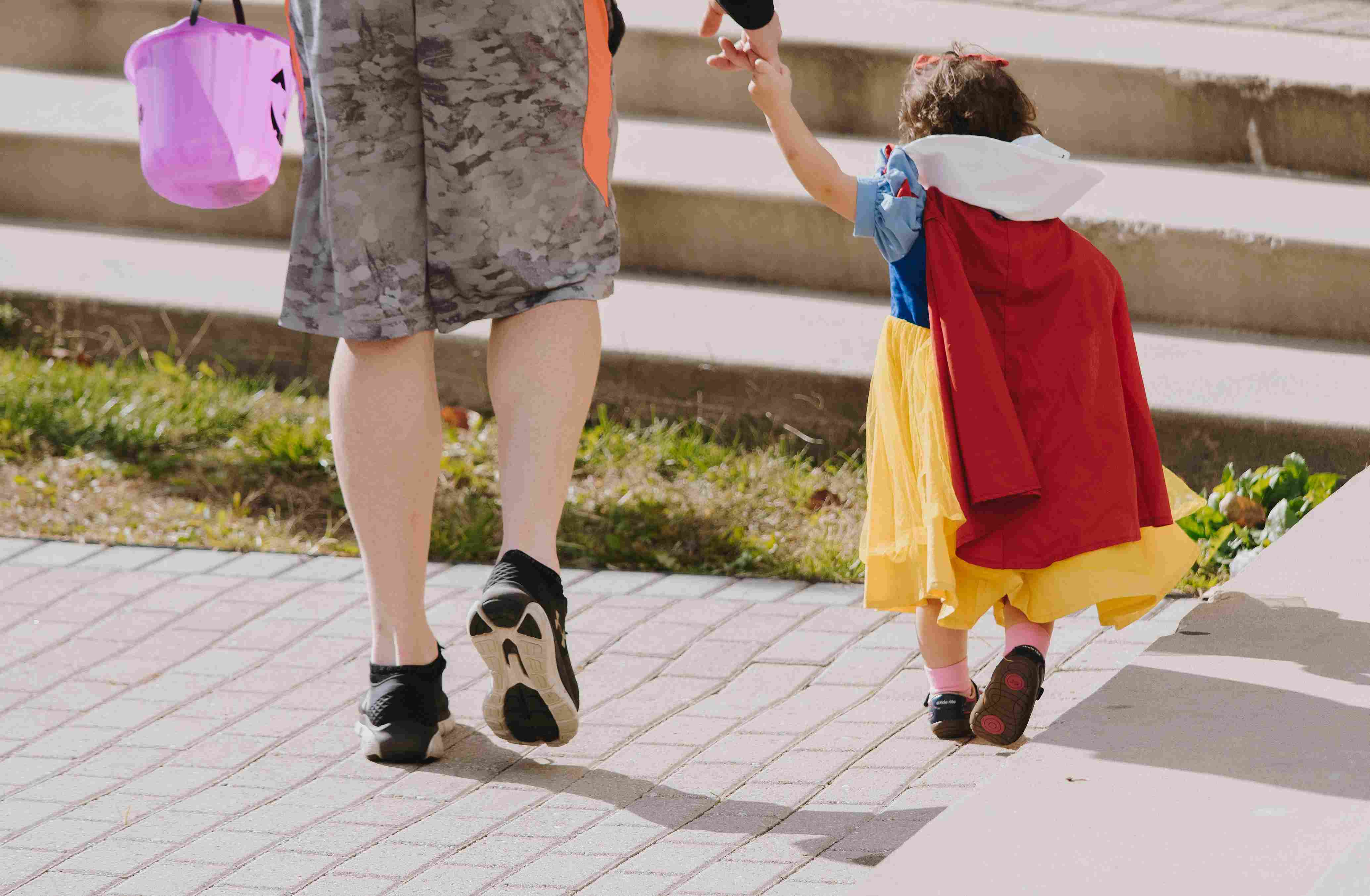 This Halloween may look a little different at your childcare center, but there's no reason it can't still be a ton of fun! While COVID-19 may have limited the trick-or-treating and in-person Halloween parties, you can still provide exciting activities that will delight your children and families.
Here are 7 of our favorite Halloween activities that you can do at your childcare center or preschool.
1. Costume parade video or livestream
While most centers are limiting the number of adults entering the building this Halloween, families still want to be a part of the fun. If you traditionally host a Halloween party or parade for families at your center, consider sharing realtime updates of the festivities so families can watch from home or work this year. Take plenty of photos, record videos, or even livestream the parade on Facebook Live!
Note: If you're a brightwheel user, you can instantly share photos and short videos with parents through the brightwheel app.
2. Halloween treat hunt
It's just like an Easter egg hunt, but with a spooky twist! With the help of your staff, hide small treats throughout the classroom for children to find. Make sure every child has a bag or basket to collect the goodies they find. Children can express their creativity by decorating their own bag or basket with stickers, markers, and paper cutouts.
It's a good idea to start the hunt shortly after hiding the treats so children don't accidentally find them before the activity begins! You can hide treats either early in the morning before children arrive or while they are outside or in a different room. If you can, get help from a few staff members to make this go quickly.
3. Drive-through trick or treat
If your center typically does a trick-or-treat or trunk-or-treat event, consider mixing it up this year to limit the contact—without limiting the candy!
Teachers can set up treat stations in your parking lot, driveway, or on the sidewalk (if your center is on a quiet street and it's safe to do so). As families drive by, teachers can hand them packages of goodies, such as paper bags full of candy and stickers.
Encourage your teachers and families to dress up in costumes for extra festive fun!
4. Take-home Halloween scavenger hunt
While most families won't be going door-to-door on Halloween night, lots of neighborhoods are thoroughly decorated. Families can spot some exciting and spooky sights just by walking or driving around the neighborhood!
You can create your own scavenger hunt list or bingo card for families to complete on their own. Feel free to fill in the details with things that are specific to your city or neighborhood. Or, if you prefer, you can simply print the bingo card below.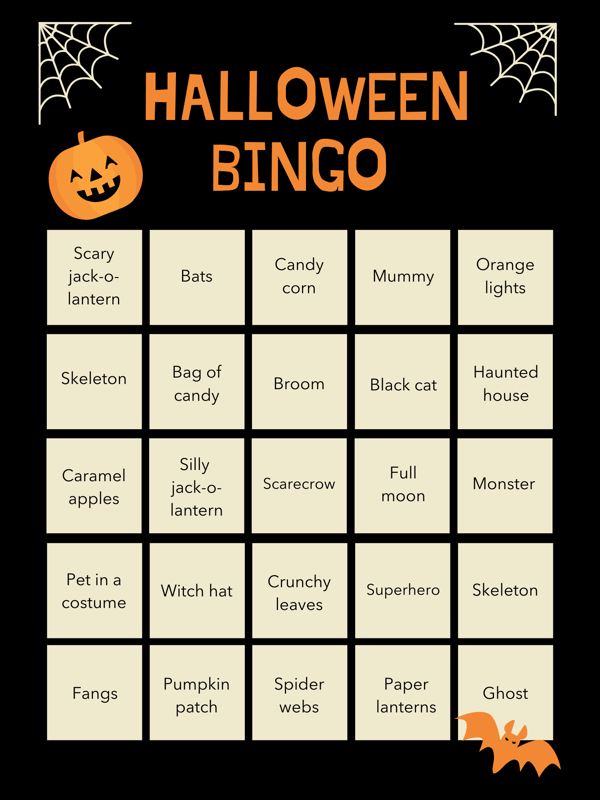 5. Double down on decorations
COVID-19 can't stop the festive spirit! This year, it's more important than ever to spread a little cheer. Luckily, there's no need to go out and buy lots of supplies—you can make a lot of fun and spooky decorations with the materials you already have at your center.
Invite your children to help with room decorations at a developmentally appropriate level—whether it's coloring pictures of pumpkins and scarecrows, cutting out construction paper bats, or sticking stickers on a bright orange poster board.
6. Virtual family costume contest
Do you have families who love to join in the fun? Host a costume contest that everyone can participate in from home! Invite your families to send you their best pictures of their Halloween costumes.
Once the costumes entries are submitted, have your staff vote on the award-winning costumes. Then, you can give away small prizes (or bragging rights) to the winners. Consider including several categories so there are multiple chances to win!
Scariest
Cutest
Most creative
Best group costume
7. Grab-and-go craft bags
Do you have leftover orange and black craft supplies after all that classroom decorating? Consider packaging up a fun take-home craft that families can complete together. Make sure to include clear instructions and any supplies that families may not have at home.
Here are a few affordable and easy ideas that we love:
Decorating mini-pumpkins (you can either include the pumpkins or have families provide their own)
Making ghosts out of Tootsie Pops and tissues or fabric
Creating scary or silly monsters out of cardboard tubes, googly eyes, and construction paper
Decorating a candy corn masterpiece with yellow, orange, and white paper scraps and a triangle-shaped piece of poster board
The sky is the limit, so get creative and use the materials you don't mind sharing!
Have a happy Halloween with brightwheel!
If you're a brightwheel user, you can easily share photos and videos, add upcoming events to your calendar and send reminders to parents.
You can also use brightwheel to communicate with families at any time about your Halloween plans, such as safety precautions, invitations to contribute supplies and decorations, and answers to their questions about your Halloween activities.
We hope everyone at your center has a fun and safe Halloween!