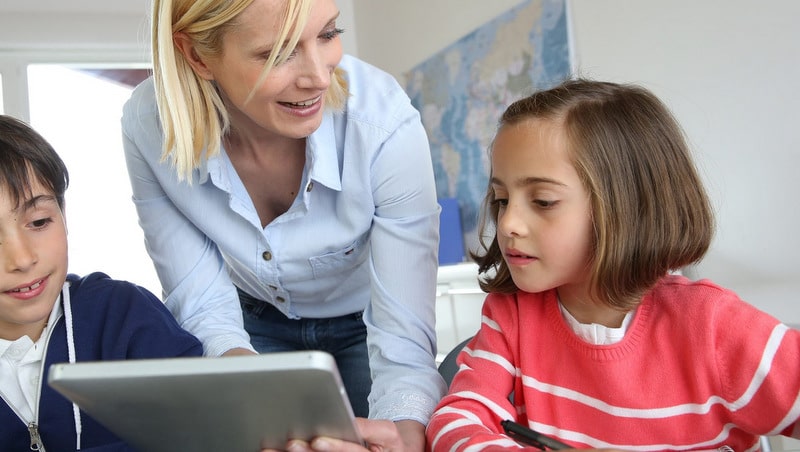 Technology in early childhood education?? Don't our little ones already see us glued to our devices and screens enough? Don't they already get exposed to too much technology too soon? We more than understand if you're skeptical. But hear us out.
When you hear the word "tech," do images of teachers on laptops or three year olds glued to iPads pop into your head? If so, let's forget the word "tech" for a minute. When we use that word, we are not talking about teachers being distracted by their devices or exposing our kiddos to screens at all. We are talking about finding the right tools to support your mission at school and in the classroom. Some of those tools may be paper based, others may be electronic. It's all about finding what's right for you. And what's so exciting is that there are some amazing tools out there that can truly make life easier and make your day more enjoyable.
In order to find the right tools for you, we suggest a few key steps:
Evaluate the opportunities at your school or daycare.
What are your pain points? What causes headaches? What takes up time, money, or effort right now? We bet that most any of your problems could be solved with the right tool.
What are your goals? What would you like to achieve in the classroom or office? Do you want to save time? Save money? Improve communications? Help strengthen engagement for parents? What options best fulfill #1 and #2 above? What services and devices best fit your needs?
If you're like most of us, change can be daunting. We're here to tell you that it is time to bite the bullet. Make it your new year's resolution! Find a tool that solves one, some, or all of your main headaches. Test it out, and if it works, launch it!
A couple of things to remember:
Technology can be daunting, annoying, and/or an expensive investment. But that doesn't mean it's not worth trying. The benefits are very real.

Tech doesn't need to get in the way. Tech can be an enabler to help you do the things you want to do without changing what you love about early education. We designed brightwheel to get out of the way (use it, and put it away) and actually save you time.

Play around. There are a lot of tools and devices out there, so you should be diligent about finding the one that's right for you. After some initial investment, it should just work. If it doesn't, it's probably not the right tool.

Change is hard. Give teachers and parents time to adjust.

Once you make the leap, stick with it and monitor as you go. Too often we just make a change and then get back to daily life, but it's important to observe how things are going and make adjustments along the way.

Don't forget, tech can be fun, too! In addition to time and cost savings, it enables new experiences and new insights. We see and hear this everyday and it's what we care about most: the human impact that great tools can have.
Why it's worth it.
Here are just some of the benefits our administrators and teachers report from implementing technology:
Huge time savings. As much as an hour per day! That really adds up.

Cost savings. Paper is actually not that cheap to print and maintain!

Happier teachers. Teachers and directors love streamlined processes that free them up from pesky tasks so that they have more time to engage with kids.

Happier families. Parents are more engaged and have a closer connection to their kids.

Higher retention rates and referrals. Tech can be a great marketing tool for your business. In some cases, it can prevent an unhappy family from leaving. In other cases, it can be a driving factor in parents referring your school to friends.

Better business management. Leverage tech to manage enrollment, staff, and billing - all in one place, all integrated and fast.
Why take our advice?
We here at brightwheel believe passionately in the importance of early education, and have developed a tool specifically to improve the lives of administrators, teachers, and parents. The benefits outlined above are testimonials coming directly from our users, measured via surveys conducted in fall 2015, which showcased measurable improvement in a matter of weeks.
We are working to bring innovation to an industry that serves our most important resource and what should be our greatest national investment: our children.
What are you waiting for?
Brightwheel is an easy-to-use app for preschools, daycares, and families. Download it today and get started in just a few minutes!