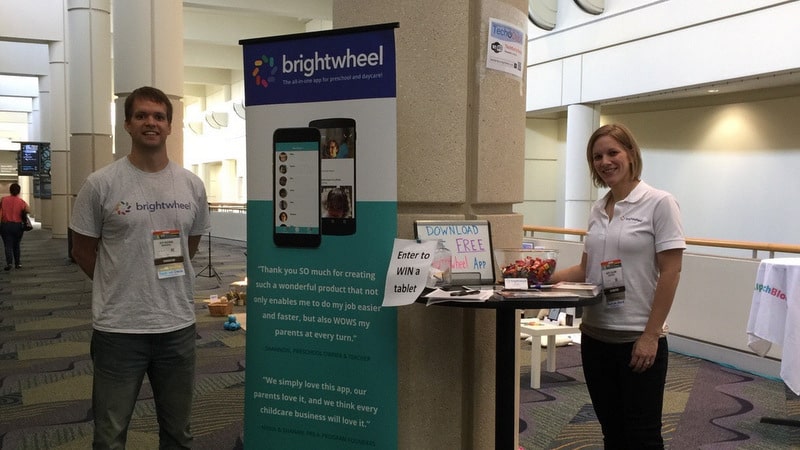 Two weeks ago we made our inaugural trip to the annual National Association for the Education of Young Children (NAEYC) conference & expo in Orlando. What an inspiring & collaborative experience! The theme of this year's event was "The Power of the Profession," which absolutely captured the spirit of the impressive people, sessions, and organizations involved.
We were honored and proud to sponsor one of the conference's most trafficked special interest forums, Tech on Deck. This 2-day event highlighted how technology can benefit the ECE professional, and offered both hands-on learning experiences and technology talks and discussions. Participants attended roundtable chats hosted by tech experts and learned best practices for tech integration in the ECE setting, and were also invited to explore and play with emerging technologies.
As we look back at this event, we wanted to share with you our top 3 takeaways from the 2015 expo:
ECE is alive and well in the U.S.!
Being among some 9,000 attendees at this event was a great chance for us to have countless, meaningful conversations with so many dedicated professionals in the ECE community. This was our first expo, and we truly were floored at the level of commitment and excitement we ran into at each session, booth, and forum. The professionals in this space are truly one of a kind, their passion and drive was truly palpable.
Huge opportunities exist to cut down on administrative work and improve parent communication.


One of our biggest takeaways from the experience is that great need exists in improving and streamlining the admin tasks that burden ECE professionals. We heard this repeatedly in our conversations and in the jam-packed sessions. Believe it or not, paper and pen and text messaging are far and away the most predominant methods of communicating with parents in ECE - whether you manage a small preschool of 20 children or run a multi-site center network with 1000's of children. Both parents and teachers alike are demanding better tools for sharing and engaging with each other to more effectively relay important information and continue the learning and care at home.
Technology is on the verge of mass adoption in ECE - for both administration and learning & development.
Given the conversations we had, sessions we attended, and exhibitors we connected with, it's obvious that ECE is on the verge of joining the technology revolution--not only in terms of administrative tools/technologies for educators, administrators, and parents, but also for emerging tech to be used to enhance student learning and development.
We were deeply impressed by the drive and enthusiasm we witnessed in the hundreds of educators we were lucky to meet. Brightwheel is honored and excited to play a small part in driving efficiency and time savings for teachers and directors across the country so they can spend more time with children and focus more on learning and development.
While it's hard to imagine now, I'm sure next year's conference will be even more inspiring. We'll see you all in LA for the 2016 NAEYC expo!
Brightwheel is a free, easy-to-use app for preschools, daycares, and families. Download it today and get started!