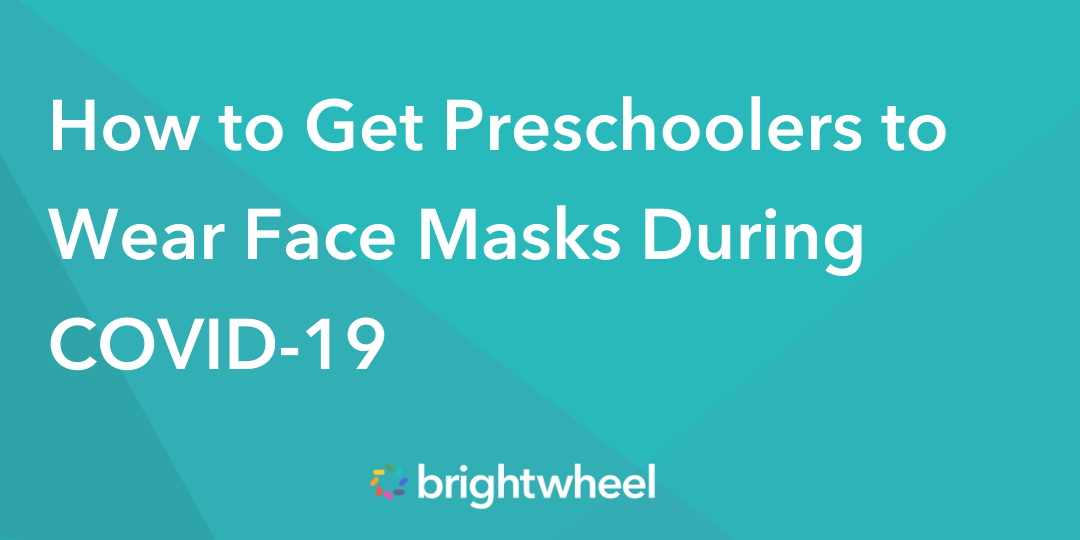 This post was contributed by Lara Lofdahl, a former preschool teacher who specializes in developing emergent curriculum and nature-based education practices.
When I heard that preschoolers were being asked to wear masks when our center reopened last August, I admit that I was skeptical. The CDC recommends face masks for children ages 2 and older when around people outside of the home, though each state has its own guidelines for mask-wearing in preschools and childcare centers. At my center in Massachusetts, the preschool classroom serves children ages 2.9 - 5.5 years old. While I thought the older ones may be able to keep them on, I was having a very difficult time picturing the younger ones willingly wearing a face mask. Happily, I was proven wrong. By October, all of our students were wearing masks regularly, except when eating or sleeping.
As we continue to learn more about COVID-19 and how the virus is changing, our strategies for staying safe are evolving too. The CDC now recommends using masks with multiple layers or "double masking" to protect against new strains, and as the disease continues to spread, some states are issuing updated mask mandates. Children who may not have worn masks in the beginning of the school year may be wearing them more now, especially as many activities are forced indoors due to winter weather.
Helping preschoolers wear masks can be tricky, so here is a guide to some of the strategies we used in our classroom. Every child and every classroom is different, so experiment with what makes sense for your community!
1. Make masks a part of classroom life.

Masks are now a part of our daily lives, so why not try embracing them as part of your curriculum?

Many books about mask-wearing have come out over the past year and can be a helpful tool for learning about and discussing masks.

This list

has some of the best picks for literature about face masks, social distancing, and germs, and toy company

Lovevery

also has released a book about masks for free (with the cost of shipping).
Learn about people who wear masks as part of their daily work, such as firefighters, doctors, and carpenters. What are some reasons people in these professions might wear masks?
Invite children to make masks for the dolls and toys in your classroom.
2. Foster independence.
Masks can be extremely frustrating for children (and adults!) to wear, and having to constantly ask for help can be discouraging. We can help with some of this frustration by offering strategies for wearing masks independently. Ask students to demonstrate how they put on their masks by themselves. Do they use two hands? Do they loop the mask over one ear at a time? Take pictures of children putting on their masks and document their instructions. You can use this to create a display of "Mask Experts" to inspire your classroom community!
3. Take a mask break.
It's healthy to take a break from wearing a mask and we can do so safely by maintaining social distancing. Offer a space in your classroom or on the playground where children can take a "mask break" away from their friends. Help them use positive language when their friends get too close, like "I need some space—I'm taking a mask break." When we used this in our classroom, we noticed children would decide for themselves when they were ready to return to play, but some found a timer helpful.
4. Be a mask model.
Our students look to us for guidance in so many ways, and mask-wearing is no difference. We are all getting used to this, and it's okay to acknowledge your own learning journey with your mask! Talk to children about why you wear the masks that you do. Is the shape comfortable for you? Did you try a different one and found it wasn't right for you? Do you like fabric or paper masks? Notice the masks your students wear and ask them about the colors and patterns. The more we normalize mask-wearing, the easier it will be for children to wear them.
5. Encourage mask-changes.
Masks can get dirty or wet during all-day wear, so remind children to change their masks throughout the day as needed. Encourage families to bring one or two extra masks to keep with their child's extra clothes, or, if possible, provide some extras at your center. It's important to note that not all masks made for children are designed for young children; what works well for an 8-year-old may not work for a 3-year-old! Check out

this list

of kid-friendly masks. (I can personally recommend the ones from

Crayola

and

Old Navy

!)
6. Stay flexible.
If a child is reluctant to wear a mask, that's also okay! This is a new, difficult thing, and we all need a little grace to get through. When children aren't wearing masks, encourage them to play at a distance from their friends, explaining that masks help us keep each other safe. We found that children would rather play closer to their friends and wear a mask than the alternative.
Nothing is ever going to look "perfect," nor should it! Life in an early childhood classroom changes from minute to minute, and what worked yesterday might not work today. Take time to celebrate the wins when they come, and remember to take time to acknowledge students and co-teachers for all the amazing things you are doing in the face of these challenges.
---
Brightwheel is the complete solution for early education providers, enabling you to streamline your center's operations and build a stand-out reputation. Brightwheel connects the most critical aspects of running your center—including sign in and out, parent communications, tuition billing, and licensing and compliance—in one easy-to-use tool, along with providing best-in-class customer support and coaching. Brightwheel is trusted by thousands of early education centers and millions of parents. Learn more at mybrightwheel.com.