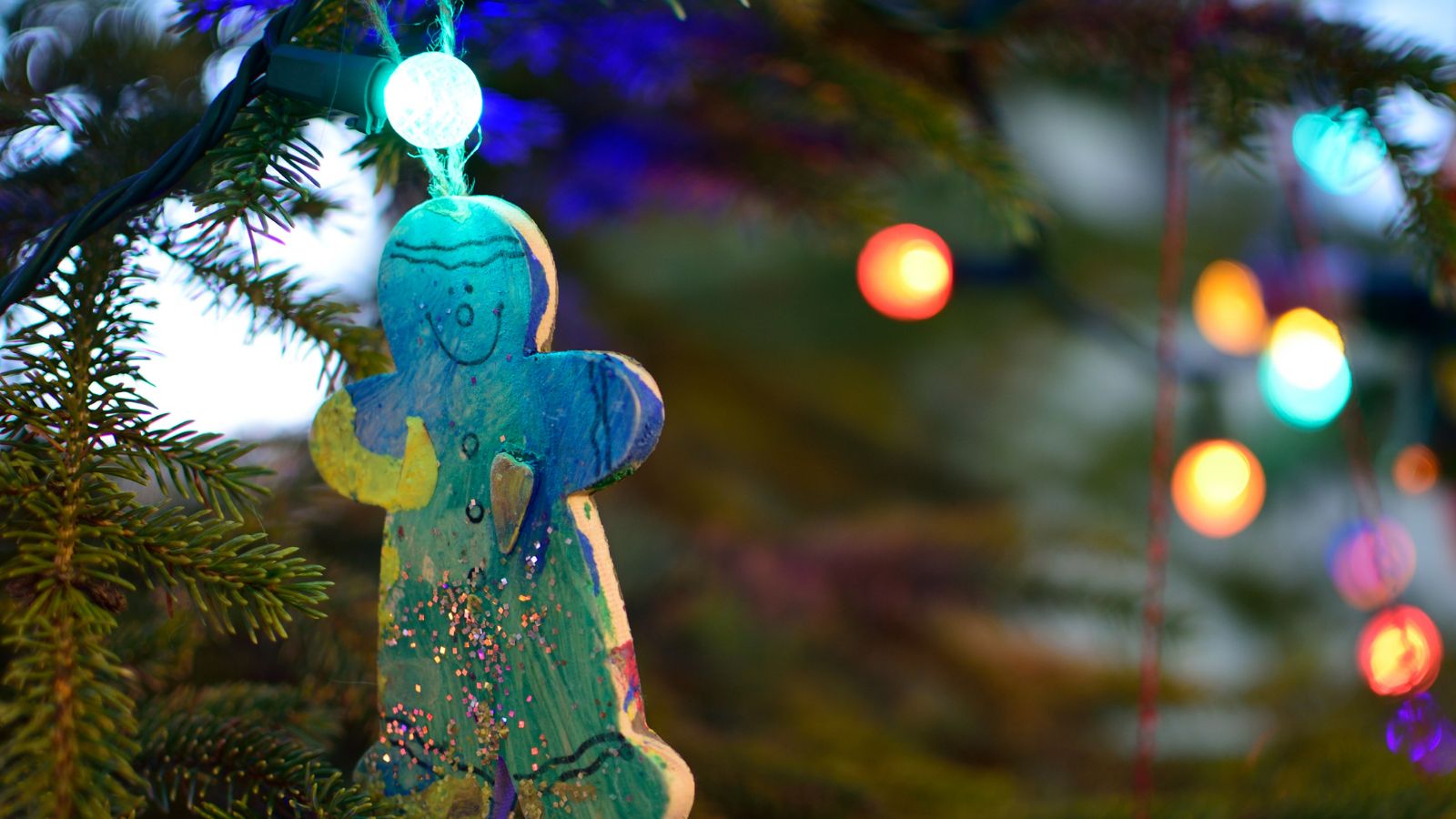 As the weather turns cooler and the holiday season quickly approaches, it's the perfect time to show appreciation for the families at your childcare centers. Getting the children at your center involved in creating the gifts that you send to families ensures that your gift is treasured and appreciated far beyond the holidays. Here are 11 different gift ideas for families at your childcare center.
Embroidery hoop family portrait
Use embroidery hoops to hold a piece of linen taut and have children draw a family portrait on the fabric using a fabric marker. You can use any size embroidery hoop for this. If it's small, tie a loop of twine around the top of the hoop to make the embroidery hoop into an ornament. If it's a big embroidery hoop, families can hang the embroidery hoop portrait directly on the wall!
Cost per gift: $5-10
Materials: White fabric, fabric markers, embroidery hoop
Aprons with handprint art
Aprons are always a helpful item to have in the kitchen, and they're easily customized to a holiday or hobby. Have your children make handprint art to make linen or canvas aprons more special. You could make green handprints into pine trees, red handprints into Santa hats, or brown handprints into reindeer.
Cost per gift: $5-10
Materials: Aprons, fabric paint
Salt dough handprint ornaments
Salt dough is an easy and inexpensive way to make ornaments with handprints of the children at your center. You can either make the salt dough ahead of time, or make it with the kiddos!
To make salt dough, mix 4 cups of flour (NOT self-raising flour), 1 cup of salt, and 1.5 cups of water. Mix until a dough forms and then knead until smooth. You can either roll out the dough and use cookie cutters to shape it, or make a ball and have the children press their hands into it to capture their handprints. Make sure to use a straw or toothpick to make a hole to hang the ornament from!
Bake the salt dough at 250 degrees for 90 minutes to 3 hours. When the dough is dry and thoroughly baked, you can paint the ornaments or handprints and seal them with mod podge or a sealant.
Cost per gift: $2-3
Materials: Salt, flour, water, mod podge, paint
Decorated oven mitt with cookie mix
Buy paint markers and fabric paint and have children decorate oven mitts for their parents. You can add a bag of dry cookie mix to complete the gift! You could also add a wooden spoon or a cookie cutter to this gift.
Cost per gift: $3-5
Materials: Oven mitt, fabric paints, cookie mix
Personalized snow globes
Snow globes are an easy gift that will transport parents to winter wonderland! You can buy snow globes that have a space to insert a piece of paper, where you can display either a photo of the child or some artwork that they've made!
Cost per gift: $4-6
Materials: Snow globe with insert, photos or craft supplies
Trays with footprint and handprint trees
To make these special trays, paint each child's hand or foot in green paint and stamp it onto the surface. You can then draw in a brown tree stump, different lights or ornaments, and other festive decorations. Coat with mod podge or a sealant spray. You can also do this with plates, but add a note for parents to let them know that you cannot eat off of dishes.
Cost per gift:: $3-7
Materials: Trays, paints, mod podge or sealant spray.
Hot chocolate mix in a jar
During the wintertime, hot chocolate is a great gift! Fill glass jars with hot chocolate mix, then have the children get involved by adding sprinkles, marshmallows, and other mix-ins to the jar. You can also add a mug or a gift tag that the child has decorated.
Cost per gift: $1-2
Materials: Hot chocolate mix, glass jar, mini marshmallows, sprinkles
Gift baskets and picture of their child
Have children decorate photo frames that you can put their photos in, and then add that photo to a gift basket with cheese, crackers, chocolates, and jam! This is a really thoughtful gift that includes some treats that they can enjoy with their families. You can usually find inexpensive baskets at thrift stores!
Cost per gift: $10-20
Materials: Picture frame, basket, crackers, cheese, jam, chocolate, cookies, and other goodies!
Personalized placemats
Give your children a large sheet of paper, to which they can add photos, draw or paint on, or add stickers to. Once the sheet of paper has been decorated, laminate them so that they can be used as placemats and wiped down.

Cost per gift: $1-2
Materials: Laminator, paper, craft supplies

A tumbler and drink mix
You can buy clear acrylic tumblers with spaces for inserts and have the children decorate the inserts with paint, markers, or stickers. Adding a photo of the family's little one is another way to personalize the tumbler.
This is a great gift for those who celebrate Christmas in warmer climates. You can add a lemonade powder sachet inside the tumbler for an extra little treat, or a sachet of Emergen-C for cold and flu season.
Cost per gift: $10
Materials: Acrylic tumbler, markers, paint, and other craft supplies.
Customized coasters
To decorate coasters, you can either buy plain white coasters or tiles from a home furnishing store. Children can decorate the coasters with paint, and then you can seal the coasters with a few layers of mod podge and then clear lacquer spray.
Cost per gift: $2-3
Materials: Mod podge, tiles or coasters, paint, lacquer spray
More resources for family engagement
To learn more about how to improve the family culture at your childcare center or preschool, check out these additional resources!
At brightwheel, we're grateful for all the ways you support your families and their children. We hope these ideas will inspire different ways that you can appreciate the families at your center!