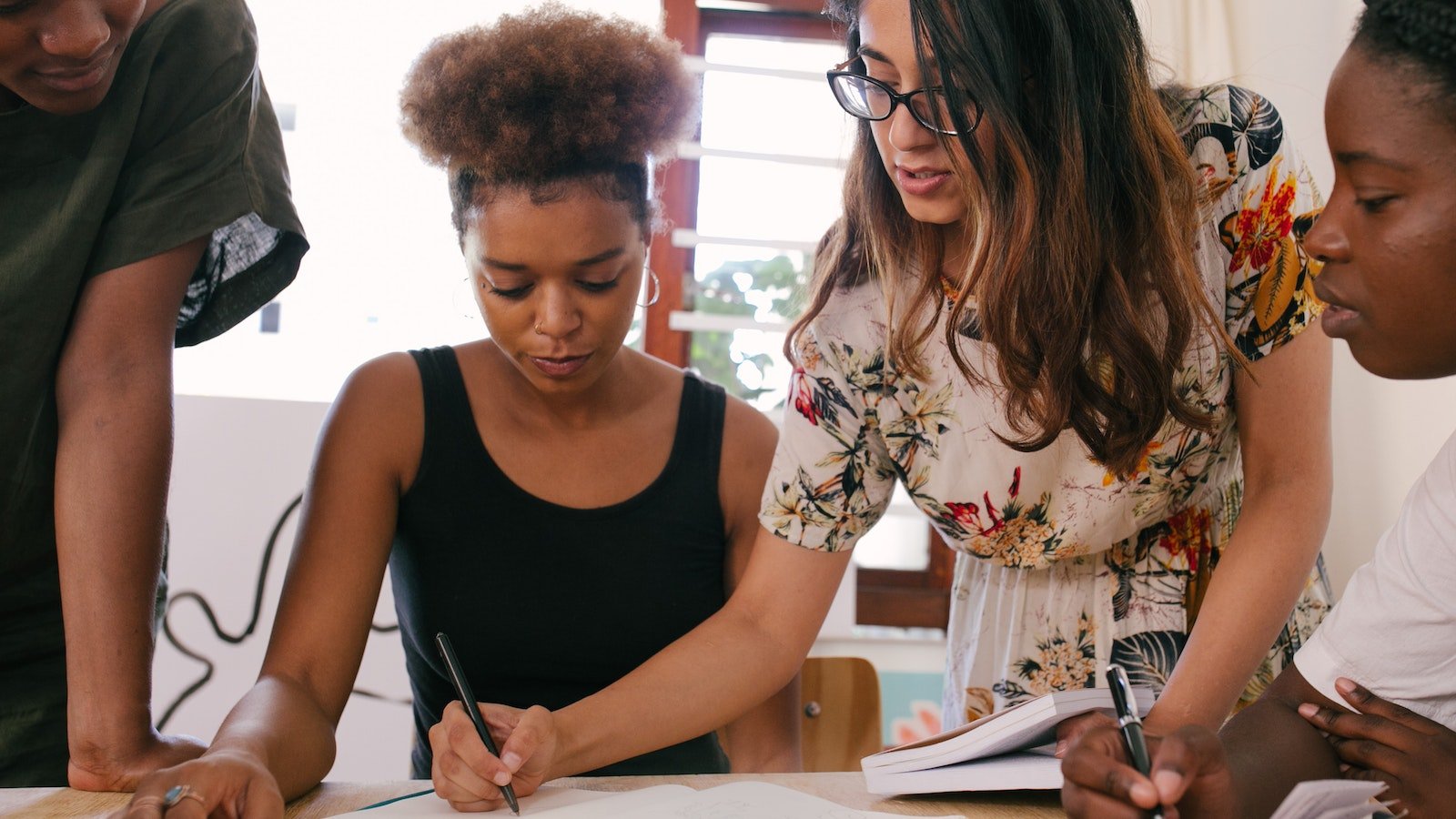 Supporting children's development of behavior, knowledge, and cognitive, physical, and social-emotional skills—all simultaneously—is a massive undertaking that early childhood educators strive to achieve. Without proper planning of lessons, schedules, activities, and children's unique developmental stages, this can turn into an overwhelming task.
An organized and detailed scope and sequence is essential for creating a content-rich curriculum that engages young children, meets their developmental needs, and keeps educators on track throughout the year. In this guide, we'll explain why scope and sequence are so important, demonstrate how to write your own scope and sequence, and provide examples of scope and sequence templates you can start using today.
What is scope and sequence?
A scope and sequence is a detailed summary that outlines all areas of development to be addressed within a curriculum and the order in which each lesson will be taught, including all outcomes to be expected throughout the learning process.
The purpose of a scope and sequence for early childhood educators is to ensure your curriculum covers all necessary developmental domains for young children and sufficiently supports children as they learn, with lessons progressing from less to more complex over time.
A thorough scope and sequence is essential for early childhood educators as it supports them in tailoring learning experiences to children's current developmental stages and provides a map of where development is going so educators can reinforce concepts and continue building on newly learned skills. As you're lesson planning, it's important to ensure your sequencing allows flexibility to respond to children's needs and reinforce concepts children are struggling to comprehend.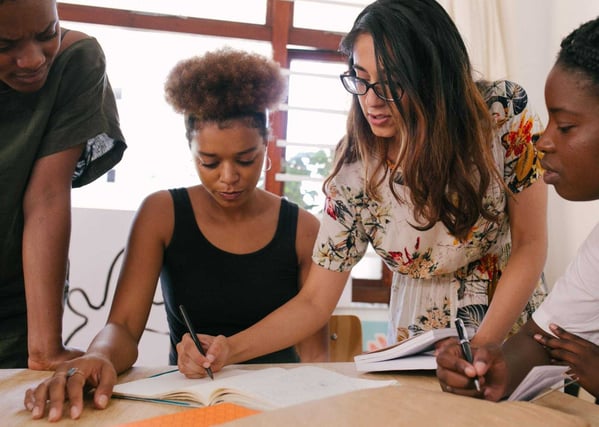 Why is scope and sequence important?
Aside from saving time and making it easier to plan lessons throughout the week, utilizing a scope and sequence in your curriculum offers many valuable benefits for early childhood educators.
Promotes research-based teaching practices
A scope and sequence allows educators to plan the breadth and depth of each lesson within a curriculum. This allows them to incorporate important research-based teaching practices to enhance the impact of lessons for all children, including setting objectives, scaffolding instruction, incorporating opportunities for individualized instruction, concept mapping, cooperative learning, and more.
Supports compliance with educational standards
Scope and sequences allow preschools and other early childhood education programs to document lessons that serve as evidence of what domains are being taught and how instruction is being delivered. This allows educators to ensure they comply with state or federal policies and learning standards.
Provides flexibility to respond to children's needs
Whether your classroom includes English language learners, children with special needs, or children who are simply at different stages of development, an organized scope and sequence allows educators to factor in time or reschedule how and when specific skills are taught to give children the additional support they need to learn key concepts.
Scaffolds learning
Instructional scaffolding is an important part of early childhood education, as children are developing in many different areas—physically, cognitively, and socially—and need consistent practice with new concepts to gain mastery. A scope and sequence allows educators to systemically plan the order of lessons, moving from the introduction of new skills to exploration and practice to consolidation and cementing knowledge.
Helps avoid duplication of content
Utilizing a scope and sequence is like having a detailed map to guide you throughout your curriculum, ensuring you're consistently teaching new skills, building on past skills, and avoiding duplicating lessons you have used in the past.
Provides opportunities for explicit teaching
Explicit teaching is a step-by-step instructional approach that allows educators to examine all of the individual elements of each lesson and continually check for understanding along the way. An organized scope and sequence allows educators to review all phases of instruction for each new topic or skill to ensure they're maximizing instructional time and scheduling opportunities to observe and assess children's understanding throughout the learning period.
How to write a scope and sequence
There are several required elements needed to create a scope and sequence. If you're writing your own scope and sequence before curriculum planning, keep these ideas in mind.
Understand your goals
Before you can get started creating a scope and sequence, it's vital to consider what outcomes you expect and what skills children should be able to master by the end of the curriculum. Make a list of all learning goals and objectives you need to achieve—this will serve as the 'scope' of your scope and sequence. You can use these outcomes as key reference points for decisions about child learning, progress, and achievement.
Determine the order of instruction
It's important to be strategic when determining the order, or 'sequence,' of your lessons, as this arrangement can help promote the meaningful transfer of learning from one concept to another. Understand which developmental outcomes should be taught first and consider how to scaffold teaching these skills so that children can use their knowledge as they phase into lessons around new skills and concepts.
Consider the duration of learning
Once you have determined the list of skills you need to teach, and the order in which they should be taught, it's necessary to consider how much time can be allocated to each lesson unit. It's important to factor in additional time needed for observation, assessment, or providing individualized support for children who need it. The duration of your lessons should have some flexibility and be able to be adjusted to meet the needs, interests, and abilities of all children in your class.
Once you have a scope and sequence in place, you can begin building out your entire early childhood curriculum. If you need help getting started, brightwheel's lesson planning tool helps daycare and preschool educators create custom childcare lesson plans and curriculums, all aligned to required state early learning standards. You can also track and analyze children's progression and share feedback with families directly in the app.
Scope and sequence templates
If you choose to develop your own curriculum, it doesn't mean you have to start from scratch. Using lesson plan templates or examples of other early childhood scope and sequences can help you save valuable time and give you a head start on structuring your teaching schedule.
Take this preschool scope and sequence example from the New York City Department of Education. The scope and sequence are broken down into three themes throughout the year: "My Community and Me," "The Environment and Me," and "Change and Growth All Around Me". These themes set the stage for how themes and lessons are taught throughout the year.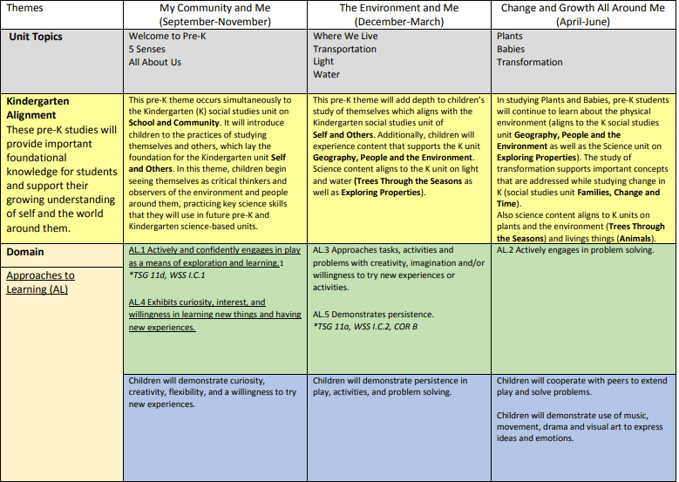 As you can see in the Kindergarten Alignment section, the first theme introduces new skills and practices, while the additional themes build on past learning and add depth to children's understanding.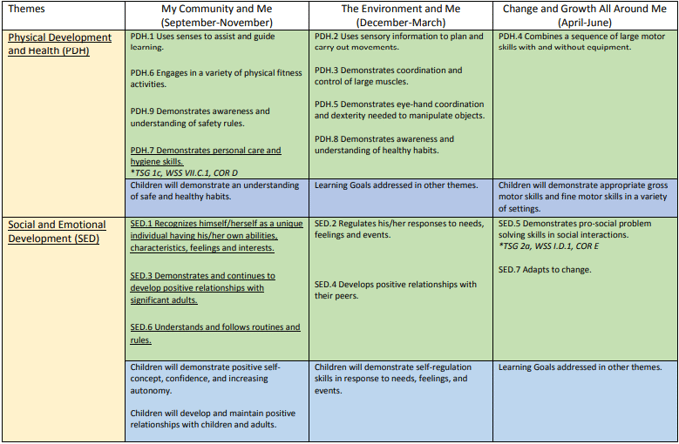 In the Social and Emotional Development unit, children are first taught self-recognition, how to demonstrate and develop positive relationships with significant adults, and how to understand and follow routines and rules. Later in the year, these skills are built upon as children learn to regulate their responses to needs and feelings and how to develop positive relationships with peers. By the end of the year, children learn even more social-emotional skills, like demonstrating pro-social problem-solving and adapting to change.
These outcomes are all aligned with federal and New York state preschool learning standards. By using a similar template, you can determine the lesson plans, materials, and learning experiences you will need to achieve the desired outcomes for your children.
Conclusion
An organized scope and sequence is one of the most useful tools an early childhood educator can have at their disposal. It helps make lesson planning easier, but it can also ensure you're meeting the diverse learning needs of every child in your classroom and helping them achieve their most important developmental goals every day.