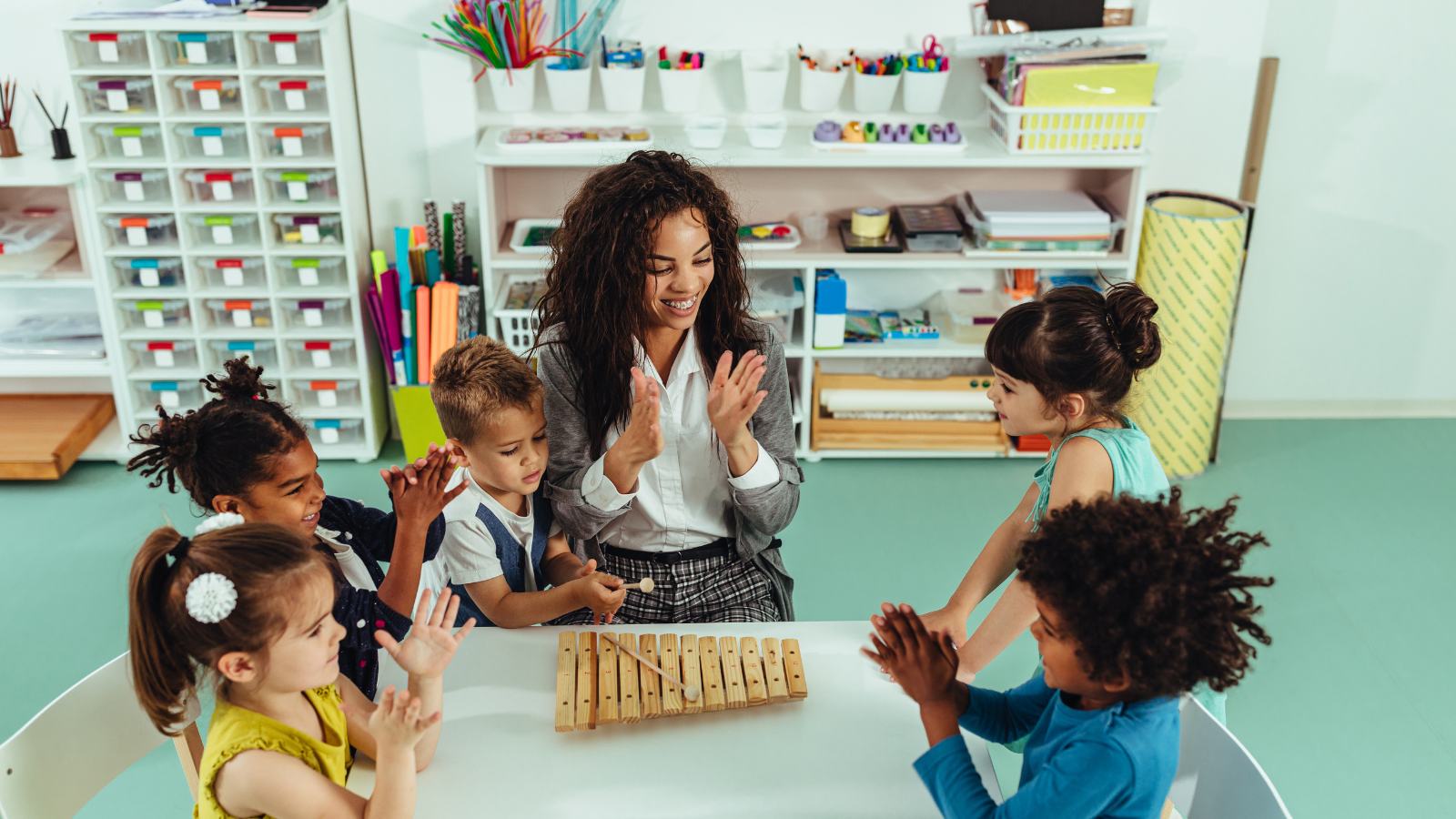 A degree in early childhood education can lead you to a rewarding career path working with children and having an impact on their daily lives. There are various jobs to consider in the child development field based on your specific skill set, interests, years of experience, and any specialized education or training you may have.
Jobs for early childhood education professionals
Let's review some top careers in child development, their primary duties, qualifications, and salaries:
Preschool teacher
A preschool teacher helps develop a child's social-emotional, language, cognitive, and physical skills to prepare them for kindergarten. Some of the responsibilities include:
Planning lessons and writing curriculum
Organizing snack and nap time
Maintaining clear communication with parents
Guiding children to develop their capabilities
Tracking children's progress
Keeping the classroom clean
You'll need an associate degree in education or a related field, plus at least two years of experience. Credentials, like the Preschool CDA or certification in child CPR, can increase your chances of landing the job. Check with your state's standards for certified teachers.
According to data from Glassdoor, preschool teachers can earn between $32,000 to $44,000 per year.
Source
Childcare center director
If you're interested in the management side of the child development sector, consider being a childcare center director. Directors work less with children day-to-day, but instead focus on the following:
Supervising staff
Overseeing administrative duties and setting the curriculum
Maintaining the facility operations in compliance with state and local guidelines
Managing budgets
The minimum requirements for a childcare center director are a bachelor's degree and more than five years of experience in childhood education.
In some instances, childcare center directors own the schools they manage. Childcare directors in the United States earn an average salary of $43,000 annually.
Early childhood education consultant
Early childhood education consultants provide the required information on educational childcare programs. Many educators refer to consultants after identifying resources and tools that meet a child's needs, such as:
Updating a curriculum
Planning a program
Providing training for teachers and other staff
Facilitating contract negotiations between the government and private sector
Early childhood education consultants must have a bachelor's or master's degree in child development or early education and more than five years of experience. Additionally, these professionals should have a valid teaching license within their state.
According to data from Glassdoor, early childhood education consultants can earn an average of $43,000 to $65,000 annually.
Behavioral analysts
Behavioral analysts create treatment plans that improve a child's behavior and communication skills. Responsibilities of a behavioral analyst include:
Observing the child's behavior
Talking to families and teachers about the recommended treatment plan
Assessing the child's progress
Keeping the child's records for future reference
A master's degree in behavior analysis, psychology, or education is needed to qualify for this job. One should also pass a behavior analyst exam. Each state has different qualifications for this job.
Behavioral analysts can earn a median pay of $75,606.
Child psychologist
Child psychologists work with children suffering from behavioral, mental, and emotional disorders. Being a child psychologist allows one to work with children outside the classroom. Some of the responsibilities of a child psychologist include:
Assessing children with mental issues and suggesting treatment
Writing a detailed report of evaluations
Educating families and teachers on how to handle children with mental issues
Addressing issues such as bullying and other mental health issues
Treat children who suffer from things like, trauma, stress, depression, and anxiety
A bachelor's degree, master's, and eventually, a Ph.D. in psychology, child psychology, or a related field is necessary to qualify as a child psychologist. It is also mandatory to complete one year of internship and pass the national licensing exam to become a licensed child psychologist. Check out your specific state's licensing requirements here.
Child psychologists can earn an average salary of $65,000 per year.
Childcare worker
Childcare workers take care of toddlers and children in daycare centers. Typically, childcare workers:
Prepare and serve meals to children
Write daily reports
Change diapers
Play with the children
Put children to sleep
Clean children up
Record attendance
Assist children with their playing activities
Develop a schedule for children to follow throughout the day
To qualify as a childcare worker, one needs a diploma in a related field and a license to work with children. You should also have first-aid training, communication skills, and basic computer literacy.
The national average salary for a childcare worker in the U.S. is $26,000/year or about $13/hour.
Early intervention specialist
Early intervention specialists assess and help children who have developmental delays and disabilities that might cause them to fall behind. They asses areas such as:
Cognitive (problem solving, thinking)
Communication skills (listening, talking, expressing themselves)
Self-help (eating, toileting, dressing)
Physical (walking, reaching, drawing, crawling)
Social and emotional ( interacting with others, forming relationships, regulating emotions)
Their main responsibility is to help children learn important skills to help them catch up in their development.
Early intervention specialists can earn up to $48,337 per year.
Bottom line
There are many career options to consider with a child development degree. The field is full of meaningful jobs that allow you to impact children at the most critical stage of their lives. The expertise and passion you bring to your daily work will benefit the children and families you interact with, setting a solid foundation for their future success.