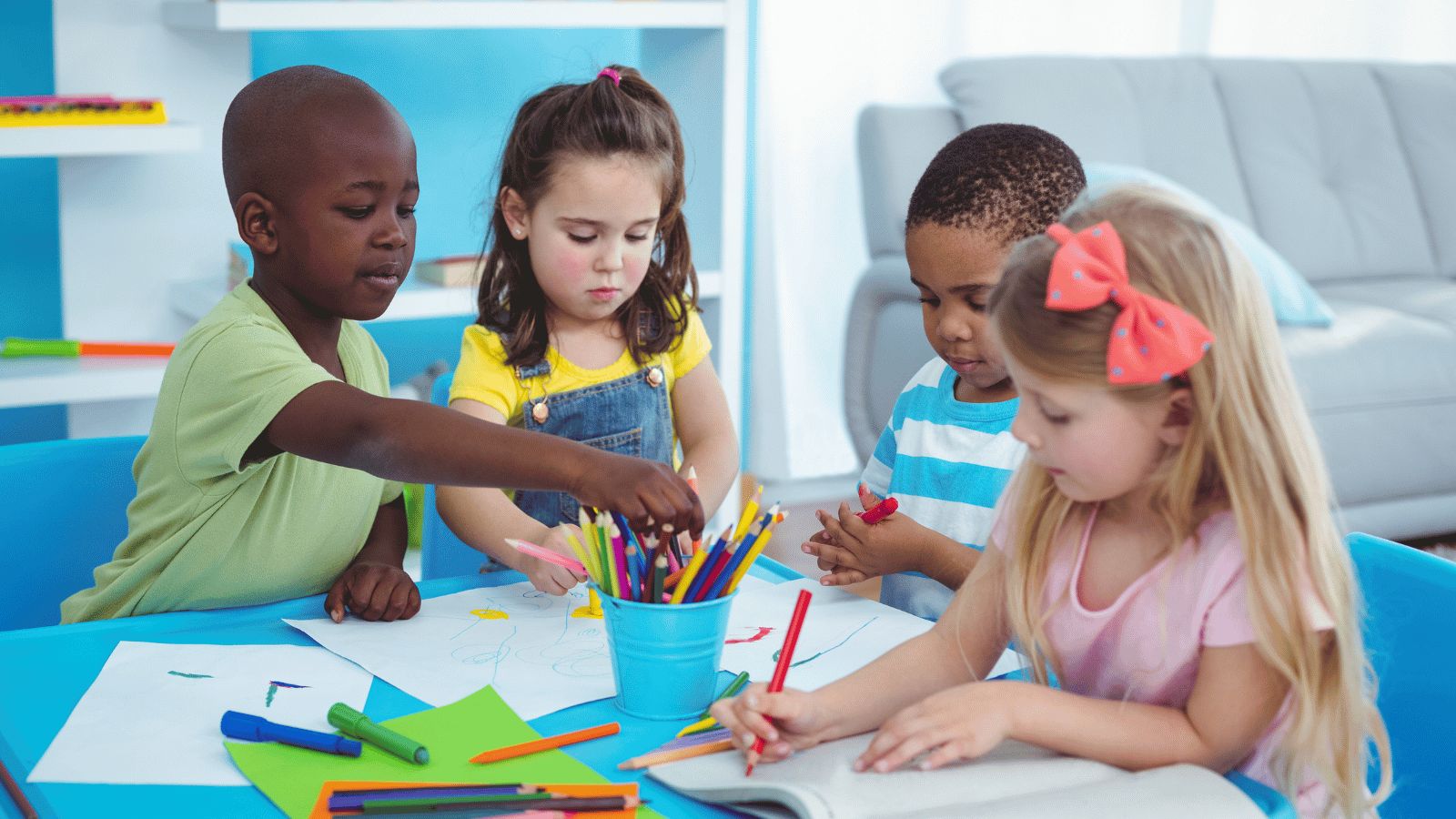 Teaching history to young children can do more than just entertain them with remarkable stories of the past—it can also be used to teach valuable lessons, introduce unique new concepts, and lay a foundation for further learning exploration.
While the thought of introducing history to preschoolers may seem like an overwhelming task for many early childhood educators, considering the vast amount of content and complexity held within history books, this guide will cover several activities, strategies, and topics you can use to make history lessons fun, engaging, and impactful for your children.

How to introduce history to preschoolers
While history may seem like a collection of names, dates, and events, at its core, it's about the passage of time and learning about the past. Helping young children understand the concept of time and "the past" can help make introducing history to preschoolers easier to understand. For example, you can use a timer or hourglass to show children how time passes and talk about things they experienced in minutes, hours, or weeks before.
From there, you can find topics that entertain children and engage their interests. One of the best ways to introduce history is to start with concepts that children can immediately relate to, like dinosaurs, the invention of trains, or the discovery of America or Canada.
Another strategy is to have children learn about their own family history and create a family tree with pictures or drawings to share with the rest of the class. Introducing children to the idea of family history can open up further discussions about events that took place in the past and naturally segue into other historical topics. You can further teach historical topics by reading age-appropriate stories or bringing in "artifacts" from the past the children can examine.
History books for preschoolers
If you're looking for a list of engaging history books that your children will love, here are a few age-appropriate options to consider:
Scientist, Scientist, Who Do You See? by Chris Ferrie
A scientific adaptation of the beloved children's book "Brown Bear, Brown Bear, What Do You See?," this version introduces young children to famous scientists like Albert Einstein, Charles Darwin, and more.
John, Paul, George, and Ben by Lane Smith
A fun and witty book about the childhood of America's founding fathers, John Hancock, Paul Revere, George Washington, and Ben Franklin (not to mention the "troublesome" Thomas Jefferson too).
Bach to the Rescue!!! by Tom Angleberger
Give children an introduction to the history of music with this zany, nontraditional story of the famous composer Johann Sebastian Bach, who helps save a sleepy, grumpy town.
Two Friends: Susan B. Anthony and Frederick Douglass by Dean Robbins
A story that teaches children about two historical figures who fought for civil rights (one for equal pay for women and the other against slavery and, later, segregation). While the themes are complex, the story is told in an engaging way that is easy for children to understand.
You Forgot Your Skirt, Amelia Bloomer! by Shana Corey
Amelia Bloomer hated the painful clothes "proper women" were expected to wear in the mid-1800s, so she introduced more comfortable "bloomers" for women to wear instead of heavy, tight dresses.
A Medieval Feast by Aliki
Teach children the fascinating details about how feasts were prepared for kings and queens in the feudal era, with beautiful art showing fashion, farming, cooking, and castles from the time.
We're Sailing Down the Nile by Laurie Krebsl
This colorful rhyming book introduces children to the wonders of ancient Egypt, from mummies to bustling markets to the magnificent pyramids.
Historical figures
If you want lessons to focus on singular historical figures, here are a few that should be at the top of your list:
Founding fathers
From Washington to Franklin to Jefferson, the founding fathers were instrumental in the birth of America as a single nation.
Civil rights leaders
When teaching young children about the history of America, it's important to tell the stories of people who fought for equality and rights for all. People like Rosa Parks, Martin Luther King Jr., Thurgood Marshall, and many more were instrumental in making the country a better place to live for everyone.
Famous women
From abolitionists like Sojourner Truth and Harriet Tubman to inventors like Ada Lovelace and Marie Curie to women who defied the odds like Helen Keller and Amelia Earhart, there are many stories of women who made history in ways that young children can still relate to, and be amazed by, today.
Other famous leaders
Discussing famous leaders like Gandhi, Abraham Lincoln, Cleopatra, Nelson Mandela, and more can be a great way to teach children about important decisions that were made while easily segueing into historical events that were happening at the time.
If you're looking to incorporate history lessons into your curriculum, brightwheel's lesson plan feature allows you to create custom lesson plans, log observations, and share progress with parents to celebrate the unique history knowledge children in your class will gain throughout the year.
History activities for preschoolers
Here are some engaging activities to help introduce history to your preschoolers while celebrating several diverse groups and important figures in America.
Black History Month activities
Black History Month, celebrated in February in the United States and Canada, is a time to recognize and celebrate Black people's achievements and contributions throughout history.
Introduce children to George Washington Carver
Invite children to learn about George Washington Carver, a pioneer in agricultural science. Carver is known for his work with peanuts, soybeans, and sweet potatoes. Young botanists can grow their own sweet potato plants with this fun experiment!
Learn about space and Black history
Space enthusiasts will enjoy learning about Mae Jemison and Neil Degrasse Tyson. Check out Mae Among the Stars by Roda Ahmed and talk with children about what might be needed for a trip to space. This could be a great imaginary play prompt!
Illustrate Black history with art
Paint portraits inspired by contemporary artists like Kehinde Wiley and Amy Sherald. Wiley, who painted the portrait of President Barack Obama, and Sherald, who painted the portrait of First Lady Michelle Obama, both have beautiful and distinct styles. Invite students to explore their paintings. What do they notice about them? What colors and shapes do they see? Children can use art materials of all colors and shades to create self-portraits or portraits of significant figures in Black history.
Women's History Month activities
Women's History Month, celebrated each March in the U.S., is a powerful time to recognize and celebrate the various achievements and vital impact women have had throughout American history.
Make an astronaut helmet
Teach children about Sally Ride, the first woman to go to outer space. Help them create their own DIY space helmets by using simple materials like paper plates, construction paper, and markers.
Fly paper airplanes
Read the book I Am Amelia Earhart by Brad Meltzer about the first female pilot to fly solo across the Atlantic Ocean. Then, challenge the children to build and test their own paper airplanes, using construction paper and a basic paper airplane diagram as a visual.
Create paper flowers
Georgia O'Keeffe was a visual artist known for her paintings and drawings. She especially loved painting flowers. After sharing some of O'Keefe's work with your class, create your own paper flowers inspired by the artist's style using construction paper, tissue paper, scissors, and glue. There's no better way to honor an artist's legacy than by creating art.
Hispanic Heritage Month activities
Hispanic Heritage Month, observed from September 15 to October 15, is a great time to teach children about Hispanic cultures, histories, and contributions of Latin American citizens to the United States.
Make a sombrero
Try this preschool-friendly sombrero craft with your class. All you need is a paper plate, a plastic cup, a few fuzzy pom poms, and some yarn.
Make and play maracas
Children love making music. Help them create homemade maracas using plastic easter eggs, plastic spoons, dry rice or beans, and painter's tape. Ask the children to pour the dry rice or beans into the easter egg. Then close the egg and tape it shut along the seams. Next, place the egg into the heads of the spoons and tape them. Finally, tape the spoon handles together to create a maraca. Experiment with different ingredients in the eggs so children can hear the different sounds they make.
Celebrate Frida Kahlo
Teach your class about the influential Mexican painter, Frida Kahlo, by reading the picture book Frida Kahlo and Her Animalitos by Monica Brown. This book centers on the many pets that inspired her art and life.
Juneteenth activities
Juneteenth is an annual observance of the end of slavery in the United States, celebrated on June 19. It officially became a federal holiday in June 2021.
Read books about Juneteenth
While the topic of slavery can be challenging to discuss with young children, books like Juneteenth for Mazie by Floyd Cooper or Juneteenth Jamboree by Carole Boston Weatherford can help teach children about the history of Juneteenth with age-appropriate language and illustrations.
Create a Juneteenth flag
The Juneteenth flag was created by Ben Haith, founder of the National Juneteenth Celebration Foundation (NJCF), in 1997. Using red, white, and blue construction paper, you and your preschool class can create your own Juneteenth flag to honor the holiday.
Listen to Juneteenth songs
Songs are a great way to help children learn and retain information. Educational Youtube channels like Gracie's Corner and shows like Sesame Street are great options for songs and stories about Juneteenth and the celebration of freedom.
Conclusion
While history may seem challenging to introduce to preschoolers, there is no shortage of remarkable people, topics, and stories from history to engage young children and inspire them to learn more about events from the past. By incorporating simple activities that focus on a particular historical event or individual, you can teach your children valuable lessons and lay a foundation for future learning.