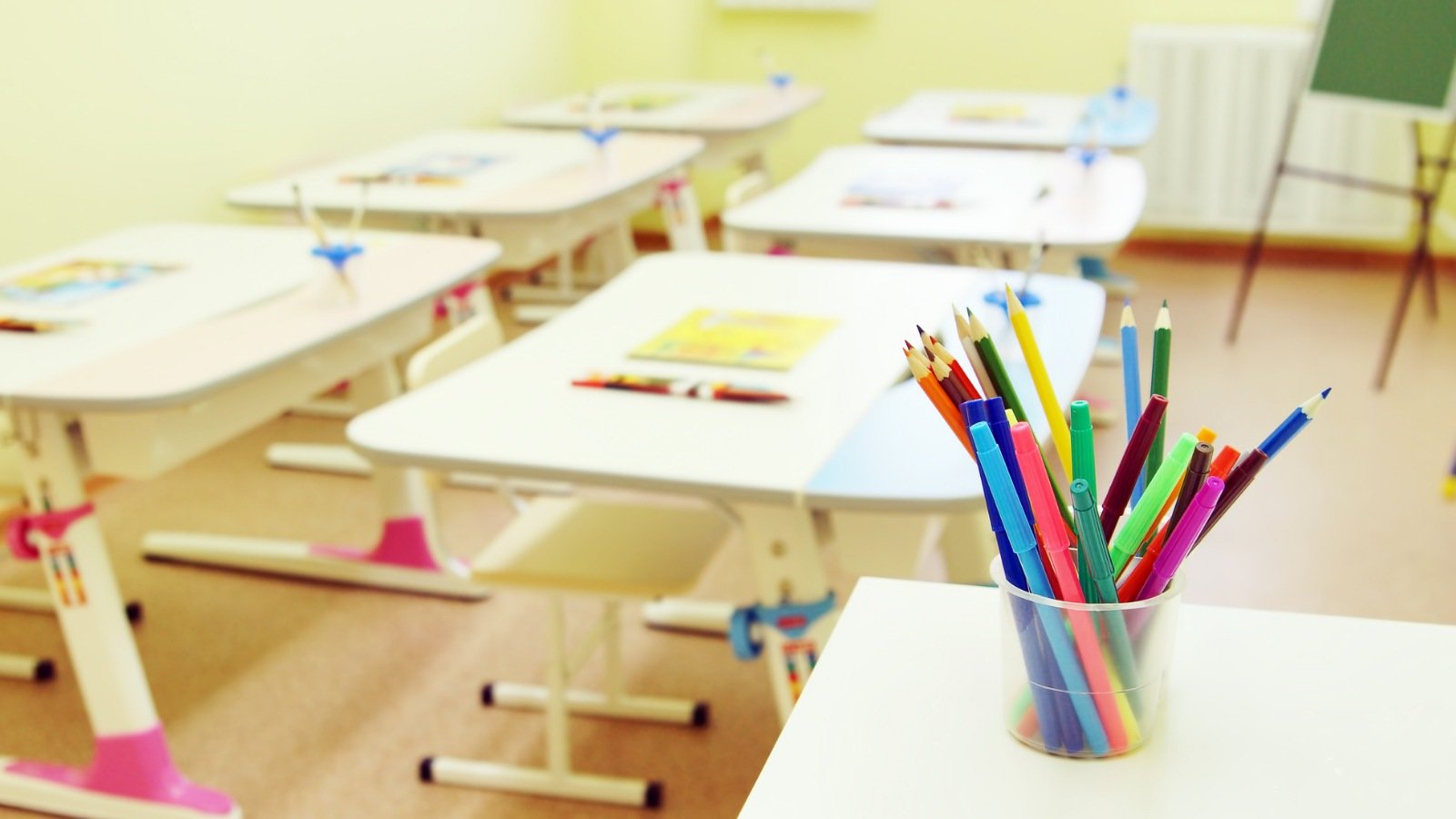 Every child is unique. Children show off their individual personalities, preferences, and skills from the moment they're born. It's important for families, educators, and caregivers to track a child's development by ensuring they meet certain physical, emotional, and cognitive benchmarks at certain stages of their lives.
It can be hard to follow a child's progress—especially if you're around them every day—so it is important to track their development throughout the year using early childhood assessments. Preschool assessments will provide helpful information about how a child is developing and if they're hitting the right developmental milestones.
What is a preschool assessment?
Preschool assessments are a great way to track how quickly a child develops key skills and determine school readiness. In addition, tracking children's progress throughout the year can give families and educators helpful information on the types of topics and skills they should focus on so the children are on track for developmental progress.
These assessments are also a great tool to check in on curriculum effectiveness. Without these regular check-ins, educators and families may have difficulty determining if their children are developing the right skills for their age.
Educators can use formal and informal assessment methods to measure a child's progress. Formal assessments involve traditional methods of evaluation, like pre-planned questionnaires or standardized tests. While these methods are typically associated with higher education, where students receive letter grades like As or Bs, they can also be useful for early childhood education, allowing educators to identify if children's required skills are present, emerging, or not yet emerging.
Informal assessments, on the other hand, are less rigid methods of evaluation. They involve more natural and ongoing processes that allow teachers to simply observe children and collect information—usually without the child even knowing they are being assessed. Examples of informal assessments include observation, one-to-one conversations, or samples of children's work that display their progress in certain skill areas.
Regardless of the approach you take, both formal and informal assessment methods can effectively inform educators and families about a child's progress in important areas of development.
Why are assessments important?
There are a few developmental milestones educators and other developmental specialists look for to see if a child is learning essential skills at the right pace. Since preschoolers are too young for tests in a traditional testing environment, educators rely on observation during assessments. The information learned during these assessments can help adults:
How to administer assessments
Preschool assessments should be administered several times throughout the year. Ideally, there should be one at the beginning, middle, and end of the school year. Having previous assessments of a child's skill development will give educators and caregivers a better understanding of their class's progress and show areas they may need to focus more on in the future.
It's also important to carefully choose the people assessing the children. For smaller centers, the director may be the one to administer the assessment, observe the children, and make curriculum changes based on the results. If your center has a team of educators, it's good practice to partner junior educators with more experienced ones until they feel comfortable enough to assess the children accurately.
Most preschool assessments are made to be completed in 10-15 minutes. Keep in mind each child will complete it at their own pace since they're just observational tests. Make sure to keep the environment positive, relaxed, and stress-free for the children as you observe their progress to get the best results.
Types of skills you should assess at your center
There are different types of assessments you can administer depending on the skills you want to observe and track. The most common skills educators and childcare professionals want to keep an eye on throughout the year include:
It's crucial for educators to administer these assessments in the right environment and communicate with families about what a preschool assessment is for, when it will take place, and when the results will be shared with them. Few adults have positive memories of their own experiences with standardized testing during school. They might be a little uneasy about centers giving "tests" to their young children since tests are often associated with stress and anxiety.
You can reassure those family members that your assessments won't be a stressful experience for their children. Instead of giving the children grades or making an assessment pass/fail, these assessments simply observe a child's skills and will be used as a conversation starter to share with families about their child's development.
How preschool assessments can improve the quality of your program
When you start integrating preschool assessments into your childcare program, you'll quickly see areas of your business improve. Even though you're observing the children during the assessments, you're also getting feedback about the effectiveness of your educator's teaching strategies. This information can help guide you as you or your staff create new lesson plans, add new curriculums, or use different teaching techniques.
Putting together a formal assessment process at your school or childcare center will make sure your observations are helpful for everyone involved. There are four stages to successfully integrating preschool assessments into your program:
Partnering with families
You can meaningfully engage families by bringing visibility to what the children are learning daily. Sharing the activities of the day with families is a great way to partner together to build a strong home-to-school connection. Use our preschool daily report template to keep families up-to-date on their child's day and share extension activities to try at home.
Preschool assessment templates
There are tons of ready-to-use informal preschool assessment templates you can download and modify to fit your program.
Speaking and listening skills template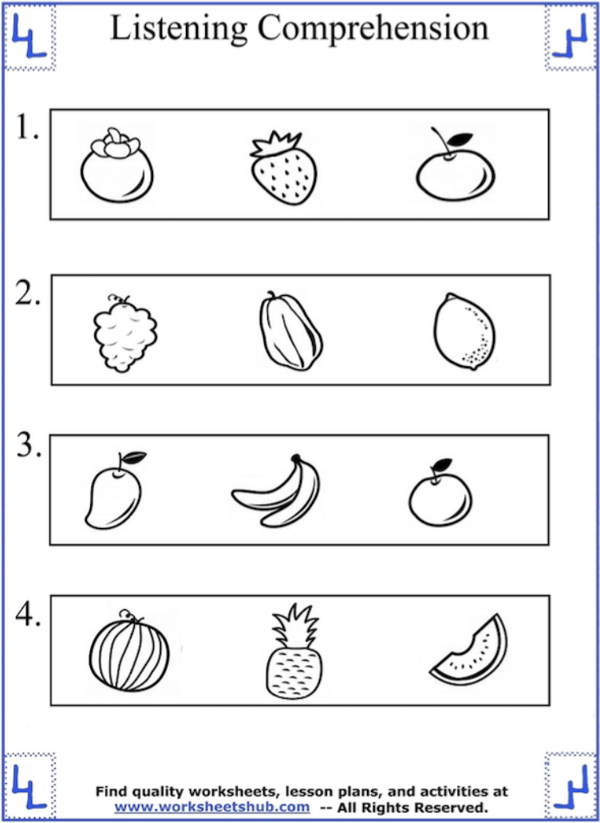 Pre-literacy and math assessment template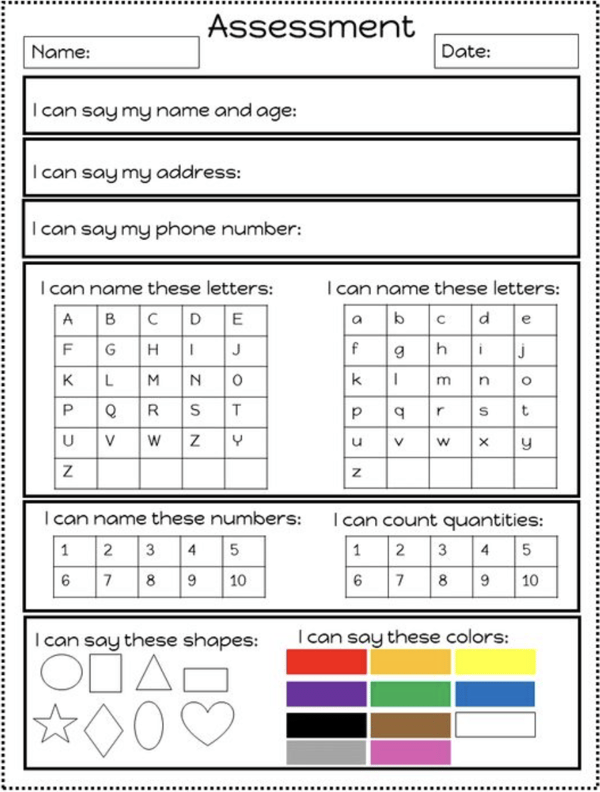 Social and emotional skills assessment template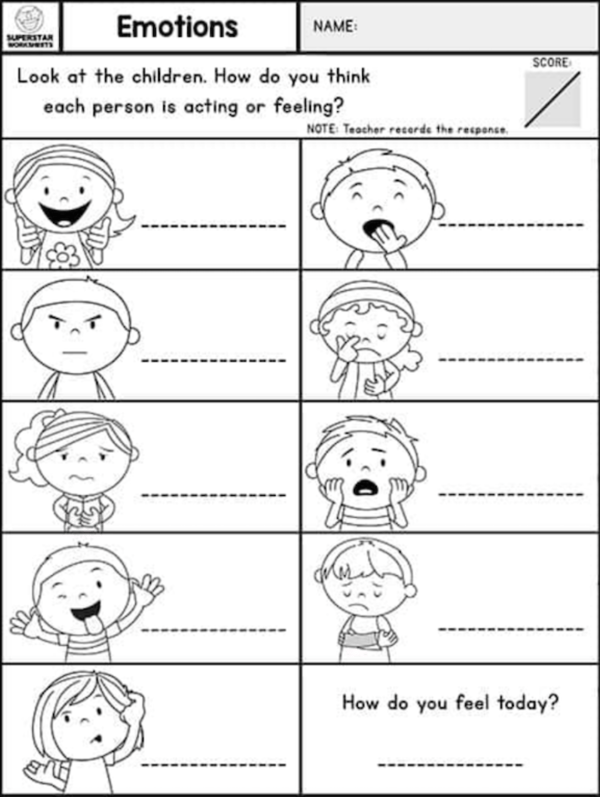 Pre-writing assessment template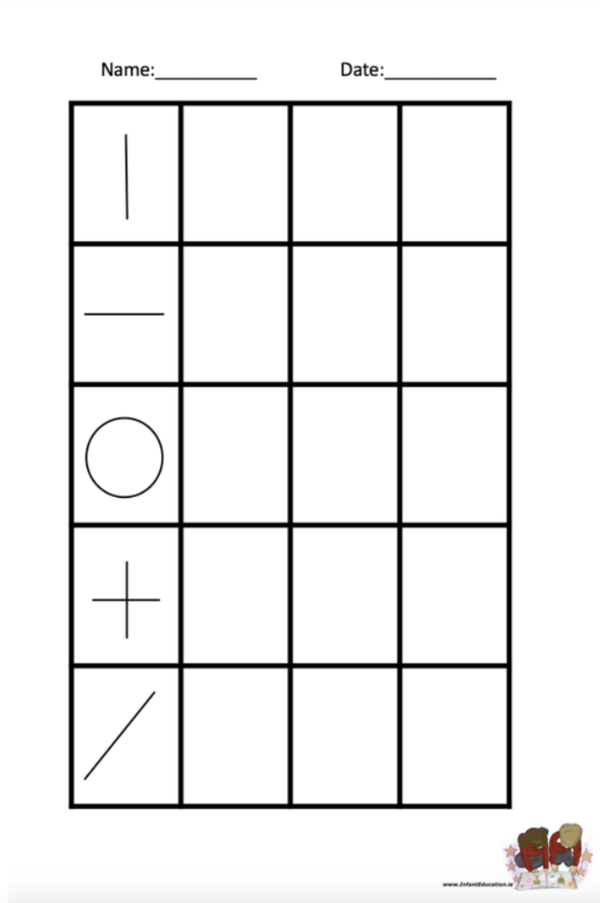 Preschool assessment tools and sources
Your state may have its own rules and regulations around child assessments you'll need to follow, so make sure to check those out before you start. Download our template here, and check out these resources on how to develop your own assessment program:
Frequently asked questions about preschool assessments
What types of assessments are used in preschools?
Preschool assessments can be formal or informal. Formal assessments include standardized tests and pre-planned questionnaires that children complete to show progress in key areas. These are often graded or scored against a benchmark. Informal assessments are less intrusive methods used to collect information on children's development. These methods can include observation, one-on-one conversations, or samples of children's work.
Educators can use both formative and summative assessments when evaluating children's progress and identifying any learning gaps.
Formative assessments are generally informal and are integrated into daily lessons to collect data about children's progress during the learning process. Using formative assessments allows educators to adapt their lesson plans to address children's challenges as they arise.
Summative assessments are usually a bit more formal and are often completed at the end of a learning period or academic year. They evaluate cumulative learning and summarize children's comprehension based on a standard or benchmark. Summative assessments are less common than formative assessments in preschool because they are not considered developmentally appropriate assessments for young children.
What are the challenges involved in assessing preschoolers?
Preschoolers have short attention spans, and their classroom performance can vary daily. This can make it difficult to get an accurate, consistent assessment result, especially when testing children over multiple days.
How do I know if an assessment is formal?
Formal assessments are typically graded or scored against a standard or benchmark. In primary grades, these assessments often receive letter grades like As and Bs. In an early education setting, a formal assessment is typically given at the end of a learning period to evaluate a child's progress towards key developmental milestones. These assessments might identify a child's skills as "present", "emerging", or "not yet emerging".
The bottom line
Always remember every child develops and learns at their own speed. Different skills come easier to some children than others—and that's completely normal. If you're concerned a child is falling too far behind their peers, there are various strategies and programs to help them catch up. And don't forget: many children don't master all of the skills covered in assessments before starting kindergarten. Overall, preschool assessments are a great addition to programs to ensure every child gets the attention and care they need to succeed.