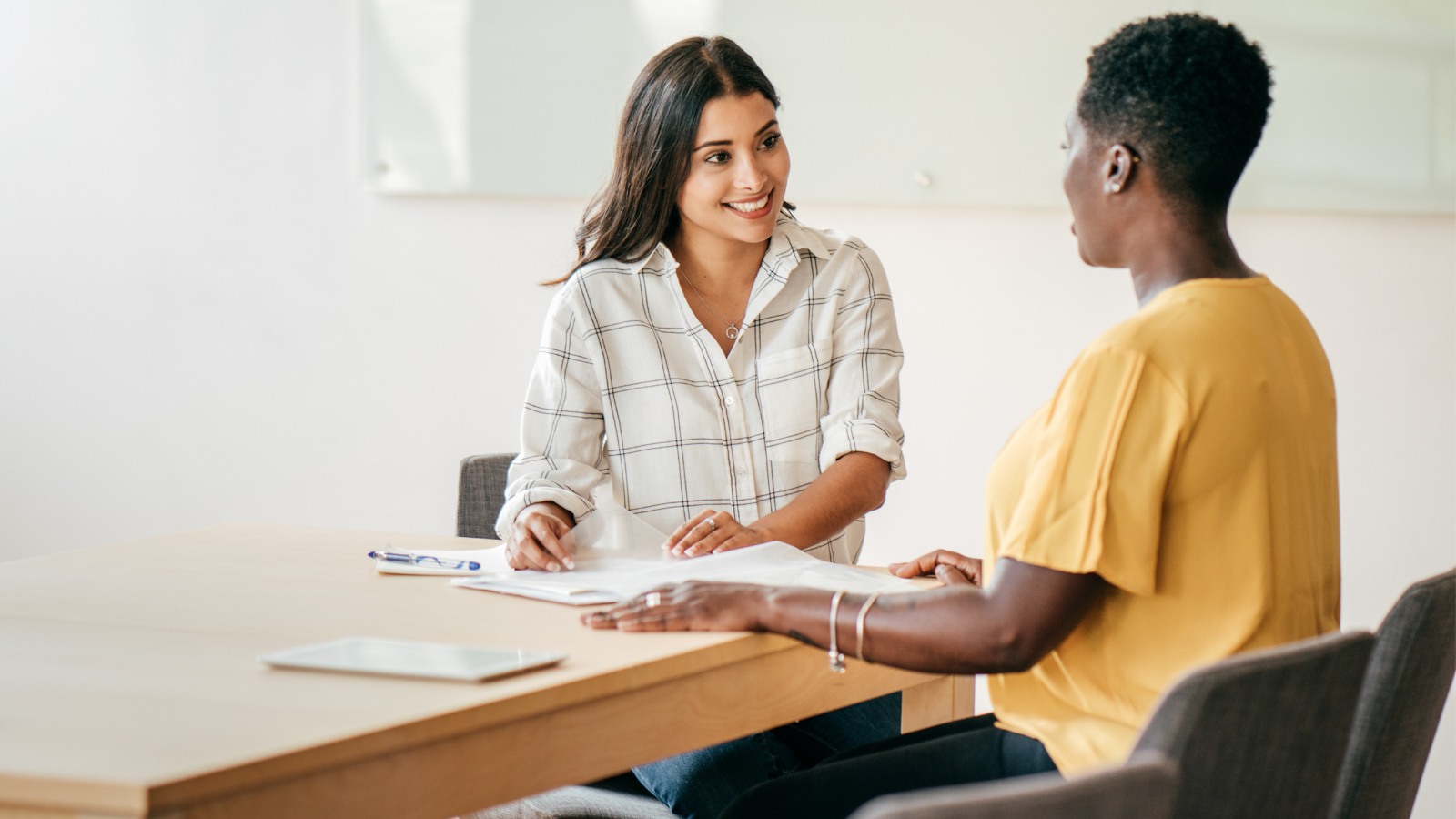 Whether you are a new preschool teacher looking for your first role or an experienced educator trying to take the next step in your career, finding a preschool teaching job can be easier if you have done your research first.
Knowing what to expect during an interview can be a great way to start if you are looking for a role as a preschool teacher and want to prepare for a successful interview.
Sample preschool teacher interview questions and answers
Review these interview questions and answers to ace your interview and get the job. We've broken up the questions into two distinct categories: general and professional.
General questions
These questions are typically the first part of most job interviews. They are a way for you to show your communication skills and your value as a professional. Let's explore each so you can be ready to give mindful answers without losing your words.
Tell us about yourself.
This is the opening line for many interview processes, mainly because it is a great way to start a relaxed conversation. This open question is your chance to show your communication skills by telling the part of your story that hiring managers will not find in your resume. When talking about yourself, make sure to share:
Information about your background and academic achievements
Details about relevant work experience
Any remarkable event in your professional life (for example, changing career paths or getting a promotion)
Why education is important to you

When talking about yourself during a preschool teacher job interview, you should tell a story about your education, your experience in a classroom setting, and your accomplishments. Remember that this is just one of many questions, so the interviewer will value a concise, organized answer even though the question is broad.
What are your strengths and weaknesses?
This is a common interview question, but it is also one of the hardest to answer. When talking about your strengths and weaknesses, make sure to:
Talk about the weaknesses first, so you can finish the answer with the positive aspects of your professional profile.
Focus on characteristics that are related to the professional aspect of your life.
Use anecdotes and past experiences to illustrate them. For example, talk about a time when your good time management skills allowed you to meet an important deadline in a previous job.
Don't just talk about yourself! List your strengths by talking about how they relate specifically to the position or organization you're interviewing with (for example: "I'm great at working with children who are struggling," or "I'm good at coming up with creative ways to engage young children").
Sharing a strength can be easy, but talking about weaknesses can be difficult. When you share a weakness, make sure to also talk about how you've been working to improve it. Most people would prefer to highlight their strengths, but this is the chance to show your self-awareness and your ability to improve.
Source
Why did you decide to be a teacher?
When an interviewer asks why you decided to pursue a teaching career, they will be evaluating your core professional values. Hiring managers are looking for more than just someone who has great qualifications; they want someone who fits their school's culture.
Honesty is the key. You can use any defining moment that made you think that teaching was the path for you, even if it doesn't seem big enough. It could be right before college when you tutored children in your free time and you decided to pursue your degree in education. Or it could be later, once you had already finished your degree and you got your first job. This answer needs a strong storyline for interviewers to follow so they can evaluate both your communication skills and how much you value your profession.
Source
What are you looking for in a new role?
Your interviewer wants to know your expectations, how you talk about them, and if their work environment can be a good place for you to grow. Also, it is essential to see that you are setting expectations for your future job opportunities and not just applying to all the teaching positions you find.
In your answer, you should choose a statement that reflects your values and shows assertiveness without being too specific. An example of this can be: "I am looking for a position that will allow me to use my skills and experience to make a difference in the lives of young children."
How do you define and measure success?
This is a really personal question, as success can look very different for everyone based on what we prioritize and what makes us feel proud of ourselves. Try to stick to a quick answer, maybe one or two sentences, that summarizes your professional and personal values while also reflecting that you are willing to work towards more.
An example of a good but concise answer is: "I feel successful when I'm able to accomplish professional goals while keeping myself healthy and happy. Balance is, for me, an element that needs to be a priority when we define success."
What is your greatest professional accomplishment?
This is the time to share about when your professional skills paid off or were recognized and rewarded. When talking about a specific professional achievement, you want to create authority and credibility by showing that your skills and knowledge have led to great results in the past.
A professional accomplishment can be anything from a promotion, a job offer, or even a time when you approached a task without experience and achieved a successful outcome. If you don't have previous teaching experience, you can share an academic win instead. Make sure to not only name the event and the results but also why that made you proud.
A good answer might be: "My greatest professional accomplishment was when I received a job offer for a teaching position after being a substitute for less than two months. According to the principal, my communication and time management skills showed that I was ready to take on more responsibilities, and that made me feel proud of my work ethic."
Why do you want to teach preschool children?
This is the moment where you should talk about all the reasons you chose preschool teaching instead of, for example, working at a primary school. Don't talk about why you avoided the alternatives, but instead focus on your choice.
Focus on what makes teaching preschool children unique, and what makes you awesome at it. You could share some insights about the importance of early literacy development, or how you enjoy working with children that are always curious and eager to learn more about their surroundings.
A good example might be: "I love working with preschool children because they're so full of potential. In my experience, it's amazing to see what they can do when given the right tools and support, and I'm hoping to bring that same sense of wonder and excitement into my classroom." Try to make the answer short and detailed by choosing one or two reasons why you want to teach preschool children.
How has your education prepared you for your career?
This is the moment to share how much you value your education and how your degree helped you shape your professional skills.
A good answer could be: "For me, education has always been an enriching journey that helps people shape who they want to be in the future. By pursuing my degree, I learned how to share my love for education with children, how to communicate with them effectively and efficiently, and what to expect when starting my professional career."
What adjective would you use to describe yourself as a professional?
For this question, you want to choose an adjective that reflects a professional skill that any employer will value in a teacher. Also, you have to not only share that adjective but also explain why you chose it, and how it has helped you get where you are right now. Be mindful and realistic, without losing the ability to go deep into the topic.
For example, you could choose the word "determined" and give an example of how you always work to find a solution to a problem and never give up.
Do you have any short-term goals for your career?
Short-term goals are the kinds of things you want to accomplish in the next few months or even weeks. Whatever your short-term goal is, make sure it's realistic and attainable within a reasonable amount of time, and that is aligned with values and expectations that the company can find valuable. Also, make sure to share some of the steps that you are taking to achieve it. Your interviewer will want to know that you know how this process works.
You can easily answer this question by focusing on how you want to improve a specific skill or learn more about a particular topic.
Professional questions
Teaching jobs are some of the most difficult positions to fill. There are so many factors that go into hiring someone who can be an effective teacher, including their ability to connect with children and their knowledge base. In addition, teachers need to be able to stay current on their subject matter and make sure they're always providing children with up-to-date information.
Source
Tell us about your teaching approach.
Your teaching approach will tell the interviewer if your teaching practices make you the best addition to their program. If an interviewer asks you about your teaching approach, you should have a clear and concise idea summarized in a few sentences that include what you want children to learn and how you develop your teaching practices to achieve that.
What do children need during their preschool years?
When answering questions related to children's needs, you must show not only a deep understanding of the developmentally appropriate milestones children should meet at this age, but also a commitment to helping them achieve progress toward those goals.
This is where you can highlight your knowledge about specific activities you would implement that support children in their development. It is also important to mention that every child develops in their own way, and that your approach also takes each child's unique needs into account.
What do you learn about your children to ensure you're the best teacher?
Teachers need to understand both what their class needs as a group and what each child individually needs. Every child has different strengths and weaknesses, which means teachers must know how to accommodate these differences if they want each child to succeed. In order to answer this question, you should focus not only on what you want to learn about them but also on how you will achieve that.
A good example of a short but effective answer can be: "I focus on what motivates each child when it comes to asking questions and finding answers to them. I want all of them to build a healthy relationship with learning and thinking, so I always share different creative projects that give them a place to engage with concepts at their own pace."
How do you collaborate with other teachers to build activities that help children learn?
Collaboration is essential for any organization. When framing your answer, talk about ways you have collaborated with other teachers in the past and the outcomes of your efforts.
If you don't have previous teaching experience or have never collaborated with other teachers, it is a good idea for you to find one specific topic that requires collaboration between different subjects, choose an activity to approach that topic, and explain how this approach can benefit children.
What do you think are the major benefits of free play for young children?
If you are a preschool teacher, you need to be involved with well-known teaching practices and understand the value behind them. Free play is a method that allows children to explore their surroundings by doing what they do best: play. This gives them the time to come up with their own questions and answers, but also make important mistakes that will help them shape their thinking skills.
If the interviewer asks you this question, you have to explain the main concept behind this method to show that you have done your research, and then explain why you find it helpful and how you will prioritize it during your classes.
How do you promote family involvement?
Childcare programs prioritize frequent communication with families to keep them aware of how their children's education is progressing. Sometimes connecting with families can be a challenging task that gets lost in the enormous amount of responsibilities that a teacher has; this is why an interviewer wants to see that it has a place in your priorities.
A good answer will show that you understand how important family communication is and that you have actionable steps that will help you bring that into your schedule. For example, maybe you have experience with documenting daily reports for families, or have contributed to a monthly newsletter that features updates on the center. Be sure to use specific examples of what you've done in the past and how they could be translated to a new work setting.
What are the main elements and resources that you use to support your lessons?
If you have previous teaching experience, consider what tools you have used in the past, explain the results that you accomplished, and why you want to incorporate them into your lessons in this new role.
If you are a new teacher, choose a tool that you think can be helpful for preschoolers and support this with deep research about the results that other teachers have had with that. You must not only name tools and resources, but also explain how you would include them in your lessons.
How do you handle conflict in the classroom?
Preschool teachers need to be able to efficiently deal with conflict or challenging behavior in the classroom. The first several years of education are crucial for a child's development, and their ability to resolve conflicts and problem solve are some of the skills they learn during this time. Be prepared to answer this question during an interview by discussing your strategies for conflict resolution and giving clear examples of times when you've encountered any challenging behaviors.
What do you think is one of the most difficult things children are facing today?
The question about the challenges that children are facing today is a way for you to demonstrate how you empathize with children and understand what they need. This question is not only about how conscious you are about children's struggles but also how willing you are to come up with solutions.
A good way to answer this question is to choose a well-known problem. If you choose to talk about bullying, talk about how it affects children and what teachers can do to promote respectful interactions between children. Talk about the importance of teaching preschool children to be kind and empathetic to each other when engaging in different learning situations.
Why should we hire you for this role?
This is the moment to sell yourself. The interviewer already knows everything about your background, your teaching practices, and skills, but now they have to hear why you see yourself as a valuable asset.
Be assertive but not arrogant, and avoid unjustified compliments to yourself. Instead, talk about the knowledge and experience that make you a valuable asset to any organization. Also, make sure to explain how your values relate to those that the program prioritizes so they know that you will fit into the school's culture.
Sample questions to ask at a preschool interview
Remember that interviews are not only about answering questions, they're about asking questions, too!
Asking questions demonstrates interest, so you can use this opportunity to show how committed you are to this role and how engaged you have been during the interview process. When asking questions, start with a clear statement based on the previous research that you have done. After that, ask anything related to the challenges that they have faced as a center or the expectations that they have for new teachers.
Avoid questions about their history, because those are details that you can find out during your research stage. Instead, you can use those as an interesting starting point. For example, you could ask:
I know that your center has a strong focus on early literacy development and inspiring children to think critically about what they learn. How do you expect new teachers to incorporate this in their lessons?
As a teacher, will I be involved in curriculum updating and reviewing stages?
What do you expect new teachers to achieve during their first few months?
Source
FAQs about preschool teacher interviews
How many people will be interviewing me?
The number of interviewers can vary from school to school, but you should expect at least one person who is on the hiring committee and one teacher who will work with you daily if you are hired.
How many interviews will I have?
You might have one or two interviews with different people on your team, depending on how many teachers are being hired.
What do I need to bring with me to a preschool interview?
Bring copies of your resume, references if you have them, and a notebook and pen to write down any notes or questions that come up during the interview. It's also good to have one or two questions ready to ask in the end!
What can I do to impress the interviewer from the beginning?
Do your research and know important details like the company's core values and the names of your interviewers.
Hiring the right staff for your childcare business is essential to the success of your center. Check out our free toolkit for templates, checklists, and tips for hiring an amazing team of early educators.
Master your preschool teaching interview
The key to a successful interview is to be prepared and honest. Research your potential employer and prepare your responses to commonly asked questions, so you don't leave anything out when it comes time to interview. Your preparation will show your interest and enthusiasm for the job, leaving a positive impression on your interviewer.