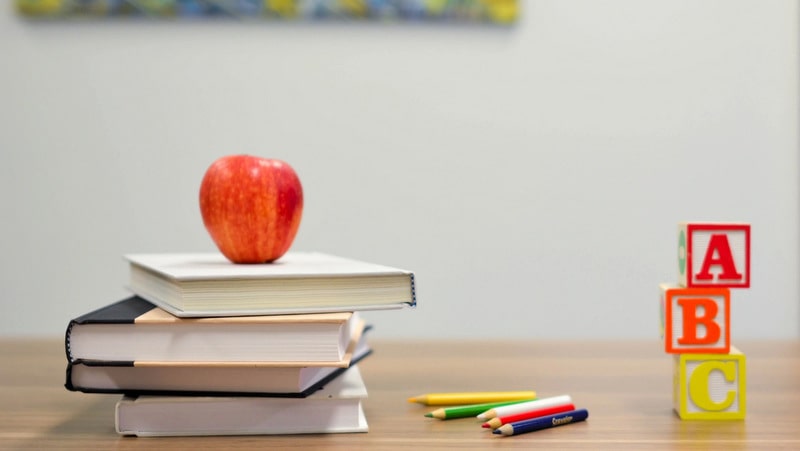 Childcare forms are essential to the daily operations of your childcare business and many are required for compliance with local, state, and federal regulations. These forms also help your business stay organized, maintain essential child and family information, protect you from possible liability, and support your staffing needs.
Below, we review the forms you'll need for your childcare business and why they're important.
What are childcare forms (and why are they important?)
Childcare forms are any forms or checklists you need to operate your childcare business. These can include forms used for daily reporting, attendance, staff evaluations and regulatory compliance. These forms help childcare businesses provide the best experience for children, educators, and parents.
Comprehensive childcare forms can also signal to current and potential families that you manage an efficient, professional program. According to the National Center for Education Statistics (NCES), 87% of parents think reliability is most important when choosing care arrangements for their child. Organized operational processes, including using standardized childcare forms, can help families feel confident in your business.
Source
Printable childcare forms
When deciding which childcare forms to use, consider how your documents can work together to create necessary records. Some forms will need to capture important basic information, while others will include more substantial details and documentation.
Some printable childcare forms you might need for your childcare business include:
Daily report forms
Sign-in sheets
Staff evaluation forms
Waiting list forms
Emergency contact forms
New family intake forms
Daily report forms
A childcare daily report form provides parents with daily updates about their child's behavior, activities, and progress.
Typically, this daily report covers everyday activities, such as meal, sleep, and toilet routines. You can also add sections for notes about the child's day in case of a unique event, such as reaching an important developmental milestone or learning a new behavior.
It's best to use a different daily report form for each age group because children have varying needs and routines at different developmental stages.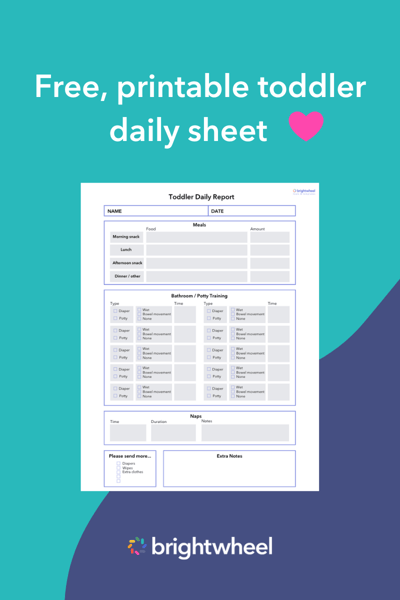 Sign-in sheets
Most programs are required to keep accurate attendance records to maintain the safety and security of the children in your care. Comprehensive attendance records can also improve standard operations like staffing, insurance, and regulatory compliance.
Sign-in sheets are a simple way to track attendance. You can use a daily sign-in sheet for each child or a single sign-in sheet for the entire school. But if you bill based on attendance, per-child sheets are the best method to gather data for each child.
Here are some other benefits of maintaining accurate sign-in and sign-out sheets:
Government regulations
Some states have laws that necessitate attendance monitoring. For example, you might need to demonstrate that you are recording attendance to apply for and maintain a childcare business license.
Childcare centers might also need to document attendance for children who are beneficiaries of government-subsidized care. Attendance records must reflect when a parent claims a child was in your care.
Although rules differ, childcare facilities that offer transportation are also legally obligated to take attendance before and after each trip.
Operations and daily planning
Daily attendance records help keep your daily operations and planning consistent. For example, you can use attendance records to determine the correct amount of supplies you'll need for your childcare business.
Attendance records can also tell you how many staff members you'll need to hire to meet the required child-to-teacher ratio (according to your state's guidelines.)
Lastly, detailed records can help you predict enrollment numbers, aid marketing, and assess each enrollment session.
Regardless of the type of attendance sheets you choose, your form should include fields for each child's name, the date, and the sign-in and sign-out times. Sign-in sheets should also feature a column for notes, such as an explanation of absence.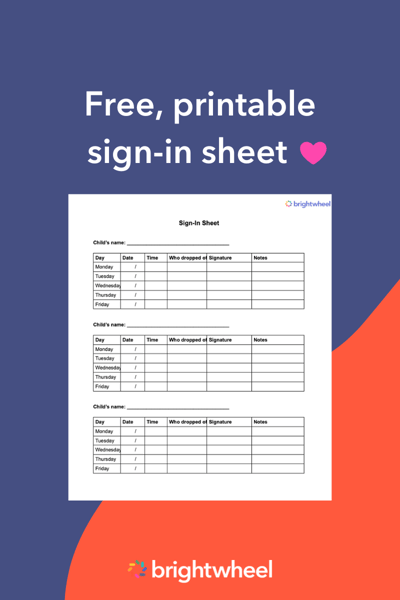 Staff evaluation forms
Job feedback can occur at any time, but it's crucial to conduct employee evaluations regularly for a complete picture of staff performance.
Schedule an evaluation every six to 12 months to offer feedback that can boost your staff's professional growth.
These evaluations should include a written assessment and an in-person review. Focus on creating an evaluation form that reviews all aspects of a staff's job responsibilities.
You should also give your staff the opportunity to complete a self-evaluation form as part of your employee evaluation process. This form should include sections where staff members can rate their own performance, list any achievements and strengths, and include any areas for improvement.
Using a comprehensive staff evaluation form supports your staff's professional development and helps each employee understand how their own performance and goals impact the overall success of your childcare business.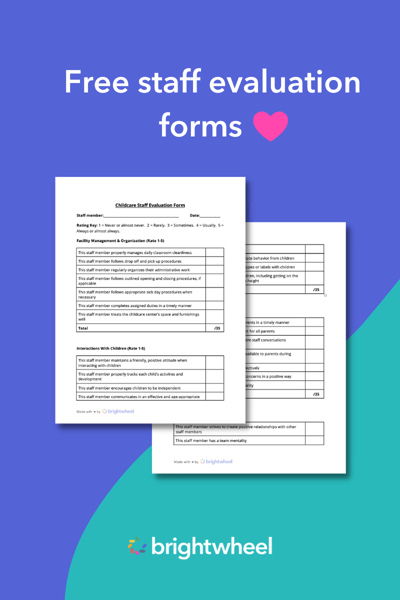 Waiting list forms
A standardized waiting list form can help you keep track of families interested in your program. When having families complete this form, you can also include your waitlist policies or any FAQs related to your waitlist to keep families informed and streamline your enrollment process.

A waiting list form should provide sections for parents to add the child's information and any important details needed for enrollment.

Your waiting list form should also include:

Any fees associated with an application to your center
Your enrollment periods
When the center will accept a child in between enrollment periods
Any criteria for admission, such as priority age group or family with other kids already enrolled
How families are prioritized such as first-come, first-serve order or based on children's age, etc
Your contact details for further questions
Enrollment offers
Terms and conditions
Length of the waiting list and the position
Managing a waitlist can be a challenging task but using standardized forms can ensure you are capturing the correct information for each family and make the process as organized as possible.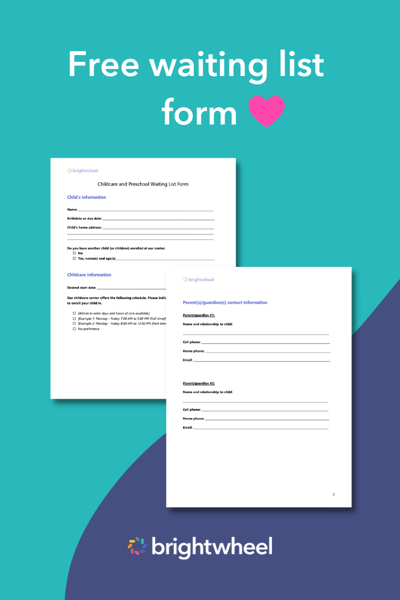 Emergency contact forms
Emergencies such as illnesses or accidents, may occur at your childcare center. While you hope to never use them, it is imperative to have emergency contact forms on file for each child in your care so you are prepared if an emergency situation occurs.

Emergency contact forms should record parent or guardian information, who to contact in case of an emergency, and any relevant medical information for each child.

Here are the important sections to cover on an emergency contact form:

Child information: This should include the child's full name, date of birth, address, and any other identifying information such as height and weight.
Parent or guardian information: List the child's parent or guardian name(s) and contact details including personal and work phone numbers, address, and email address.
Child medical history: Include any relevant details of the child's medical history, including any known health conditions, allergies, and prescriptions. This enables you to effectively communicate with emergency personnel in case of a medical emergency.
Emergency contacts: In addition to parent/guardian information, your form should include other emergency contacts to call in case of an emergency.
Family physician and insurance information: Family physician and insurance information can help staff respond quickly in case of a medical emergency.



New family intake form
Your childcare business will benefit tremendously from frequent and positive engagement with the families in your program. When families first join your program, offering a new family intake form can make them feel welcomed and involved, while also providing you and your staff important information about their child.
This form should include a section for families to list any important details about their child's personality, interests, and how they learn best. Your form should also capture any relevant information about each family's unique circumstances, expectations of your program, and any questions or concerns they may have.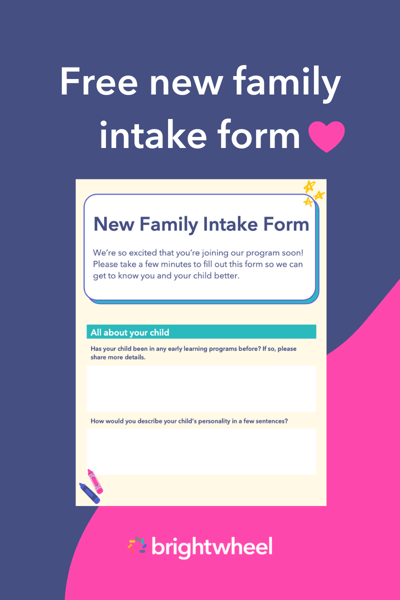 Do more with childcare forms
Use childcare forms to improve your daily operations and communication with families. Having clear forms and templates makes it easy to collect and update important information that you need to run your business, so you can spend more time in the classroom and less on paperwork.