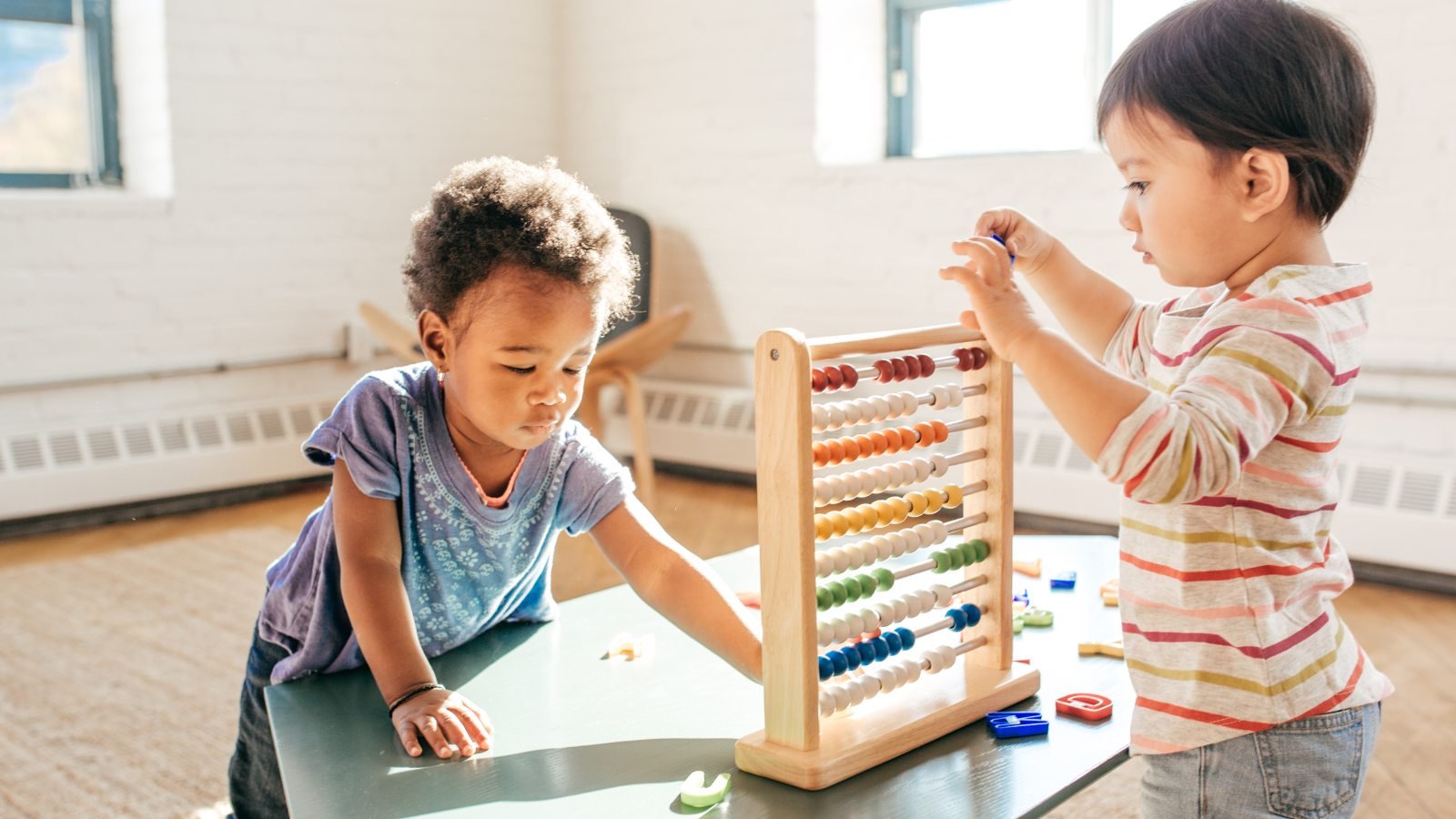 A developmentally appropriate curriculum is a cornerstone of any great early learning program. Your curriculum puts your philosophy into practice and showcases the intent and skill your teachers bring to their work.
A quick internet search will yield various free resources and ideas for curriculum and lesson planning. Some of these tools might be great, while others might need to be modified to fit your children's unique needs.
Since children learn at their own pace and reach developmental milestones at different times, you'll need to focus on building out a lesson plan that best fits your children's capabilities and your classroom values.
In this guide, we'll share a few tips to remember when building lesson plans for infants, toddlers, and preschoolers to meet their individual needs and set them up for developmental success.

Tips for writing lesson plans
When planning your curriculum, you might ask yourself where to begin. You might be unsure of how many lessons to plan or if you need to include something just because it is popular or in season.
While planning tends to be a very personal process, it can be helpful to have some guidelines for how to get started. So here's an essential piece of lesson planning advice: start with your children and your community and what's most exciting and relevant to them.
There's no limit to what you could explore in your classroom, so narrow your options down by focusing on what your children are currently interested in.
Plan engaging content for your first day of preschool to welcome your children and get to know more about their interests and skills. You can also start with the standard "All About Me" unit. This unit helps you to get to know your children while also helping them feel comfortable in your classroom. Throughout that unit, you'll learn what topics your children are interested in so you can dive in more deeply in the future.
Here are more ways to ensure you're building a curriculum that supports learning and growth:
Make learning the foundation
It's important to connect high-quality lesson plans to specific learning goals. As you're planning, create lessons that detail what, why, and how children will learn.
Your lesson plans can outline daily lessons, activities, and goals with a focus on:
Key learning objectives
Necessary and available resources
Method of introducing new lessons and concepts
Assessment of outcomes and comprehension
Engagement


Consult your state's early learning framework
Before building out your lesson plan, it's a good idea to consult your state's early learning framework. This framework is a roadmap of the skills and knowledge children should develop throughout their time in child care and preschool.
While each state's framework varies, each organizes lessons by learning domain and age group, then grows more complex as children approach kindergarten. For an example of a nationally-recognized framework, check out this neat interactive tool from Head Start.
Your state's early learning framework is one of the places you can source the "why" and the "what" behind your curriculum planning. Your lesson plans will cover all aspects of a child's development and connect to your age group's developmentally appropriate learning goals.
You'll also want to familiarize yourself with your local early learning framework to ensure your children prepare for the next step, whether preschool, kindergarten or another track.
Choose your developmental assessment
Ongoing child assessment has many benefits for both educators and children. First, it provides a complete picture of each child's developmental stage so you can meet them where they are. It also provides feedback on your lesson plans so you can accurately address the needs of your class.
A child assessment is a helpful resource you can share with families to keep them updated on their child's progress and how they can continue learning at home. Families want to ensure their children are on track, and a comprehensive assessment is a great way to keep them informed.
Similar to your state's early learning framework, your developmental assessment outlines the different skills that are being supported in your children's development. While you could decide to use your state's framework as part of your observation and assessment, it might be simpler to pull your learning goals from a developmental assessment tool such as the California Desired Results Developmental Profile (DRDP) instead.
Ultimately, you'll want to establish your framework for early learning so your curriculum can best support your children's development. Choose the system that works best for you and your children—you know them best!
Promote positive values
Each family and child brings their own unique perspective to your center, so it's important to promote values of diversity, equity, and inclusion in your curriculum. Create activities that allow children to share details about who they are including their cultural traditions, background, religion, family type, gender, and physical abilities. Help strengthen children's sense of identity by providing books, dolls, toys, and other learning materials that highlight characters with diverse backgrounds, religions, mental and physical qualities, and more, so children can see themselves reflected and also learn to interact with those who may be different from them.

If you are incorporating lessons based around a seasonal theme or holiday, plan celebrations and activities that reflect the diversity of the children in your program. Include all backgrounds in things like your classroom decorations and food you serve so each child feels like they belong.

Infant lesson plans
Your infant lesson plans will be the most individualized and grounded in developmental milestones compared to the curriculum for other age groups. Infants develop so rapidly that age differences of only a few weeks can translate into very different developmental goals. For example, an infant just working on rolling over will have other goals than an infant who is getting ready to crawl.
Don't panic—you don't need to write an entirely different lesson plan for each infant every week! Instead, think about lesson plans that apply to the whole group with a small section dedicated to each infant's individual development.
For example, you can pick one to three developmental milestones for each infant to work on that week and plan related activities to support those goals. You're likely already thinking about your infants' developmental progress, so document these details and share them with families so they're more connected with their infants' progress.
Parents of infants will likely look to their teachers and care providers to be trusted experts on how their little one is developing. So the better you can speak to their infants' current and upcoming milestones, the more at ease parents will feel.
Toddler lesson plans
When writing lesson plans for toddlers, prioritize flexibility. For example, toddlers may be happy doing the same activity repeatedly one day, only to tire of three different activities in a row the next day.
Use your lesson plans to capture the broad ideas of what you're exploring together while leaving room for toddlers to take the curriculum in their direction. If it sounds like you need to have an infinite number of lesson plans, remember that your toddlers will also want repetition, so you may only need to plan two to three new activities for the week. You can repeat and adapt these activities daily (for example, by adding new materials). You'll know when your toddlers lose interest, and it's time to introduce something new.
Preschool lesson plans
Preschool lesson plans will most reflect your philosophy on early education. While play-based learning is one of the most common approaches, there is a broad spectrum of what that means in practice and how you represent it in a lesson plan.
Create lesson plans showing that you have a plan for the day and the week. Map out the specifics for each part of the day: morning meeting/circle time, small group time, independent playtime, outdoor play, and so on. Including as much detail in your lesson plans shows intention.
Of course, things don't always go according to plan in a preschool classroom, so responding with flexibility and creativity is a must.
Evaluate your lesson plan
As an educator, it's always a good idea to find ways to improve your instruction, curriculum, and skills. Evaluating your lesson plan helps you find new ways to improve your activities, instruction, materials, and the overall plan itself.
During your evaluation, identify any challenges you or your children faced regarding your instruction and their comprehension and engagement.
For many educators, our best ideas are spur-of-the-moment and often inspired by the children. For this reason, it's essential to ensure families know your lesson plans operate as a guide and aren't set in stone.
Present your curriculum as living, breathing, and changing lesson plans while updating families on what happens in the classroom daily. This will allow you to be an effective teacher for your preschoolers and an educator who parents can trust.
Bring curriculum visibility to families
You can meaningfully engage families by bringing visibility to what the children are learning daily. Share your weekly lesson plan and daily activities with families to partner and build strong home-to-school connections. With access to the weekly lesson plan, families will be better equipped to support their children's development at home.
Key takeaways
The goal of any curriculum plan is to outline how your children will develop the skills they need to be successful learners today and moving forward. As you continue to build and adapt your lesson plans, you'll ensure your children receive a well-rounded education that supports each developmental stage.