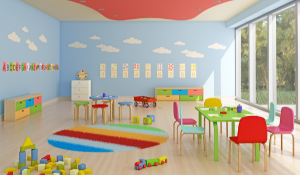 If you work in early education, you know that the design of your centers is critical for providing high-quality care for young children. Good interior design can help keep your program organized, encourage little ones to explore and learn, and provide a safe and nurturing environment for the children you serve.
Whether you're starting your own childcare business or refreshing your current site, this guide will provide you with daycare room ideas on how to best design your space for both infants and toddlers.
In this article, you'll learn about the following topics:
How to decorate a daycare classroom by age group
Daycare room setup ideas for infants
Daycare room setup ideas for toddlers
Home daycare room ideas
Daycare classroom storage ideas
Where can I find daycare decor?
What other supplies do I need when starting a daycare center?
Additional resources for daycare ideas
How to decorate a daycare classroom by age group
The first step to designing the rooms in your childcare center is to carefully consider the children you serve and what their needs are based on their age. The decor and furnishings that you use should be functional, developmentally appropriate, and able to facilitate a wide range of activities and learning.
Here are a few of the most common elements needed for daycare centers, broken down by age group.
Ideas for infant rooms (under 1 year):
Cubby storage
Classroom storage
Station for changing diapers
Crib area
Feeding area
Adequate room for crawling and developmental play


Ideas for young toddler rooms (1-2 years old):
Cubby storage
Classroom storage
Station for changing diapers
Children's toilets and sinks
Eating area
Crib or cot area
Adequate room for activities and developmental play


Ideas for older toddler rooms (2-3 years old):
Cubby storage
Classroom storage
Station for changing diapers
Children's toilets and sinks
Eating area
Nap area
Open, unrestricted area for activities and lessons
If your childcare center uses the same rooms for mixed ages, you'll need to include all these elements in your interior design plans.
Daycare room setup ideas for infants
When setting up infant spaces, consider these design elements:
Colors that promote a calming environment. Walls, major furniture, and overall decor should include natural colors for a calming ambiance.
Natural lighting – soft, warm light. Natural lighting that comes through windows is always the best source of light for young children. When using artificial lighting, stick to soft warm lights.
Furniture designed for infants and adults. Infant rooms should have plenty of adult furniture throughout the classroom for proper back support.

Floor chairs

allow infant caregivers to be on the floor while supporting their back. Likewise, infants should have furniture that they can safely use and access as they become more independent and mobile.
Infant nap area. Best

safe sleep

practices, as outlined by the American Academy of Pediatrics (AAP), and state licensing policies should be top of mind when designing a nap space to reduce the risk of sleep-related infant death.
Supervision and safety. All design elements and materials should be vetted for health and safety. Stay on top of

recalls

. In addition, all furniture in sleeping, eating, and changing areas should be set up to maximize access to the children with supervision at all times.


Here are some successful daycare room ideas for infants. Take a look and see if they spark ideas for your center!
Source: Pinterest
This infant room features ample crib space and an adjacent play area with soft flooring. Wall decals and hanging mobiles help to make the room warm and more inviting, similar to decor that you would find in a home.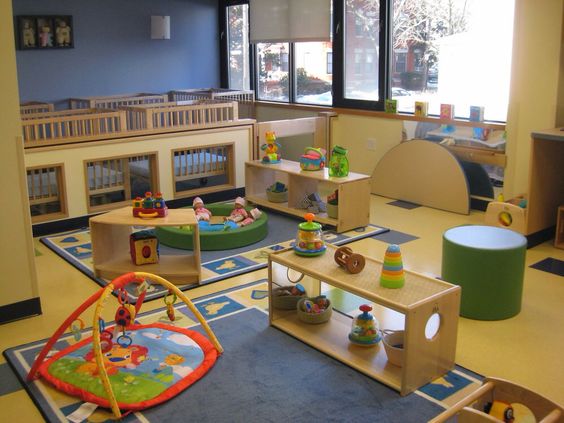 Source: Pinterest
This infant room uses a low dividing wall to separate the sleeping area from the play area. Small shelves and mats create distinct activity spaces for infants to explore.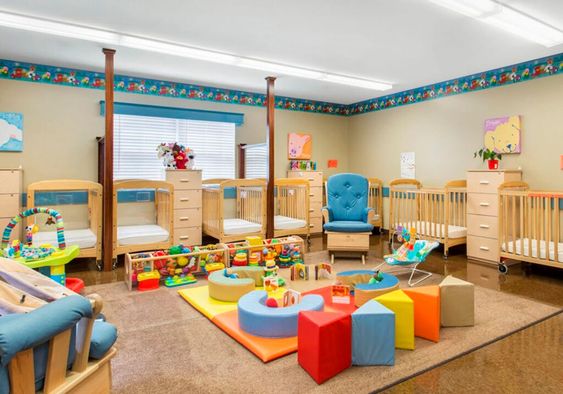 Source: Calbert Design
This center maximizes the play area space by pushing cribs and drawers against the walls. Colorful toys and furnishings make the room more stimulating for little ones.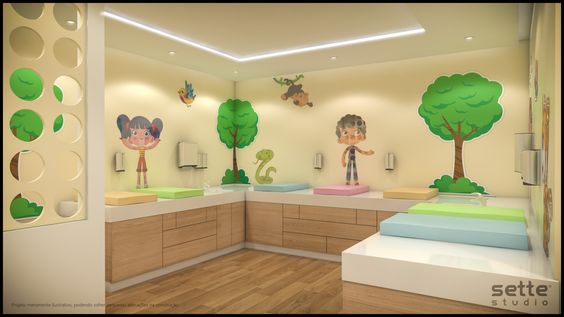 Source: Pinterest
This daycare center includes a separate changing room that can accommodate multiple infants at the same time. Playful wall decals help to brighten the space and provide infants with something fun and colorful to look at while being changed.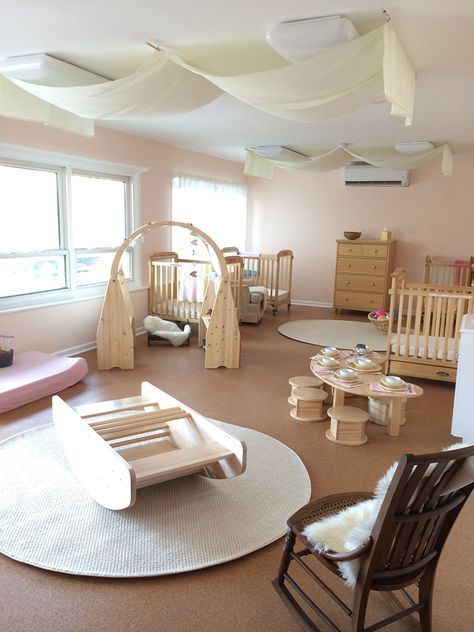 Source: Pinterest
This layout uses strategic furniture placement to create a seamless transition from the play area to the crib area. The hanging cloth from the ceiling also helps to create a calm and peaceful ambiance in the room.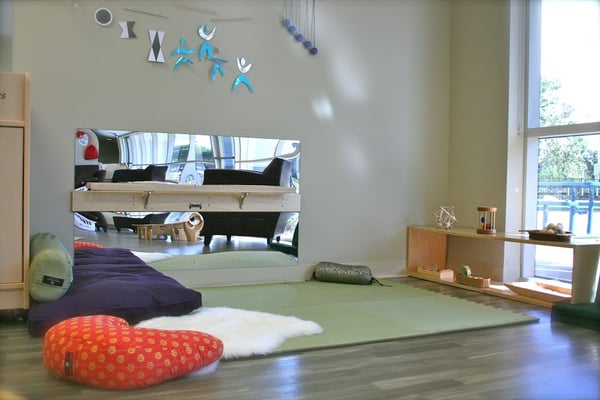 Source: Leport Schools
This infant play area is simple but effective, and can easily be a home daycare setup. It includes ample crawling space, a mirror that's safely affixed to the wall, and materials that support the development of gross motor skills.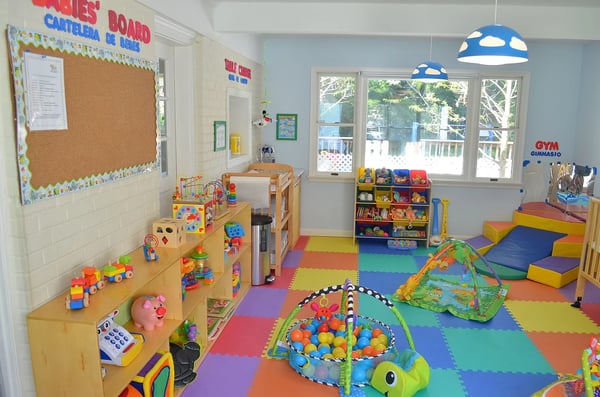 Source: Smart Kids Bilingual Daycare
In this center, a colorful foam mat covers the entire floor, creating a generous amount of safe space for crawling, playing, and learning. While child-size shelves with materials support young children's independence and exploration.
Daycare room setup ideas for toddlers
When setting up toddler spaces, consider these design elements in addition to the recommendations for natural colors, lighting, and supervision included for infants:
Furniture designed for toddlers. Toddlers should have furniture that they can safely and independently use. Materials, puzzles, books, and manipulatives should be stored on shelves that are accessible.
Activity centers. Toddlers should have dedicated spaces for reading, building, art, music, dramatic play, manipulatives, etc.


Here are some successful daycare rooms for toddlers that can help to inspire new ideas for your own facilities!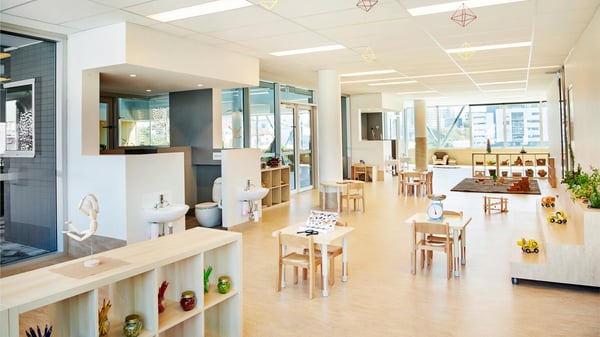 Source: Guardian Newstead
This open floor concept ensures that active toddlers will have plenty of room for play and exploration.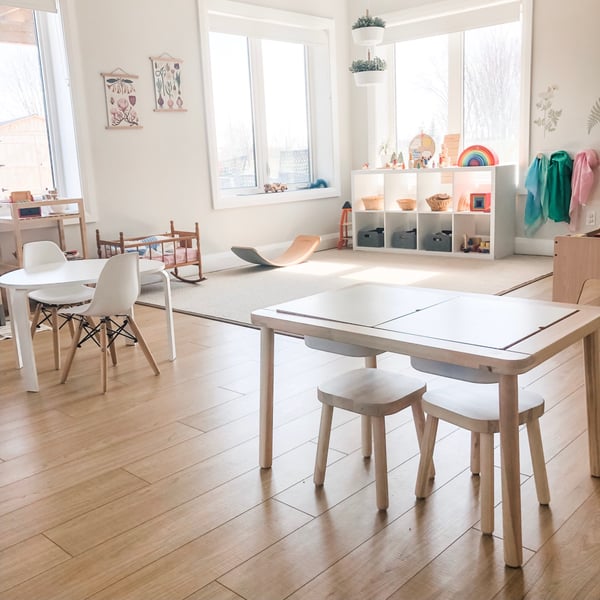 Source: Early Childhood Fun 101
This daycare center uses simple decor, such as wall art and hanging planters, to create a peaceful, airy atmosphere. The table on the right doubles as additional storage space, as the two white lids can be removed to store toys and art supplies underneath.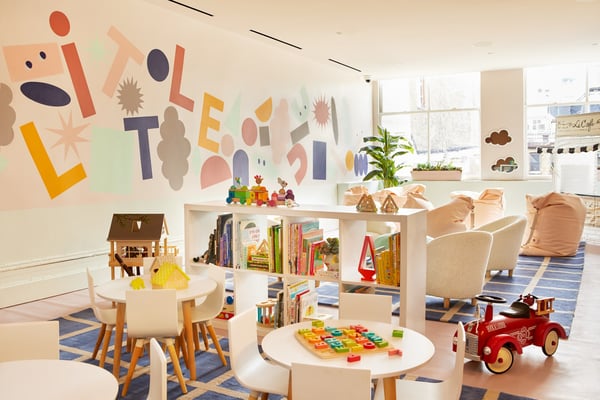 Source: Clever
This childcare center features a colorful mural that brightens the entire room. A simple shelf is used to split the room into a reading and learning area and space for playtime and crafts.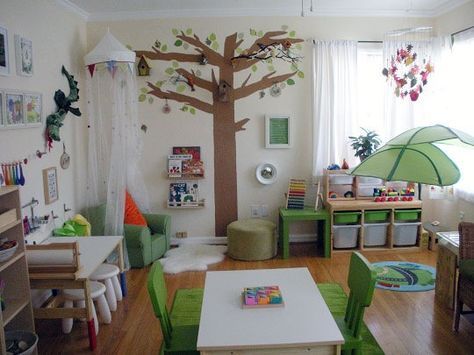 Source: Apartment Therapy
This toddler play area is easy to set up in a home daycare. It uses wall art, green furniture, and other fun decorations to bring the outdoors inside.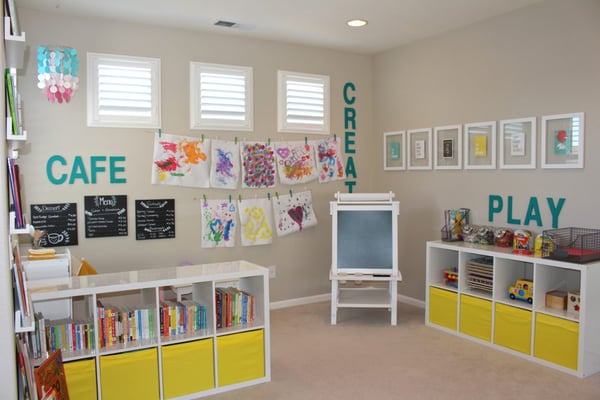 Source: Project Nursery
This daycare center uses low shelving to create four distinct play areas: a cafe, a reading area, an art corner, and a manipulatives area.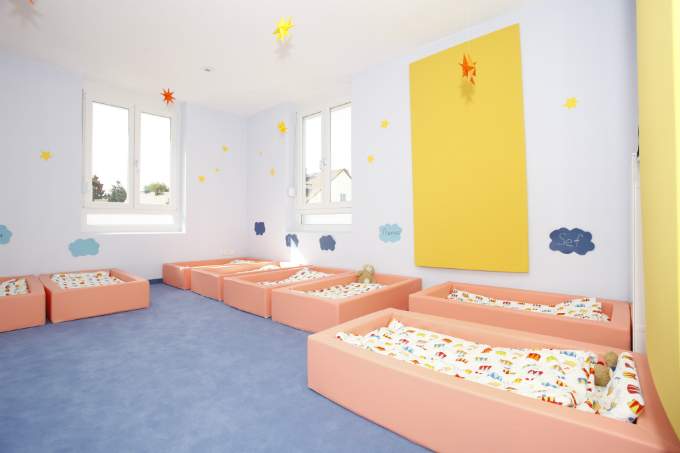 Source: Pinterest
Wall decals and hanging stars make this nap room cozy and comforting for little ones. In addition, using rugs and carpets in nap areas can be effective noise absorbers for sounder sleep.
Source: Pinterest
This childcare center utilizes multiple shelves and storage units to stay organized and to create distinct activity areas in the room.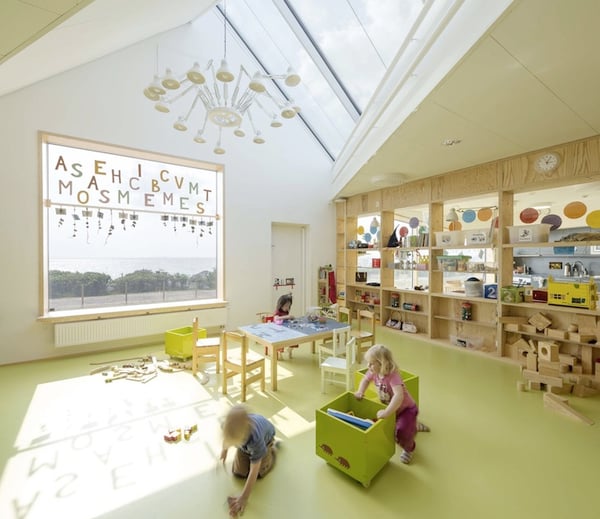 Source: Inhabitat
By using an entire wall for storage, this daycare center maximizes the amount of space available for children to play and do other activities.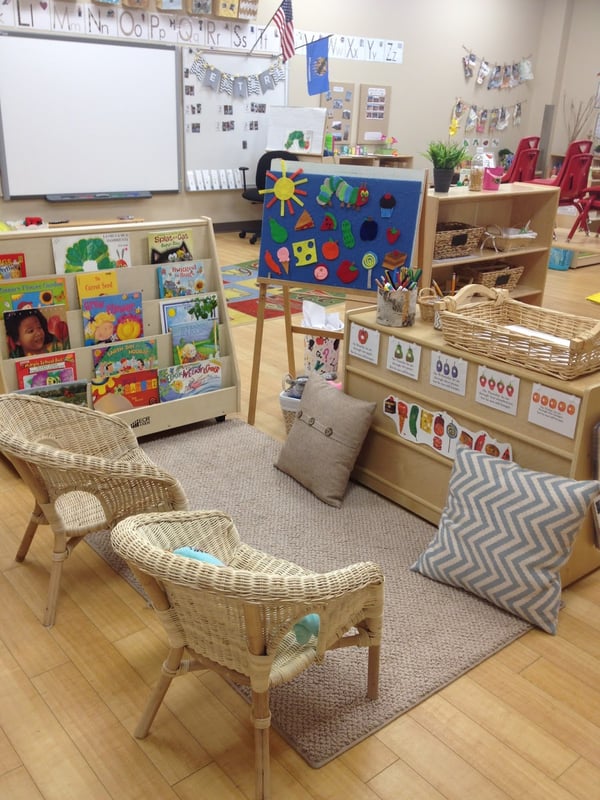 Source: Pre-K Tweets
This daycare classroom setup has a cozy reading nook that includes a rug, a couple of chairs and pillows, and a bookshelf, giving the room a homey atmosphere.
Home daycare room ideas
Designing a home daycare requires a little creativity and ingenuity to find ways to turn living spaces into safe and stimulating environments for children. However, home daycares have the advantage of having warm decor, soft lighting, and a variety of textures that are familiar and comfortable to a young child and are important for a sense of belonging.
When setting up a home daycare, consider these design elements in addition to what can be adapted from the recommendations shared for infant and toddler classrooms at a center-based program:
Use portable or multi-use furniture. Find portable furniture or furniture that can be used in multiple ways to transition from one activity to another with ease and without having to transport younger children.
Create designated spaces for storage in your living space. Designate bins and shelves that remain as fixtures in the environment, so children can access them independently and safely as part of their daily routine.
Rearrange furniture for safety. Check all furniture for sharp corners and furniture that would be inviting for children to climb (i.e., coffee tables, dining room tables, etc.).


Here are some ideas you can use for your own program!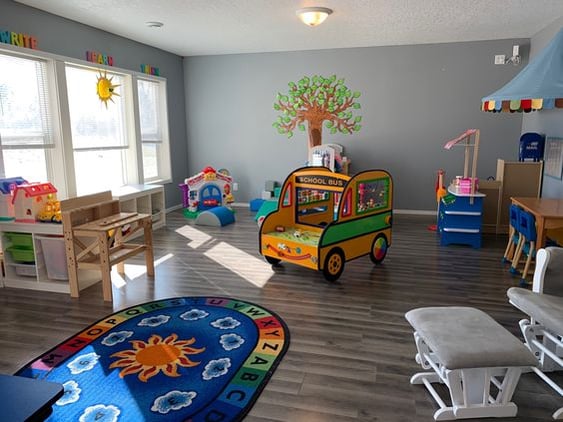 Source: Pinterest
In this home daycare setup, the children's furniture is portable and could easily be moved to change the utility of the space.
Source: Pinterest
This home daycare setup takes a different approach to design and uses the space behind the living room as a dedicated space for the children and gates to limit the children's access to certain areas.
Source: Pinterest
This design works beautifully in a home. The space is inviting to both children and adults with movable materials such as rugs, bean bags, and pillows.
Daycare classroom storage ideas
Effective storage and shelving solutions can help make a daycare center safe, inviting, and organized.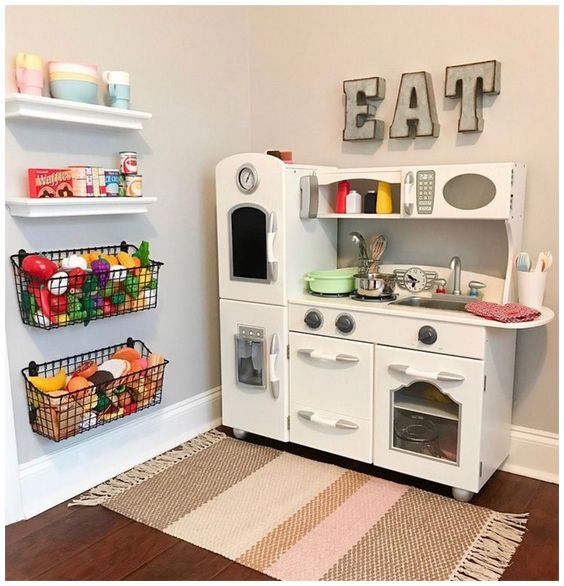 Source: Pinterest
You can organize play stations, such as this toy kitchen area, by using floating bins and shelves that are safely affixed to the wall.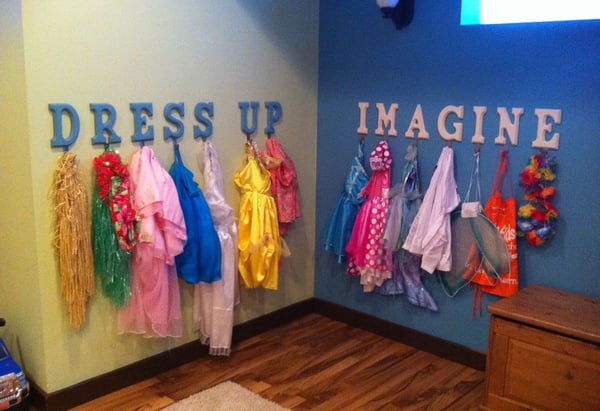 Source: Create Play Travel
Themed clothes hooks can help to keep a dress-up station tidy and more fun for children to use.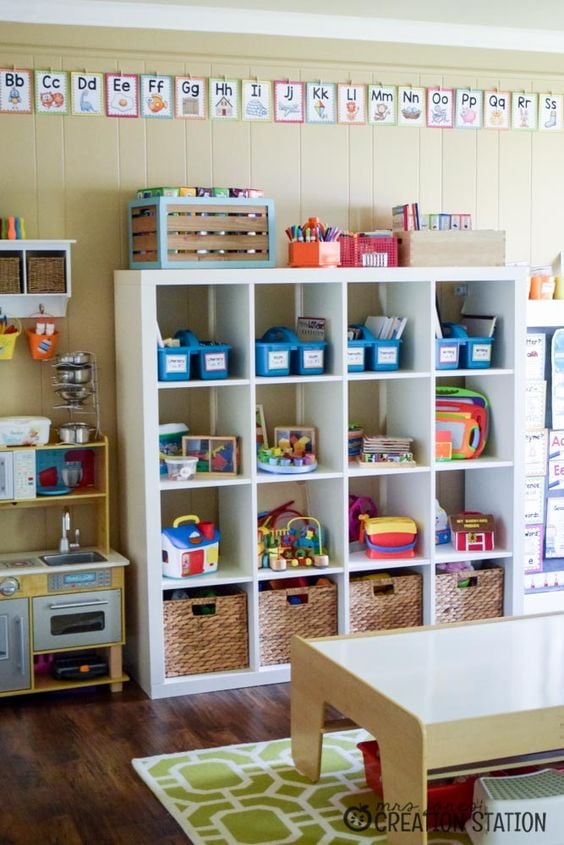 Source: Mrs. Jones' Creation Station
This classroom uses a combination of shelving and colorful bins to keep toys and activity materials organized and easy to reach.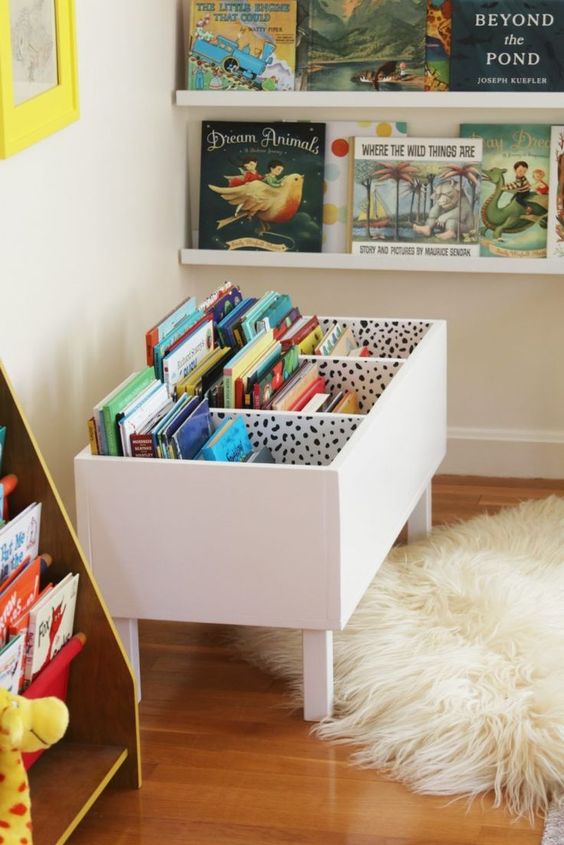 Source: Les Petits Gazette
Floating shelves and child-sized book bins can keep your reading corners clean and incentivize children to read more.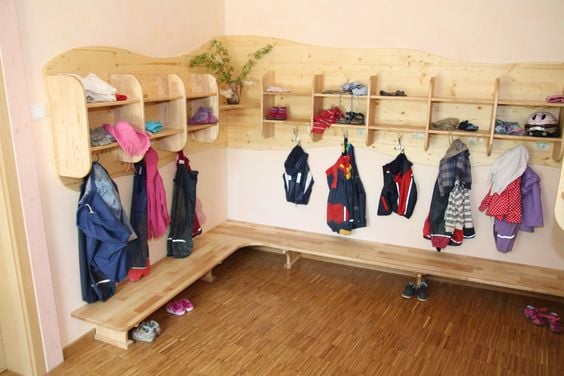 Source: Pinterest
This daycare cubby station includes multiple shelves for children's belongings and hooks for backpacks and jackets. It's a welcoming space with natural wood and a plant while also encouraging children to be tidy and independent as their belongings are within reach.
Where can I find daycare decor?
There are many online stores that sell furnishings, decorations, and play materials for childcare centers. Here are a few of the most popular online retailers for early education:
What other supplies do I need when starting a daycare center?
Whether you're running a home daycare or a big, multi-location childcare business, you'll need a variety of supplies to run smoothly and to make sure you comply with your state's childcare licensing requirements. Here's a list of recommended supplies to start with:
Safety supplies, including first aid kits, smoke detectors, carbon monoxide detectors, outlet covers, fire extinguishers, and an emergency preparedness kit
Cleaning supplies, such as disinfectants, gloves, and hand sanitizer for your staff members
Age-appropriate and safe toys, including toys that promote cooperative play and help to develop gross and fine motor skills
Daycare technology

to help you run your center efficiently and smoothly, such as

brightwheel

—an all-in-one early childcare solution that partners with educators to streamline their center's operations and build a great reputation!
Additional resources for daycare ideas
For more inspiration on how to design your center and how to successfully launch your childcare business, check out these helpful articles: