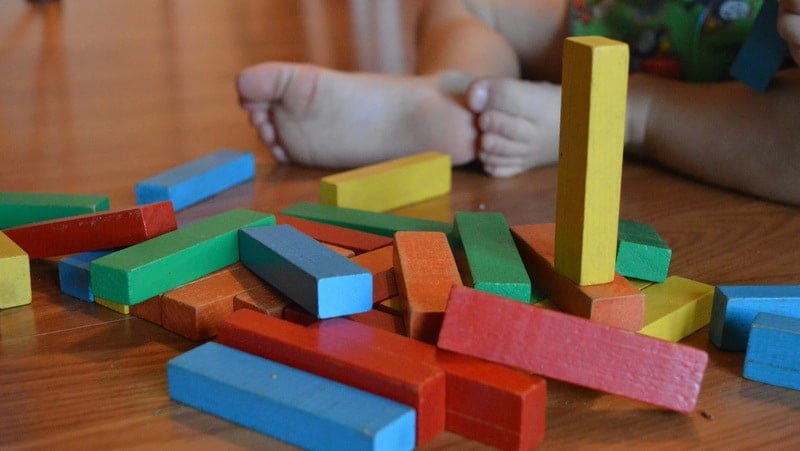 Whether you're running a small home daycare or a big, multi-location daycare business, one thing's for sure—you need a lot of daycare supplies to make it through the day!
Staying on top of your daycare supply list can be challenging, so we've put together a list of common items you'll need to start a daycare. We'll also share other focus areas to tackle before you open your new center.
Creating a daycare supply list
Opening a daycare center and filling the empty space with everything you and your staff will need is exciting! Choosing the right supplies is your next step toward starting a successful daycare.
Your supply list should include:
Health and safety supplies
Cleaning supplies
Furniture and equipment
Play materials
Daycare technology
Health and safety supplies
Keeping your children safe is your top priority. That's why it's crucial to always have health and safety tools among your daycare supplies.
Your stock of safety supplies could include:
Smoke detectors
Carbon monoxide detectors
Fire extinguishers
Safety gates
Corner guards
Electrical outlet covers
Child safety cabinet locks
Child safety door knob covers
First-aid kits
Thermometers

In case of a daycare emergency, it's a good idea to put together an emergency preparedness kit. These kits typically include extra first-aid kits, an updated file with emergency contact numbers, diapers, cleaning wipes, tissues, ponchos, hand warmers, flashlights, drinking water, and non-perishable snacks.
Check your local government's emergency preparedness guidelines to ensure your daycare supply list meets all of the legal requirements.
Cleaning supplies
A frequent cleaning routine is a must at daycares to keep children and staff healthy and safe. You'll want to stock your daycare center with everything you need to keep surfaces, floors, and hands clean.
Your daycare cleaning supplies list might include:
Hand sanitizer
Liquid hand soap
Cleaning sponges
Disinfecting wipes
Paper towels
Broom and dustpan
Multi-purpose cleaning sprays
Vacuum
Mop


With multiple children and adults using restrooms and touching surfaces, it's important to develop a plan for regularly sanitizing toys and furniture. Some toys and areas in your daycare will need cleaning daily. Check your state's website or Department of Health for guidelines to ensure you're compliant.
Furniture and equipment
Your childcare center will need appropriately-sized daycare furniture for play, feeding, and sleeping areas. You'll also need tables and chairs for older children and high chairs or boosters for the little ones.
Other essential daycare furniture and equipment to invest in could include:
Cribs
Step stools
High chairs
Tables
Chairs
Strollers
Playpens
Dining sets
Nap mats or cots
Rocking chairs
Diaper changing table
Outdoor play equipment
Cubbies


You'll need other daycare equipment such as shelves or a storage system to hold your play materials and daycare supplies for your play area.
Play materials
Children learn through play and exploration. It's important to have open-ended play materials that spark curiosity and creativity throughout the day. Consider play materials that are age-appropriate and safe to support physical, language, social-emotional, and cognitive development.
Most childcare centers have a reading nook or library, an art center, a building center, a science center, a dramatic play center, and a writing center. You'll need age-appropriate materials for these centers such as manipulatives, art supplies for projects, science tools, and materials for pretend play.
If you have an outdoor space, you'll need outdoor play equipment such as a sandbox or water table and other equipment that can support children's gross motor development
Types of play materials to consider :
Felt boards
Playhouses
Sandbox
Tents
Craft materials
Swing sets
Props for dramatic play
Headsets for audio listening
Playsets (kitchen, dollhouse, etc.)
Dolls
Puzzles
Musical instruments
Paint and paintbrushes
Writing tools
Books
Building blocks
Magnatiles


You can even buy toys for your daycare online from secondhand or other low-price stores to save on costs. Here are a few secondhand toy sources:
Remember to equip your outdoor areas for playtime, too. For example, you can set up a playground, garden, building blocks, and other tools for outdoor learning.
Daycare technology
As the owner or director of a daycare or childcare center, you'll need to keep up with the number of administrative tasks you'll juggle—from attendance tracking to billing your families.
Daycare technology such as brightwheel can help streamline those administrative tasks, save you valuable time, and allow you to stay in touch with families. For example, you can use brightwheel's daily activity report feature to record and track daily events and activities like naps, bottles, and diapers, and families get real-time updates delivered to their mobile devices throughout the day.
This powerful daycare app gives staff an easy tool to quickly document daily events and milestones for each child in your program and simplifies your daily reports. Families can stay connected to their child's day, increasing their engagement and trust with your program.
What else do I need to start a daycare?
When you open a new daycare, there are a few other areas to consider:
Wrapping up
Outfitting your new childcare center with the appropriate furniture, equipment, and supplies will enable you to run a safe, efficient, and high-quality program. Use a daycare supply list to stay organized and watch your new daycare center come to life.