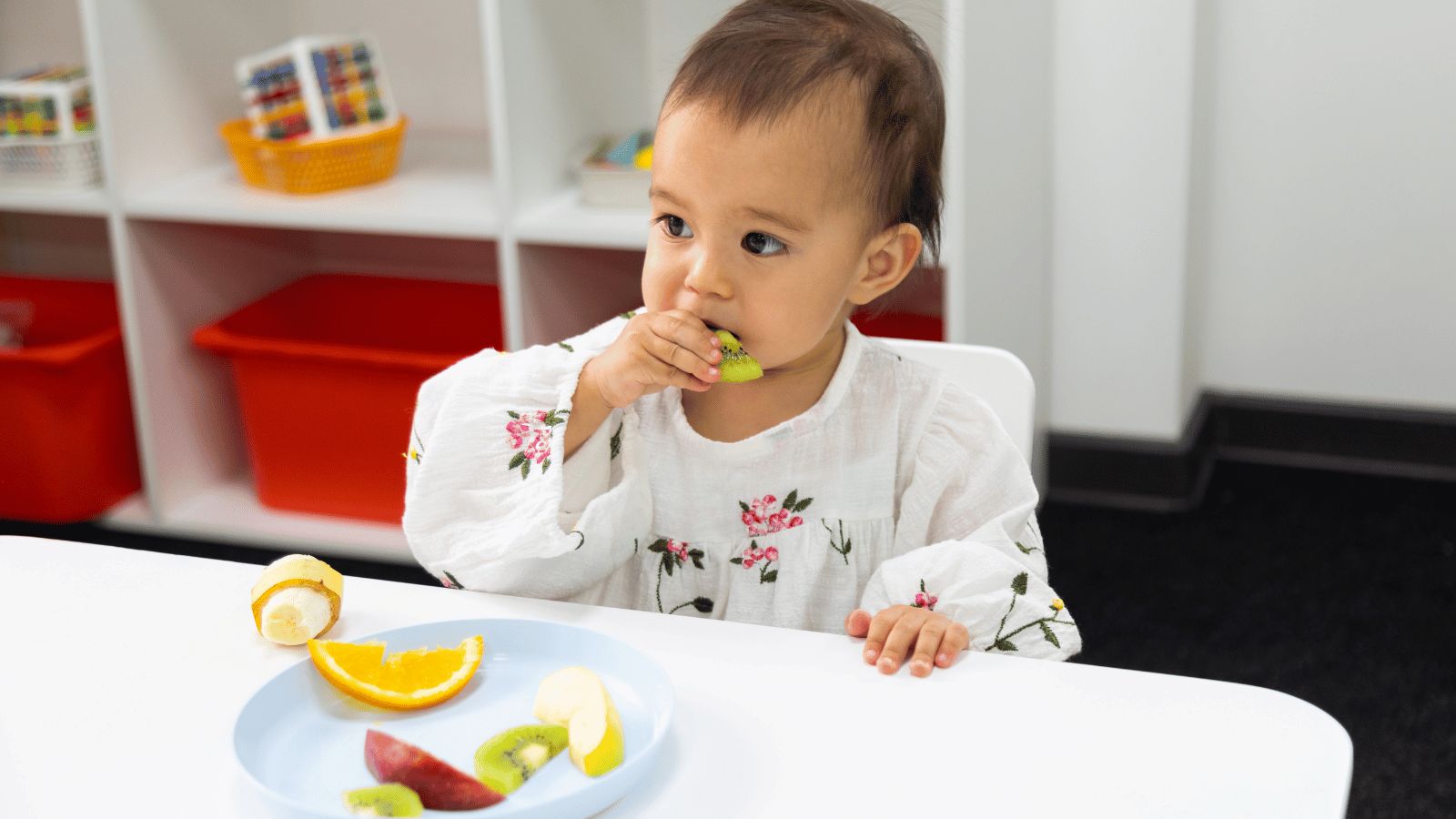 The Child and Adult Care Food Program (CACFP) helps you provide quality child care affordably by offering nutritious meals to enrolled children. However, it also comes with time-consuming tasks like planning and tracking meals which may require lots of paperwork. Also, compliance with program requirements like the latest meal patterns can be complex without the right software.
CACFP software helps you navigate form-filling as per your state requirements, meal planning and tracking, and meal production reporting leaving you with time to focus on other essential aspects of your childcare business. This article discusses CACFP meal patterns, requirements, approved food, and software features.

Child and adult care food program
The CACFP is a federal nutrition program funded by the United States Department of Agriculture (USDA), Food and Nutrition Service (FNS). The program ensures that eligible children enrolled for care at daycare homes, childcare centers, at-risk afterschool programs, and emergency shelters receive nutritious meals and snacks. The program fulfills this goal by reimbursing childcare providers who serve eligible healthy meals to the enrolled children. The CACFP also provides meals and snacks to adults at least 60 years old or functionally impaired adults of any age who receive care in nonresidential adult daycare centers.
In 2021, 10.2 percent of U.S. households were food insecure, meaning 13.5 million households couldn't access sufficient food to meet the dietary needs of household members due to insufficient resources. These statistics indicate that many children in the U.S. don't get the nutrition they need to grow and thrive. Since good nutrition habits start at a young age and are essential for growth and development, childcare providers often partner with the USDA to give children access to healthy meals and snacks through the CACFP.
The CACFP is administered by USDA's Food and Nutrition Service (FNS) through grants to states. In most states, the state educational agency administers the program. In other states, it's administered by a different agency, like the state social services or state health department. The USDA's FNS administers the CACFP for childcare centers under the below guidelines:
Eligibility
The children eligible to receive meals under the CACFP include:
Children under 12 years old enrolled in daycare homes or childcare centers
Children (age 15 and under) of migrant workers
Children with disabilities (determined by the state) and enrolled in a facility serving persons aged 18 and under
Children aged 18 and under in emergency shelters
Children aged 18 and under enrolled in after-school care centers
Provider's children in tier 1 day care homes (located in low-income areas, or those in which the provider's household income is at or below 185 percent of the Federal income poverty guidelines) where other children are participating in the program
Claiming reimbursement
The USDA will not reimburse centers for the following:
Meals or snacks served to children who aren't enrolled in care
Meals that aren't approved in the agreement
Meals served in excess (beyond authorized capacity)
Meals that don't comply with meal pattern requirements
Participating centers must submit accurate claims every month to their specific administering agencies for reimbursement. The USDA will reimburse based on the CACFP reimbursement rates that are adjusted annually.
CACFP meal pattern
Throughout the CACFP's existence over the past 50 years, the program has continued to amend its standards to align with the USDA's dietary guidelines based on the National Academy of Medicine's science-based recommendations. In 2016, the final rule updated the meal pattern requirements, requiring participating centers to serve more whole grains and a wider variety of fruits and vegetables and reduce added sugars and solid fats.
Children must be served meals and snacks that comply with the CACFP meal patterns. The CACFP will only reimburse participating centers for creditable foods. These foods meet the meal pattern requirements and comply with Child Nutrition Programs regulations, the U.S. Food and Drug Authority (FDA) Standards of Identity, and USDA standards for meat/meat products. The five main food components that make up the menu are fluid milk, meat/meat alternatives, vegetables, fruits, and grains.
The CACFP child meal pattern indicates the minimum quantities of each food component that centers must serve children according to their age. For example, for breakfast, children between the ages of three and five must be served the following:
6 fl oz or ¾ cup of low-fat (1%) or fat-free, unflavored liquid milk
½ cup of vegetables/fruits or portions of both
½ oz equivalent of whole grain-rich bread or bread product
As a general rule, breakfast must include a minimum of fluid milk, vegetables or fruits (or both), and grains, while lunch and dinner must contain all five food components.
CACFP-approved food list
The CACFP-approved food list includes the following:
Fluid milk
Each child must be served pasteurized milk for breakfast, lunch, and dinner. The milk must contain FDA-approved levels of vitamins A and D. Providers must serve unflavored low-fat (1%) or skim milk to children aged two and older. Children aged six and older can consume flavored low-fat (1%) milk. However, CACFP best practices recommend that providers use the Nutrition Facts Label to ensure that the flavored milk contains 22 grams of sugar or less per 8 fluid ounces.
Meat/meat alternatives
Meat and meat alternatives contain protein that supports children's growing muscles, iron that helps circulate oxygen within the blood, and healthy fats for brain and heart health.

The recommended fresh and frozen meats include:

Lean beef
Poultry
Fish
Pork
Shellfish

Canned meats include:

Meat alternatives include:

Nuts
Eggs
Yogurt
Cheese (natural and low-fat/reduced-fat)
Seeds/seed butters
Peas
Beans
Tofu
The CACFP best practices recommend serving lean meats, nuts, and legumes and limiting processed meats like deli meats, chicken nuggets, and fish sticks to one serving per week.
Fruit
Providers must serve participants whole fruits, which can be fresh, canned, frozen, or dried. They can also serve 100% fruit juice; however, participants must be served more fruits than juice. Juice forms include frozen pops made with 100% fruit juice, pureed fruits, and juice from canned fruit. Fruits include apples, bananas, apricots, blackberries, cantaloupes, cherries, coconut, dates, figs, and peaches.
Vegetables
Providers may serve fresh, frozen, dried, and canned vegetables and 100% vegetable juice. The vegetables may be raw or cooked, cut up, mashed, or whole. They include kale, collard greens, beets, turnips, arugula, spinach, and several lettuce varieties. CACFP best practices recommend providing participants with at least one serving of starchy vegetables, dark green leafy vegetables, red and orange vegetables, and other vegetables per week.
Grains
It's best practice to provide two daily servings of whole grains, which may include:
Bread and bread products such as bagels, tortillas, rolls, or muffins
Cereal grains such as brown rice, buckwheat, quinoa, or bulgur
Snacks like crackers, pretzels, popcorn, or tortilla chips
Pasta
Cooked breakfast cereals like oatmeal
Look for "whole grain" on the food label or ingredient list. Some whole grain products may have a whole grain stamp. However, remember that words like cracked wheat, bran, 100% wheat, and multi-grain may not necessarily mean whole grain.
CACFP menu planning
Childcare centers need a centralized tool for all their data to comply with CACFP regulations and serve children suitable meals in the right quantities. They also need an effective way to plan menus and make sure each meal and snack contains the proper food components. Software like brightwheel streamlines the menu planning and food tracking process and easily collects data for CACFP compliance and reimbursements.
Administrators can easily add food items and menu details, allowing them to create detailed menus for each age category. They can also organize food items based on category and recommended serving quantities. In addition, the editing feature helps administrators modify specific meal types, and the exporting feature allows report sharing to the administering agencies for reimbursements.
A food tracking feature allows administrators to track each child's food activities and create menu reports and essential data for CACFP reporting. Staff members can also add custom or pre-populated menu items for a specific day's menu.
Besides supporting meal planning and tracking, the brightwheel app also helps you track children's learning experiences with the daily activity report feature. You can record activities, send photos and videos, and share real-time updates with families to keep them connected to their child's daily learning.
The bottom line
From ensuring that you're serving creditable foods to tracking the correct quantities for different age groups and staying up to date with new amendments, CACFP comes with many moving parts. CACFP software helps you save time for other essential aspects of your center with the tools to help you plan meals efficiently and track them without confusion.
---
Brightwheel is the complete solution for early education providers, enabling you to streamline your center's operations and build a stand-out reputation. Brightwheel connects the most critical aspects of running your center—including sign in and out, parent communications, tuition billing, and licensing and compliance—in one easy-to-use tool, along with providing best-in-class customer support and coaching. Brightwheel is trusted by thousands of early education centers and millions of parents. Learn more at mybrightwheel.com.