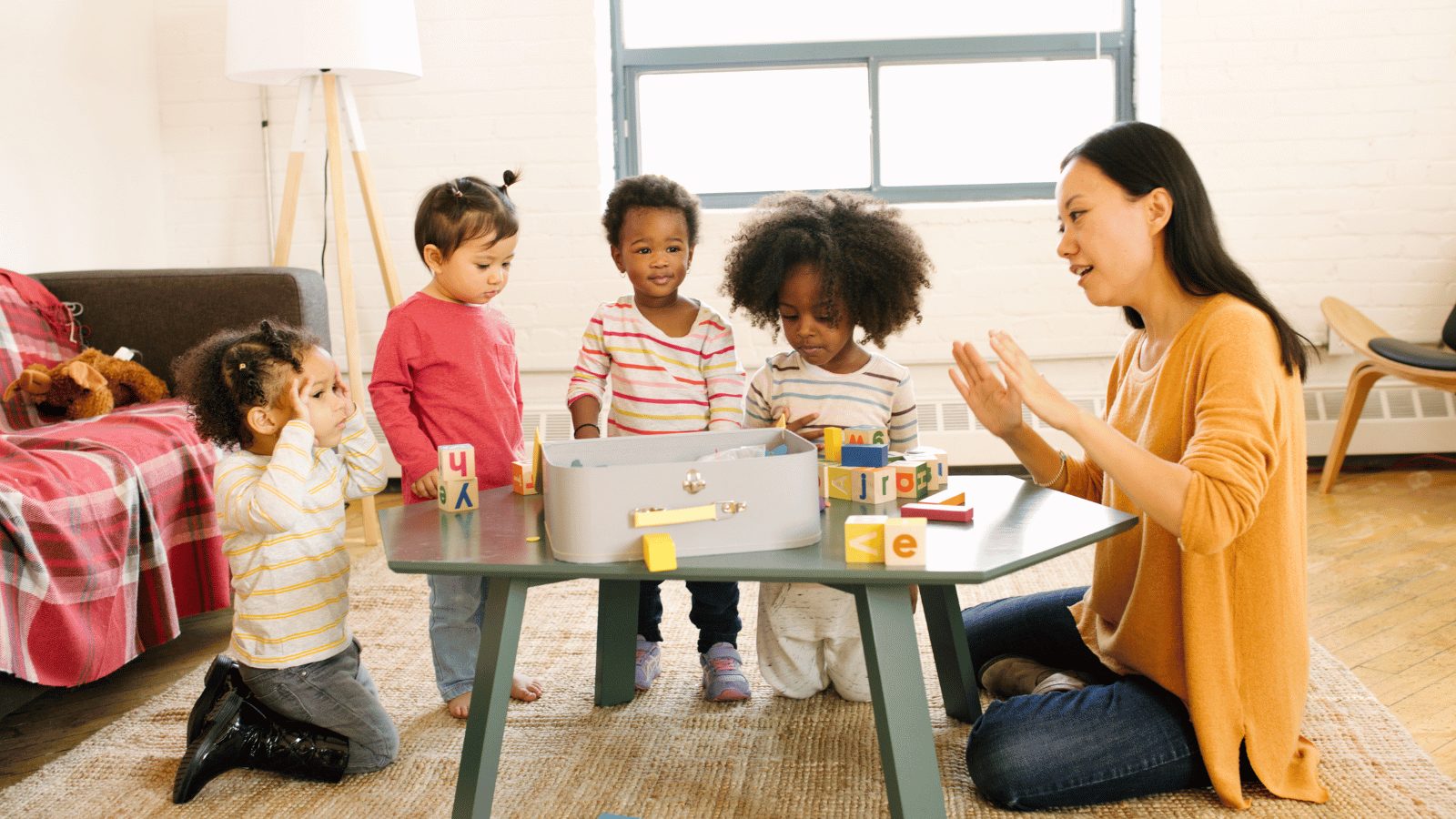 Consistent enrollment is a primary goal of every childcare center owner. Not only do you want families to register their children, but you also want to retain and delight them so they spread the word to other families. If your childcare center is struggling to hit enrollment numbers there are easy solutions that can help you market your facility and reach more families to increase child enrollment.
In this article, we cover what families often look for in a childcare program, what makes a program stand out, and tips to help you attract prospective parents.
What do families look for in a preschool program?
Families take many factors into consideration when assessing which preschool program is right for their child.
Program reviews
Childcare programs must provide evidence of how effective and safe the environment is, so having positive reviews from other parents can help attract new families to your facility. The easiest way to display these reviews is online, so having some sort of digital presence is crucial for your childcare center. You can publish reviews and testimonials on your social platforms, like Facebook, Instagram, or your business website.
Promoting positive reviews on social media and other program sites can create a strong sense of trust and security among prospective parents and position your program as the most desirable option.
Teaching philosophies
Preschool is often a child's first exposure to early childhood education approaches and the skills they gain help to prepare them for more advanced learning. Families will want to know which teaching philosophies your center practices and whether they are compatible with their child's needs.
The most common early childhood education philosophies are play-based, Montessori, Waldorf, Reggio Emilia, and cognitive-based philosophy.
A play-based philosophy emphasizes the importance of play in promoting holistic child development.
A Montessori philosophy is anchored in the belief that children naturally desire to learn, and thrive under optimal learning conditions, including freedom to choose activities, self-directed learning, and collaboration with peers.
The Waldorf approach emphasizes the importance of play in early childhood education. The program also teaches creative thinking, problem-solving, and social skills.
The Reggio Emilia approach emphasizes the importance of an engaging learning environment and the arts in early childhood education.
A cognitive-based philosophy focuses on helping children develop their cognitive skills, such as problem-solving and memory.
You'll be the expert in the early learning approach your center follows, and you can offer even more value to families by explaining why you use this philosophy and how it can benefit their child.
Daily schedule
Along with teaching philosophies, families will be interested in the activities their children will be engaged in throughout the day. The best daily schedules meet the developmental needs of your children and balance the right amount of structure and flexibility. It's important for daily schedules to include free play, circle time, outdoor activities, arts and crafts, storytime, meals, and nap time or quiet time.
Teachers' backgrounds and qualifications
Teachers play a critical role in children's education and early skills development. Families will usually be curious to know more about your experience and qualifications as a childcare director as well as the qualifications of your staff.
Be sure to highlight years of experience and any credentials or certifications that your teachers have to prospective families. You can also provide more details about any ongoing education your teachers receive and professional development opportunities that you offer. In addition, you can also mention your childcare ratios at your program as families will like to know that their child is receiving adequate supervision and attention.
Family engagement
You are likely to increase your preschool enrollment if you have proactive and open communication with families and take steps to regularly involve them in their children's education. This can include hosting parent-teacher conferences where you can set learning goals together and ask for parent feedback. You can also send consistent newsletters that keep families up to date on any important announcements or events at your childcare center and create daily reports that showcase each child's daily progress and provide suggestions for families to continue learning at home.
Learning environment
Most families will be looking for a learning environment that is spacious and safe, with ample indoor and outdoor space for developmentally appropriate activities. Arrange your classroom in a way that provides distinct space for specific activities such as a reading corner for quiet time, and allows easy transition between different activities. Furniture should be simple and child-friendly and decorations and visuals should be inclusive and spark learning.
What makes a high-quality childcare program?
Knowing what sets good preschool programs apart from great ones is a game changer for anyone looking to venture into the business or increase enrollment. Below are just some of the factors that make a high-quality preschool program.
Carefully planned daily activities
Preschool programs are meant to prepare children for kindergarten and more advanced learning. The skills children gain in an early learning setting will set the foundation for all their future learning and how they interact with their peers and teachers.
The best preschool programs operate on carefully planned daily activities that meet the overall needs of the children. Sticking to a routine will help your children know what to expect and help them make progress towards their learning goals.
Happy children and staff
One of the major keys to a high-quality preschool program is to ensure that both children and staff are happy. Prioritizing a positive working environment for teachers will allow them to adequately serve their role in supporting children's development. Programs with stimulating activities that promote learning and exploration will keep children engaged and excited to learn.
Low child-to-teacher ratio
Properly staffed daycares perform better than understaffed ones. A low child-to-teacher ratio is one great way to ensure that a preschool program has adequate teaching staff.
While ratios vary based on program type and children's ages, a low child-to-adult ratio is typically recommended to promote things like:
Tailored education according to children's strengths and abilities
One-on-one attention
Personalized feedback
Improved learning outcomes
Clean and safe environment
A clean and safe environment is another sign of a high-quality childcare program. Teachers and children are able to concentrate better when the classroom is tidy and set up in a way that encourages learning.
A high-quality preschool classroom has child-appropriate bookshelves, tables, and chairs as well as access to materials and equipment that support appropriate developmental milestones.
Clear lines of communication
Families that are actively involved in their child's early education will lead to better learning outcomes. Programs that are committed to keeping their families engaged promote healthy child growth and development. Frequent and clear communication through things like daily reports or monthly newsletters help to strengthen the home-to-school connection and keep families informed of their child's progress.
How to attract prospective families
Here are our best tips for attracting prospective families to your center and boosting enrollment for the upcoming school year.
1. Identify what differentiates you from your competitors
There are many different programs for families to choose from, and your center needs a unique selling proposition to set you apart from your competition. Consider what makes your program unique—excellent teachers, engaging activities, a low child-to-teacher ratio, or even an unbeatable price point—and highlight it in your marketing efforts.
2. Use your community as a resource
Increasing enrollment can be challenging when you are the only one spreading the word. Ask your current families if they would consider leaving a positive review or comment on your social media pages or if they would be willing to provide a testimonial you can include on your website or on printed marketing materials like flyers. You can also reach out to alumni families that you've worked with in the past and ask them to share their experiences in similar ways. Try to include reviews and testimonials from a diverse group of families to make them more relatable to as many prospective families as possible. This is an inexpensive yet powerful way to increase credibility in the larger community.
Referral programs are another great way to help spread the word about your childcare program. Creating a formal referral program that offers discounts for referring new families can be a great way to incentivize your current families. Consider offering your staff an incentive as well, such as a cash bonus, if they refer interested families.
Another way to cultivate a strong community is by organizing opportunities for your families to connect with each other. Hold regular family events to showcase your children's activities or work and to encourage families to get to know each other. Many of your families may be first-time parents and will thank you if you help them connect with other new parents. Just be mindful that not all parents or guardians can attend events held during a workday, so be sure to offer evening and weekend get-togethers. Host picnics, potlucks, or coffee meetups so families can spend time together, strengthening the relationships that are also being forged during the school day.
3. Have a high-quality website
One of the best ways to increase enrollment in your childcare center or preschool is by creating a professional website where parents can learn more about your program. A polished website can help you make a great first impression and give prospective families a glimpse into what your center offers. You can share staff profiles, program offerings, and photos of your facilities while providing up-to-date information on your daily schedule, hours of operation, and contact details.
On average, you can expect to spend around $200 upfront on building your own website and paying around $50 per month to maintain it. Sites like Web.com, GoDaddy, and WordPress offer inexpensive and easy-to-use tools for building your own website. If you don't know where to begin, resources like this can help you get started.
Once your website is built, be sure to contact your local Childcare Resource and Referral (CCR&R) agency to register your site so local families in your area can find you.
4. Go digital to modernize your program
Childcare management software has recently transformed early education, and childcare providers aren't the only ones benefiting. Even if your families don't want to see much technology in the classroom, they rely on technology in their daily lives. Early education platforms like brightwheel's center management feature helps you streamline your center's admissions process, record keeping, and reporting.
Instead of sending papers home in backpacks, share information how most modern families prefer: via their smart devices. Offer secure, digital check-in for peace of mind and easy drop-off and pick-up routines. Automated online tuition payments, instead of searches for the checkbook at the end of every month, can also be a significant draw for busy families. Technology may not directly affect your enrollment numbers, but it can significantly impact family satisfaction, leading to more referrals down the road.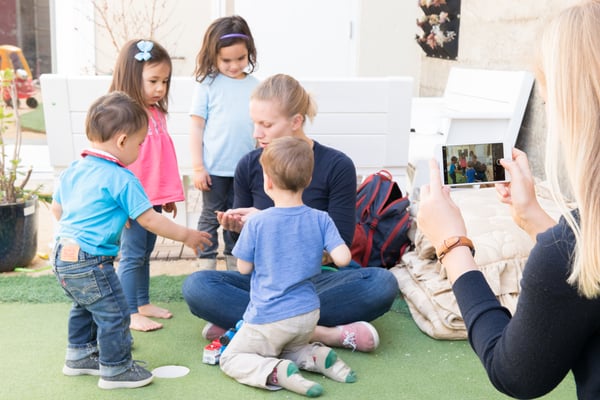 5. Offer flexible and comprehensive options
Today's working families will appreciate flexibility in their childcare provider such as being able to drop in early or stay late as needed. They'll also jump at the chance to take advantage of "date night" care, such as monthly pajama parties and movie nights. If possible, try offering care during summer and spring breaks and promoting these benefits in your marketing materials.
Another fantastic way to boost enrollment in your program is by developing partnerships with local enrichment offerings such as yoga, music, sports, or art classes. These special features can be offered as part of the regular day or scheduled add-ons in the afternoons. The more your families can rely on you for their educational and childcare needs, the more satisfied they will be with your program.
6. Market your program constantly
Marketing your childcare center is a year-round activity, regardless of whether your current rosters are full. While the best programs in town have been around for many years and have built a strong reputation, that doesn't mean that a newer program can't also compete and succeed.
Creating a website, featuring reviews and testimonials on your social media channels, and finding ways to connect with your local community at local parenting and child-friendly events are all great ways to continuously market your program.
You can also establish partnerships with other small businesses in your community to increase referrals or even consider partnering with other childcare providers in your local area. While this might seem counterintuitive, building a working relationship with other daycares can be mutually beneficial, as it encourages them to refer families to your center if they don't have openings, and you can do the same for them.
7. Open your doors regularly
Our final tip for increasing enrollment in your childcare center or preschool is to offer weekly tours and frequent open houses. Though it can be disruptive, be sure your tours include classroom visits, where prospective families can see your high-quality staff and program in action. (Pro tip: If you do this regularly, it eventually won't be that disruptive, as your children get used to visitors in the classroom.)
Also, partner with community organizations to bring regular visitors to your preschool. The more people that visit your preschool and peek inside, the more people will know about it, and the more they'll spread the word.
Tips for impressing prospective families during the tours and admissions process
The first impression matters a lot in business. Therefore, it's important to put your best foot forward during your tours and admissions process to impress prospective families. Here are some tips to consider:
Be polite and respond to all questions and concerns comprehensively.
Sell your unique benefits. Let families know what makes your program different from the rest.
Give flyers, business cards, or other materials, like branded pens or calendars, for strategic marketing.
Follow up with families who didn't enroll. Ask for their feedback on why they didn't choose your center and see if you can incorporate any relevant learnings.
Increase your enrollment
Increasing enrollment in your preschool program will help you grow your daycare business and impact more families and children in your community. With strategic marketing such as building an online presence and holding frequent open houses, you can attract more families to your daycare program and provide a positive learning environment for the children in your care.